Science on Screen: COMPUTER CHESS
As part of MoMI's ongoing Science on Screen film series, on Friday, May 12, 2023, the Museum presented a 10th anniversary screening of Andrew Bujalski's daring, prescient film COMPUTER CHESS. The film was developed with support from the Tribeca Film Institute partnership with the Alfred P. Sloan Foundation, and when it made its world premiere at Sundance in 2013, it won the $20,000 Sloan Feature Film Prize. COMPUTER CHESS is set in the 1980s at the start of the tech revolution. Shot entirely on a consumer-grade, Sony videocamera, the film follows a group of computer chess programmers pitting their programs against each other during a hotel convention. Over the course of the tournament, they explore their relationships to one another and the bulky machines they think they control—but which may be capable of more than they were programmed for.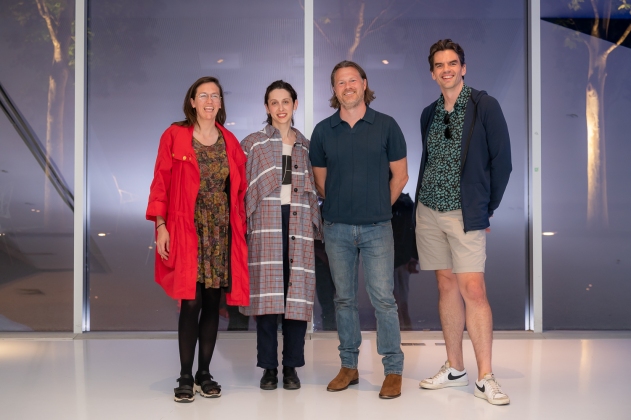 Actor Robin Schwartz, curator Sonia Epstein, production designer Michael Bricker, actor Mark Blumberg at MoMI. Photo by Thanassi Karageorgiou
The screening was followed by a discussion and Q&A with actor Robin Schwartz, who plays the tournament's sole woman participant, and Suresh Venkatasubramanian, Brown University's Director of the Center for Tech Responsibility, computer scientist, and co-author of the "Blueprint for an AI Bill of Rights." A number of other people associated with the film came to the screening, including production designer Michael Bricker, and actors Freddy Martinez, Eric Newton, and Mark Blumberg. The discussion centered on the evolution of computer science and artificial intelligence as depicted in the film and as it impacts society in reality. It is available below.
---
More from Sloan Science and Film: