March Science And Film Goings On
Here is a selection of creative takes on the world of science and film for the month of March:
Science on Screen: THE BEST YEARS OF OUR LIVES
In William Wyler's Oscar-winning film THE BEST YEARS OF OUR LIVES (1946), three veterans (Frederic March, Dana Andrews, and Harold Russell) struggle to readjust to their daily lives after World War II. The biggest struggle comes for Homer (played by Russell, a real-life veteran), who has lost both hands in combat and must learn to adapt to prosthetic hooks. Presented by Science on Screen, THE BEST YEARS OF OUR LIVES will show at the Museum of the Moving Image on Sunday, March 24 followed by a conversation about engineering prosthetics, masculinity, and the power and limitations of non-normative bodies with historian of technology and author David Serlin and assistive technology expert and founder of NYU's Ability Project Anita Perr.
TO DUST
The new dark comedy TO DUST, starring Matthew Broderick and Géza Röhrig follows Shmuel, a Hasidic cantor distraught by his late wife's death who finds himself obsessing over the state of her body six feet underground. (Judaism teaches that the soul cannot rest until the body turns to dust.) Seeking answers, he develops a clandestine partnership with Albert, a community college biology professor. The two embark on an increasingly literal undertaking. The film was supported by the Alfred P. Sloan Foundation through its partnership with NYU, the Tribeca Film Institute, and Film Independent. On February 3, Science on Screen at the Museum of the Moving Image presented the film with a conversation between writer/director Shawn Snyder, star Géza Röhrig, and microbiologist Maria Gloria Dominguez-Bello. That conversation is available to view online. TO DUST is now in theaters.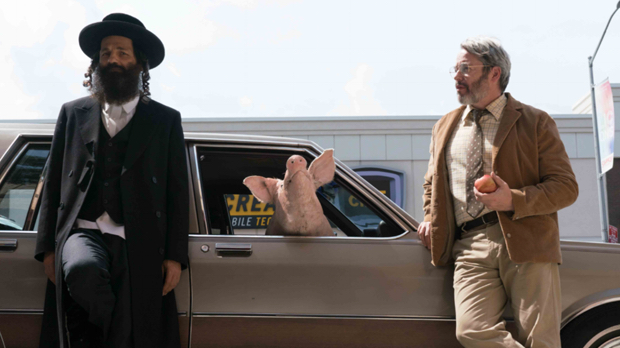 APOLLO 11
APOLLO 11, directed by Todd Douglas Miller, is an archival reconstruction—both audio and visual—of Neil Armstrong and Buzz Aldrin's landmark trip to the moon in 1969. The film premiered at Sundance and will be released by NEON exclusively in IMAX for one week beginning on March 1.
THE BOY WHO HARNESSED THE WIND
Winner of the Sloan Feature Film Prize at the 2019 Sundance Film Festival, Chiwetel Ejiofor's directorial debut THE BOY WHO HARNESSED THE WIND is based on the true story of a young boy (Maxwell Simba) in Malawi who builds wind-powered irrigation pump to help his struggling village. The film is streaming on Netflix.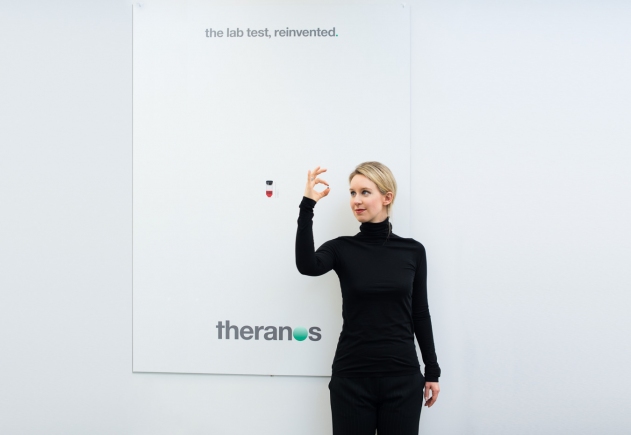 THE INVENTOR
Alex Gibney's new documentary THE INVENTOR: OUT FOR BLOOD IN SILICON VALLEY is about Elizabeth Holmes, the founder of Theranos, and the massive fraud that the company perpetrated. THE INVENTOR will premiere on HBO on March 18 and be available for streaming thereafter.
SEALAB
Now available to watch on PBS' American Experience, the Sloan-supported documentary SEALAB is about a 1969 Navy mission to explore the possibilities for living in and studying underwater.
SXSW
The South by Southwest (SXSW) Film Festival will take place in Austin, Texas from March 8 to 16, featuring thirteen science-related film and VR pieces including the world premiere of Jessica Oreck's Sloan-supported feature film ONE MAN DIES A MILLION TIMES. Oreck's film is based on the true story of Russian geneticists trying to save seeds from a global vault during the Siege of Leningrad. For more, see our picks from the festival lineup.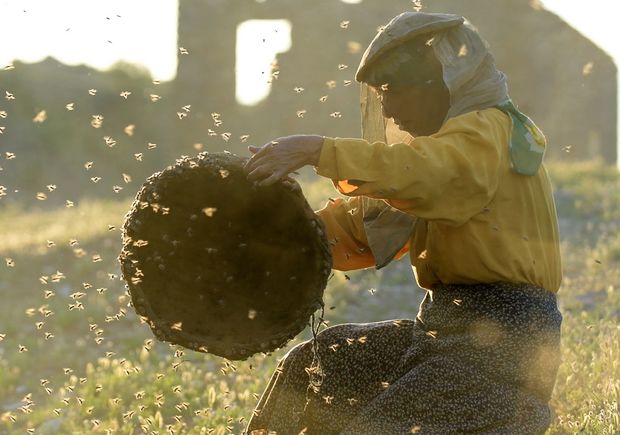 NEW DIRECTORS/NEW FILMS
NEW DIRECTORS/NEW FILMS, presented by MoMA and the Film Society of Lincoln Center from March 27 through April 7, will feature the New York premiere of the Macedonian documentary HONEYLAND. The film centers on a woman who, while taking care of her elderly mother, tends bee colonies in an otherwise predominantly abandoned region. The film won the World Cinema Documentary Grand Jury Prize when it premiered at Sundance this year.
CPH: DOX
Running March 20 through 31 in Copenhagen, CPH:DOX will feature a number of science-related documentary films in its program. Our Executive Editor Sonia Epstein will be there to participate in the CPH: FORUM focusing on projects at the intersection of science and film.
Short Films on Sloan Science & Film
Sloan Science & Film hosts a streaming library of Sloan-supported short, narrative, science-based films available to stream for free anytime. Recent additions include Amanda Tasse's MIRA, about a scientist studying the immortal jellyfish. Sloan Science & Film publishes a Teacher's Guide to accompany 50 of these short films and to facilitate their use in the classroom by correlating each with science teaching standards and providing discussion questions and links to vetted resources.
THE EXPANSE on Amazon
THE EXPANSE is a science-fiction series, based on novels of the same name by James Corey, set in the future when parts of the solar system have been colonized by humans. The first three seasons were produced by Syfy, and season four, which will premiere this year, is produced by Amazon Prime. THE EXPANSE is created by Mark Fergus and Hawk Ostby who both worked on writing IRON MAN and CHILDREN OF MEN. Stay tuned to Science & Film for a "Peer Review" article about the series by astrophysicist Katie Mack.
STRANGE ANGEL on CBS
The CBS All Access series STRANGE ANGEL is about the birth of American rocket science in 1930s Los Angeles. It is based on a biography of the same name by George Pendle. Jack Reynor (DETROIT), Bella Heathcote (THE MAN IN THE HIGH CASTLE), and Rupert Friend (HOMELAND) star. The series has been renewed for a second season which will premiere this year. We spoke with the series' creator Mark Heyman.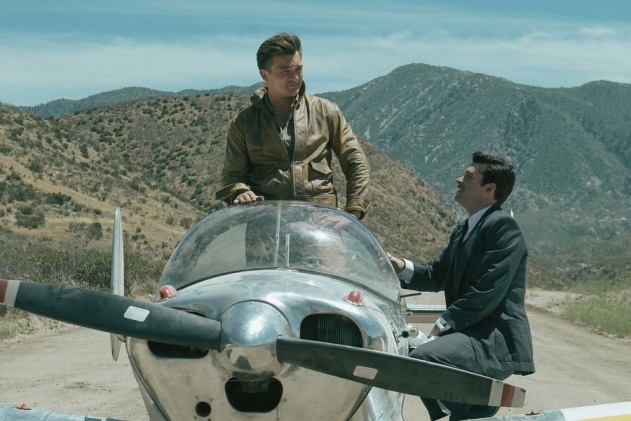 VALLEY OF THE BOOM on NATIONAL GEOGRAPHIC
VALLEY OF THE BOOM is a six-part docu-drama series from National Geographic about the founding of Silicon Valley companies such as Netscape in the 1990s. It stars Bradley Whitford (GET OUT) and Steve Zahn (DALLAS BUYERS CLUB), and features interviews with Jim Clark (Netscape) and Arianna Huffington (The Huffington Post). Stay tuned to Science & Film for a "Peer Review" piece by technology journalist Katie Heffner.
PROGRAMMED at The Whitney
"Programmed: Rules, Codes, and Choreographies in Art, 1965–2018" is an exhibition supported by the Alfred P. Sloan Foundation on view at the Whitney Museum of American Art through April 14. Nam June Paik, Cory Arcangel, and Jim Campbell are some of the artists with video work included. "Programmed" is organized by Christiane Paul, Carol Mancusi-Ungaro, and Clémence White.
BEHIND THE SHEET at EST
Charly Evon Simpson's historical play BEHIND THE SHEET is based on the true story of the "father of modern gynecology," J. Marion Sims, and the enslaved women who he experimented upon and who aided in his surgeries as he developed a medical treatment for vaginal fistulas. The play was commissioned and developed through the Sloan Foundation's partnership with the Ensemble Studio Theatre. BEHIND THE SHEET has been extended multiple times due to popular and critical success, and now runs through March 10 at EST.
SPACEMEN at The Wild Project
SPACEMEN is a new one-woman show set on a space shuttle headed to Mars. Erin Treadway stars as Molly Jennis, an astronaut attempting to become the first human to reach the red planet where she will establish a colony. The play is written by Leegrid Stevens, and presented at The Wild Project by Loading Dock Theatre. It runs through March 9. Stay tuned to Science & Film for an interview with Stevens.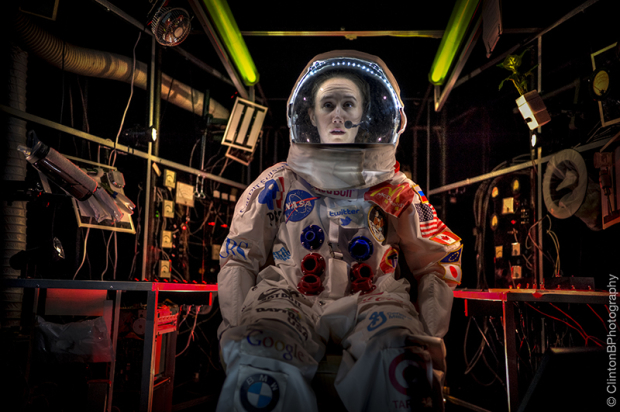 SPHERES
Now installed at Rockefeller Center through March 15, Eliza McNitt's VR experience SPHERES is a three-chapter view of the formation of Earth, the planets, and what it all looks like from inside a black hole. The chapters are narrated in turn by Patti Smith, Jessica Chastain, and Millie Bobby Brown. In addition to being installated at Rockefeller Center, SPHERES is available for purchase on Oculus Rift.
This is a monthly listing of science-themed cultural offerings about town.