Chiwetel Ejiofor to Donate Sloan-Sundance Prize Money
On January 29 at the Sundance Film Festival, Doron Weber of the Alfred P. Sloan Foundation presented Chiwetel Ejiofor with the $20,000 Sloan Feature Film Prize for his narrative film THE BOY WHO HARNESSED THE WIND. The film was selected by a jury comprised of marine chemical biologist Mandë Holford, theoretical astrophysicist Katie Mack, screenwriter and producer Sev Ohanian (SEARCHING), producer Lydia Dean Pilcher (THE TALENTED MR. RIPLEY), and actor Corey Stoll (FIRST MAN). The jury awarded the film the Prize for "its inspirational and culturally nuanced true-life tale of the transformational power of science and the inventive spirit to improve everyday lives everywhere, and for its moving depiction of intra-family dynamics and a pivotal father-son relationship." Ejiofor directed the film, stars as one of the main characters, and adapted it from an autobiography of the same name by William Kamkwamba.
At the Sloan Prize ceremony, Ejiofor announced that he would donate the $20,000 prize money to William Kamkwamba's foundation. "I am honored to accept this award on behalf of the film, and William's foundation Moving Windmills. With this award, William will have the seed funding to advance his plans for an innovation center in Malawi which connects young innovators to teachers and builders so that they may create low-cost solutions to address problems that they identify. Its goal is to enable any young person who has an idea to harness their own potential. This award is only a beginning of seeing that dream come to fruition. My hope is that this film inspires anyone who doubts the power of one individual's ability to change their community and better the lives of those around them."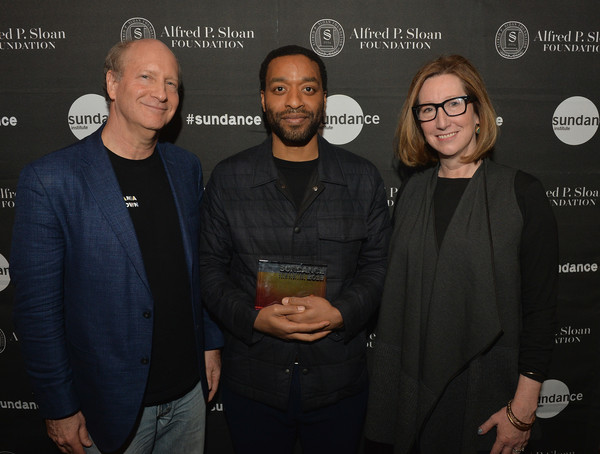 Doron Weber (Sloan Foundation), Chiwetel Ejiofor, Kerry Putnam (Sundance)
THE BOY WHO HARNESSED THE WIND made its world premiere at the Sundance Film Festival. It is based on the bestselling memoir of the same name. Netflix will release it on March 1.