Science at the 2023 Sundance Film Festival
The 2023 Sundance Film Festival, which will take place in Park City, Utah from January 19-29 and online January 24-29, will include 18 feature-length science or technology-related films out of the 99 in the full slate. These 18 films include documentaries and narrative works dealing with such varied topics as endangered species, pollution, climate change, film technology, and fertility. Seventeen of the 18 will be making their world premiere. The annual Alfred P. Sloan Foundation Feature Film Prize will be awarded to THE POD GENERATION, written and directed by Sophie Barthes and starring Emilia Clarke, Chiwetel Ejiofor, and Rosalie Craig. Sloan Science & Film will be covering Sundance, so check back for more as the festival gets underway.
Below are our selections from this year's lineup, with descriptions quoted from festival programmers.
U.S. DOCUMENTARY COMPETITION
NAM JUNE PAIK: MOON IS THE OLDEST TV. Director and Producer: Amanda Kim, Producers: Amy Hobby, David Koh, Mariko Munro, Jennifer Stockman, Jesse Wann. "The quixotic journey of Nam June Paik, one of the most famous Asian artists of the 20th century, who revolutionized the use of technology as an artistic canvas and prophesied both the fascist tendencies and intercultural understanding that would arise from the interconnected metaverse of today's world." World Premiere.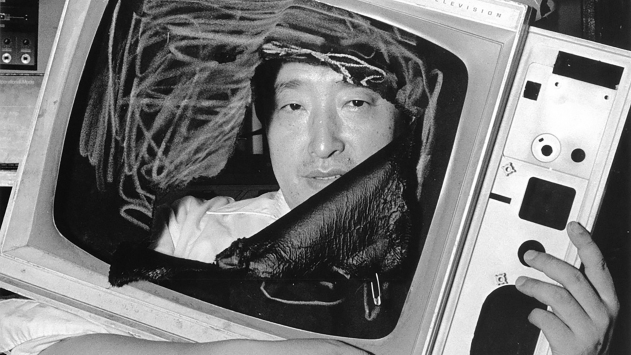 A still from NAM JUNE PAIK: MOON IS THE OLDEST TV. Courtesy of Sundance Institute.
WORLD CINEMA DRAMATIC COMPETITION
MAMACRUZ. Director and Screenwriter: Patricia Ortega, Screenwriter: José Ortuño, Producer: Olmo Figueredo, Cast: Kiti Mánver. "With the help of her newly emigrated daughter, a religious grandmother learns how to use the internet. However, an accidental encounter with pornography poses a dilemma for her." World Premiere.
LA PECERA. Director, Screenwriter, and Producer: Glorimar Marrero Sánchez, Producers: Amaya Izquierdo, José Esteban Alenda, Cast: Isel Rodríguez, Modesto Lacén, Magali Carrasquillo. "As her cancer spreads, Noelia's ultimate decision is to return to her native Vieques, Puerto Rico, and claim her freedom to decide her own fate. She reunites with her friends and family, who are still dealing with the contamination of the U.S. Navy after sixty years of military practices." World Premiere.
WORLD CINEMA DOCUMENTARY COMPETITION
AGAINST THE TIDE. Director and Producer: Sarvnik Kaur, Producer: Koval Bhatia. "Two friends, both Indigenous fishermen, are driven to desperation by a dying sea. Their friendship begins to fracture as they take very different paths to provide for their struggling families." World Premiere.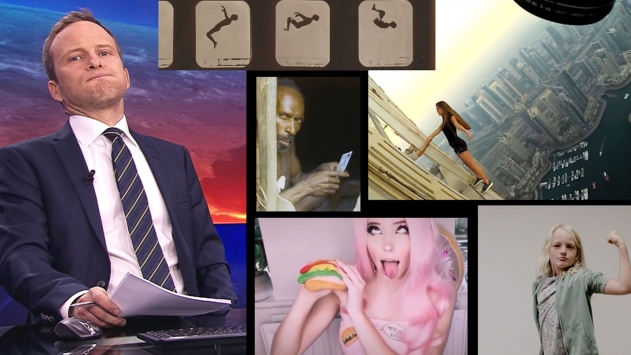 A still from FANTASTIC MACHINE. Courtesy of Sundance Institute.
FANTASTIC MACHINE. Directors and Producers: Axel Danielson, Maximilien Van Aertryck. "From the first camera to 45 billion cameras worldwide today, the visual sociologist filmmakers widen their lens to expose both humanity's unique obsession with the camera's image and the social consequences that lay ahead." World Premiere.
THE LONGEST GOODBYE. Director and Producer: Ido Mizrahy, Producers: Nir Sa'ar, Paul Cadieux. "Social isolation affects millions of people, even Mars-bound astronauts. A savvy NASA psychologist is tasked with protecting these daring explorers." World Premiere.
NEXT
KING COAL. Director and Producer: Elaine McMillion Sheldon, Producers: Shane Boris, Diane Becker, Peggy Drexler. "The cultural roots of coal continue to permeate the rituals of daily life in Appalachia even as its economic power wanes. The journey of a coal miner's daughter exploring the region's dreams and myths, untangling the pain and beauty, as her community sits on the brink of massive change." World Premiere.
MIDNIGHT
BIRTH/REBIRTH. Director and Screenwriter: Laura Moss, Screenwriter: Brendan J. O'Brien, Producers: Mali Elfman, David Grove Churchill Viste, Cast: Marin Ireland, Judy Reyes, A.J. Lister, Breeda Wool. "A single mother and a childless morgue technician are bound together by their relationship to a little girl they have reanimated from the dead." World Premiere.
RUN RABBIT RUN. Director: Daina Reid, Screenwriter: Hannah Kent, Producers: Sarah Shaw, Anna McLeish, Cast: Sarah Snook, Lily LaTorre, Damon Herriman, Greta Scacchi. "As a fertility doctor, Sarah has a firm understanding of the cycle of life. However, when she is forced to make sense of the increasingly strange behavior of her young daughter, Sarah must challenge her own beliefs and confront a ghost from her past." World Premiere.
PREMIERE
DEEP RISING. Director and Producer: Matthieu Rytz. "The fate of the planet's last untouched wilderness, the deep ocean, is under threat as a secretive organization is about to allow massive extraction of seabed metals to address the world's energy crisis. Narrated by Jason Momoa." World Premiere.
THE DEEPEST BREATH. Director and Screenwriter: Laura McGann, Producers: John Battsek, Sarah Thomson, Jamie D'Alton, Anne McLoughlin. "A champion freediver and expert safety diver seemed destined for one another despite the different paths they took to meet at the pinnacle of the freediving world. A look at the thrilling rewards — and inescapable risks — of chasing dreams through the depths of the ocean." World Premiere.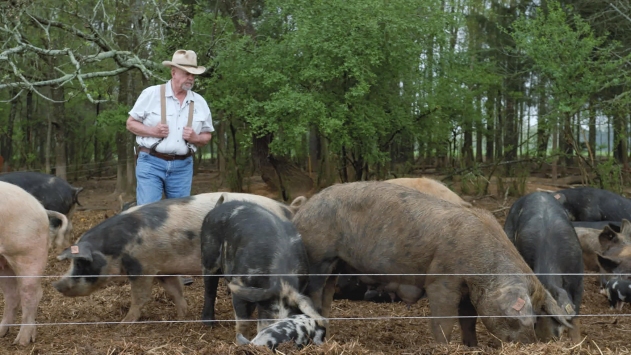 A still from FOOD AND COUNTRY. Courtesy of Sundance Institute.
FOOD AND COUNTRY. Director and Producer: Laura Gabbert, Producers: Ruth Reichl, Paula P. Manzanedo, Caroline Libresco. "America's policy of producing cheap food at all costs has long hobbled small independent farmers, ranchers, and chefs. Worried for their survival, trailblazing food writer Ruth Reichl reaches out across political and social divides to uncover the country's broken food system and the innovators risking it all to transform it." World Premiere.
LANDSCAPE WITH INVISIBLE HAND. Director and Screenwriter: Cory Finley, Producers: Dede Gardner, Jeremy Kleine, Cast: Tiffany Haddish, Asante Blackk, Kylie Rogers, Josh Hamilton. "When Earth is taken over by aliens who control the economy, a pair of teenagers come up with a plan to save their family." World Premiere.
THE POD GENERATION. Director and Screenwriter: Sophie Barthes, Producers: Geneviève Lemal, Yann Zenou, Nadia Kamlichi, Martin Metz, Cast: Emilia Clarke, Chiwetel Ejiofor, Rosalie Craig. "In a not-so-distant future, amid a society madly in love with technology, tech giant Pegazus offers couples the opportunity to share their pregnancies via detachable artificial wombs or pods. And so begins Rachel and Alvy's wild ride to parenthood in this brave new world." World Premiere.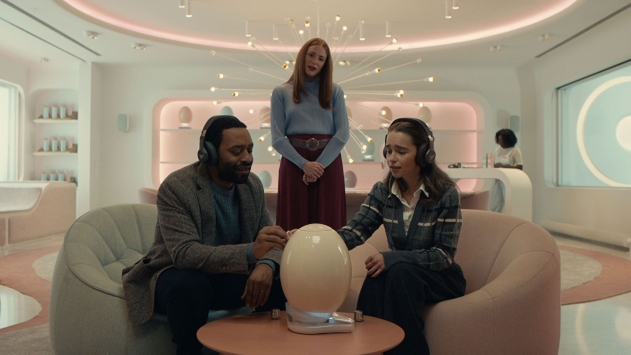 Emilia Clarke, Chiwetel Ejiorfor, and Rosalie Craig in THE POD GENERATIOn. Courtesy of Sundance Institute | photo by Andrij Parekh.
STILL: A MICHAEL J. FOX MOVIE. Director and Producer: Davis Guggenheim, Producers: Jonathan King, Annetta Marion, Will Cohen. "The improbable tale of a short kid from a Canadian army base who became the darling of 1980s Hollywood — only to find the course of his life altered by a stunning diagnosis. What happens when an incurable optimist confronts an incurable disease?" World Premiere.
NEW FRONTIER FILMS
A COMMON SEQUENCE. Directors and Producers: Mary Helena Clark and Mike Gibisser, Producer: Graciela Guerrero-Reyes. "An interconnected look at tradition, colonialism, property, faith, and science, as seen through labor practices that link an endangered salamander, mass-produced apples, and the evolving fields of genomics and machine learning." World Premiere.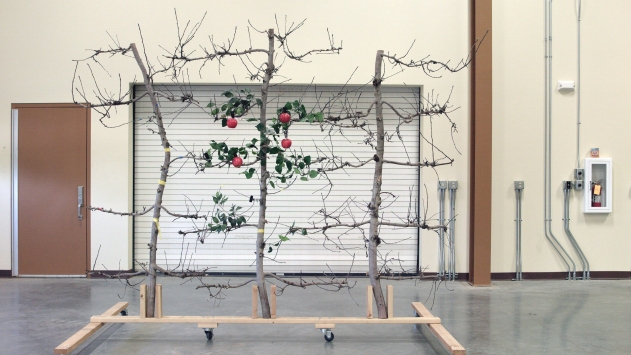 A still from A COMMON SEQUENCE. Courtesy of Sundance Institute.
LAST THINGS. Director, Screenwriter, and Producer: Deborah Stratman, Producers: Anže Peržin, Gaëlle Boucand. "Evolution and extinction from the point of view of rocks. A humid take on minerals, where sci-fi meets sci-fact. The geo-biosphere is a place of evolutionary possibility, where humans disappear but life endures." World Premiere.
KIDS
BLUEBACK. Director, Screenwriter, and Producer: Robert Connolly, Producers: Liz Kearney, James Grandison, Cast: Mia Wasikowska, Eric Bana, Radha Mitchell. "An intimate mother-daughter relationship is forged by the women's keen desire to protect the inhabitants of the pristine blue oceans on the Australian coast where they live. Adapted from Tim Winton's bestselling and critically acclaimed novella." U.S. Premiere.
---
More from Sloan Science and Film: