Preview of Science Films at NYFF 2022
The 60th New York Film Festival begins September 30, bringing some of the season's most anticipated films to Lincoln Center through October 16. Listed below, with descriptions quoted from the festival programmers, is our selection of the festival's science or technology-related projects.
Two genre-defying projects focusing on female resistance in the face of ecological crisis make their U.S. debut: Joana Pimenta and Adirley Queirós' feature DRY GROUND BURNING, Caroline Poggi and Jonathan Vine's short WATCH THE FIRE OR BURN INSIDE IT. In Riccardo Giacconi's short FINGERPICKING, the technology is to be heard rather than seen: The film's voiceover narration was written by an artificial neural network.
On October 12, festivalgoers can catch a special screening of Andrei Tarkovsky's sci-fi classic SOLARIS, featuring live musical accompaniment by Matthew Nolan and Stephen Shannon. To celebrate the film's 50th anniversary, the festival has commissioned a new, alternate score.
MoMI will be hosting NYFF screenings for the first time this year, and Sonia Epstein's Sloan Science & Film will be covering the festival citywide, so stay tuned.
NARRATIVE FEATURES
ALCARRÀS. Dir. Carla Simón. "Winner of the Golden Bear at this year's Berlin Film Festival, Carla Simón's follow-up to her acclaimed childhood drama SUMMER 1993 is a ruminative, lived-in portrait of a rural family in present-day Catalonia whose way of life is rapidly changing."
COMA. Dir. Bertrand Bonello. "The latest from director Bertrand Bonello (NOCTURAMA) is a sui generis work of pandemic-era interiority, tracking the anxiety and estrangement of a teenage girl (Louise Labeque, from Bonello's ZOMBI CHILD) who appears to live alone during COVID lockdown and gradually begins to experience the dissolution of boundaries between her real and imagined zones."
DRY GROUND BURNING. Dir. Joana Pimenta and Adirley Queirós. "A lightning rod dispatch from contemporary—and maybe future—Brazil, this astonishing mix of documentary and speculative fiction takes place in the nearly postapocalyptic environs of the Sol Nascente favela in Brasilia, where fearsome outlaw Chitara (Joana Darc Furtado) leads an all-female gang that siphons and steals precious oil from the authoritarian government."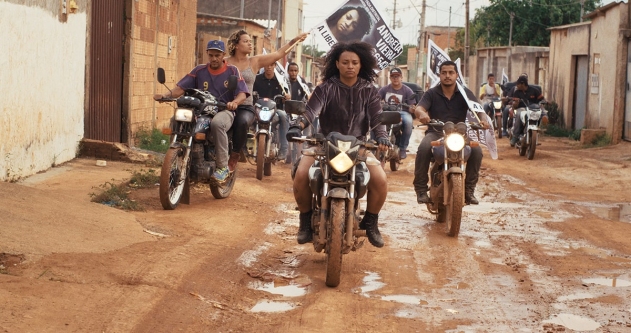 DRY GROUND BURNING. Photo credit: Courtesy of Joana Pimenta and Adirley Queirós.
ENYS MEN. Dir. Mark Jenkin. "In this eerie, texturally rich experience from Cornish filmmaker Mark Jenkin, an isolated middle-aged woman spends her days in enigmatic environmental study on an uninhabited, windswept, rocky island off the coast of Cornwall in southwest England, yet she's also increasingly haunted by her own nightmarish visitations."
EO. Dir. Jerzy Skolimowski. "At age 84, legendary director Jerzy Skolimowski has directed one of his spryest, most visually inventive films yet, following the travels of a peripatetic donkey named EO who begins as a circus performer before escaping on a pastoral trek across the Polish and Italian countryside."
REMOTE. Dir. Mika Rottenberg, Mahyad Tousi. "Finding new cinematic language to express the desire for physical contact in our increasingly isolated, mediated, and highly consumer-driven environments, Mika Rottenberg and Mahyad Tousi's Remote follows the daily routines of a quarantined woman (Okwui Okpokwasili) in her sealed-off, ultra-modern apartment, where she falls down a rabbit hole playing an inexplicable interactive game with a community of women from around the world."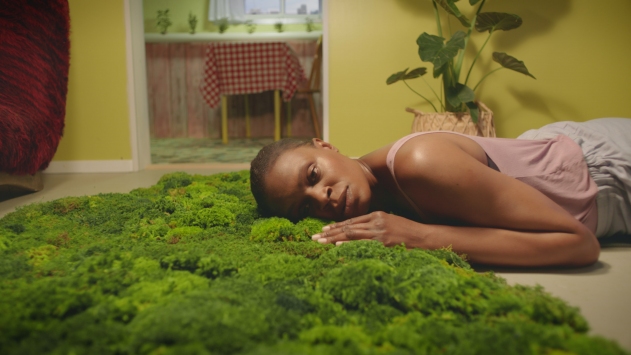 REMOTE. Photo credit: Courtesy of the artists and Hauser & Wirth.
SOLARIS. Dir. Andrei Tarkovsky. "Possibly the most emotionally devastating science fiction film ever made, SOLARIS follows scientist Chris Kelvin (Donatas Banionis) as he is sent to a space station whose inhabitants have been attempting to make contact with the mysterious planet Solaris. Often described as a Soviet response to KUBRICK'S 2001: A SPACE ODYSSEY, SOLARIS is an enigmatic work of startling beauty and depth."
THREE TIDY TIGERS TIED A TIE TIGHTER. Dir. Gustavo Vinagre. "A warm, bittersweet queer utopia bursts from the sidelines of Bolsonaro's Brazil in Gustavo Vinagre's loose-limbed comic marvel, set during a vibrant São Paulo one sunny afternoon amidst a peculiar pandemic that affects people's short-term memory."
TRENQUE LAUQUEN. Dir. Laura Citarella. "In her dazzling and enormously pleasurable new opus—told in 12 chapters spread across two feature films—Laura Citarella takes the viewer on a limitless, mercurial journey through stories nested within stories set in and around the Argentinean city of Trenque Lauquen ('Round Lake') and centered on the strange disappearance of a local academic. Through initial inquiries by two colleagues, we learn about her recent discoveries, including a new, unclassified species of flower and a series of old love letters hidden at the local library, which may help them track her down."
WHITE NOISE. Dir. Noah Baumbach. "Noah Baumbach (MARRIAGE STORY) has adapted Don DeLillo's epochal postmodern 1985 novel, long perceived as unfilmable, into a richly layered, entirely unexpected work of contemporary satire. Adam Driver heartily embodies Jack Gladney, an ostentatious 'Hitler Studies' professor and father-of-four whose comfortable suburban college town life and marriage to the secretive Babette (Greta Gerwig, perfectly donning a blonde mop of 'important hair') are upended after a horrifying nearby accident creates an airborne toxic event of frightening and unknowable proportions."
DOCUMENTARY FEATURES
ALL THE BEAUTY AND THE BLOODSHED. Dir. Laura Poitras. "In her essential, urgent, and arrestingly structured new documentary from Participant, Academy Award®–winning filmmaker Laura Poitras (Citizenfour) weaves two narratives: the fabled life and career of era-defining artist Nan Goldin and the downfall of the Sackler family, the pharmaceutical dynasty Goldin personally took on in her fight to hold accountable those responsible for the deadly opioid epidemic."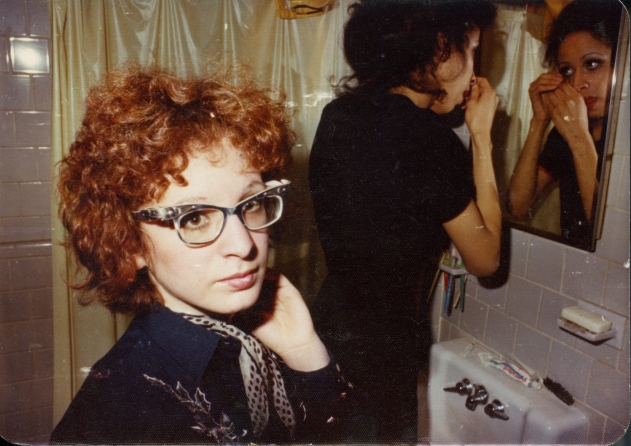 ALL THE BEAUTY AND BLOODSHED. Nan in the bathroom with Bea Boston (1970s). Photo credit: Photo courtesy of Nan Goldin.
ALL THAT BREATHES. Dir. Shaunak Sen. "In this hypnotic, poignant, and beautifully crafted documentary, New Delhi-based filmmaker Shaunak Sen immerses himself with two brothers who for years have been taking it upon themselves to save the black kite, their city's endangered birds of prey, which the general population largely sees as nuisances despite their essential role in the city's ecosystem."
DE HUMANI CORPORIS FABRICA. Dir. Véréna Paravel and Lucien Castaing-Taylor. "In their thrilling new work of nonfiction exploration, Véréna Paravel and Lucien Castaing-Taylor (LEVIATHAN) burrow deeper than ever, using microscopic cameras and specially designed recording devices to survey the wondrous landscape of the human body."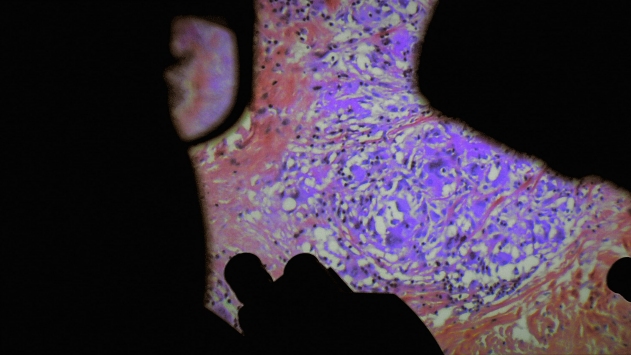 DE HUMANI CORPORIS FABRICA. Photo credit: © 2022 les films du losange.
SLAUGHTERHOUSES OF MODERNITY. Dir. Heinz Emigholz. "Contemporary cinema's preeminent chronicler of architectural spaces and their intersection with the ever-present crisis of 20th-century modernity, Heinz Emigholz returns with a film of quiet observation and historical excavation, focusing on creation and destruction in cities and provinces in Argentina, Germany, and Bolivia."
THE UNSTABLE OBJECT II. Dir. Daniel Eisenberg. "Continuing a project he began in 2011, filmmaker Daniel Eisenberg presents a dynamic triptych that patiently observes people working at three factories around the world, showing the rigorous labor as well as the intricate design and craft that go into every detail and level of production."
SHORTS
ADAPTATION. Dir. Josh Kline. "The setting for Josh Kline's ADAPTATION is the contaminated canyons of a floodedNew York City in the near future—here rendered with resolutely analog special effects, including matte shots and scale models. Amid the ruins, life and work continue, as the city's remaining relief workers adapt to the strange beauty of their newly transformed home and the consequences of a slow, preventable apocalypse."
BECOMING MALE IN THE MIDDLE AGES. Dir. Pedro Neves Marques. "Two couples, two quandaries of parenthood and age: a straight couple struggle with infertility and its possible environmental causes, while Vicente undergoes an experimental procedure to implant an ovary in his body so that he and his partner, Carl, can have a biological child. With delicate touches of science fiction, director Pedro Neves Marques explores the bleeding edge of the biopolitics of reproduction and the normative boundaries of the natural and the artificial."
FINGERPICKING. Dir. Riccardo Giacconi. "Voiceover narration written by an artificial neural network guides us through the workshop of the Compagnia Marionettistica Carlo Colla e Figli in Milan, one of the oldest puppet theaters in the world. Here, artisans and performers build and manipulate their multitude of phantasmagoric creations, grotesque and uncanny facsimiles of human and animal life."
GLASS LIFE. Dir. Sara Cwynar. "A swirling constellation of images—press photos, ads, animal pics, fashion shots, Instagram profiles, emojis, book covers, sports footage, selfies, cartoons, and clippings from an art history textbook—unfurl under the bird's-eye gaze of Sara Cwynar's GLASS LIFE which performs a vivisection of contemporary digital culture, plunging us deep into the hermetic pleasures and traps of the infinite scroll."
INTO THE VIOLET BELLY. Dir. Thuy-Han Nguyen-Chi. "Interweaving family lore, mythology, science fiction, and digital abstraction, Thuy-Han Nguyen-Chi's film follows the collaboration between the artist and her mother, Thuyen Hoa, who fled Vietnam after the end of the American War via a near-calamitous sea journey. Oscillating between voices, visual registers, and timescales—was it seven months or seven thousand years?— INTO THE VIOLET BELLY offers up an image of its multiplicitousstructure: a massive digital swarm, tiny avatars of migrating bodies, swimming in an infinite blue."
LUNGTA. Dir. Alexandra Cuesta. "Alexandra Cuesta's enigmatic film derives its title from the mythical Tibetan creature (literally, 'wind horse') that symbolizes the air or spirit within the body. Combining sound artist's Martín Baus's distorted aerophonic score with blurred 16mm footage, LUNGTA foregrounds the material substructure of the filmic process while invoking the history of Muybridge's earliest experiments in chronophotography, which gave motion to still images for the first time."
QUALITIES OF LIFE: LIVING IN THE RADIANT COLD. Dir. James Richards. "James Richards' QUALITIES OF LIFE: LIVING IN THE RADIANT COLD is a descent into a maelstrom of images and objects—from glitched medical optics, photos from the archive of Horst Ademeit, who documented the impact of radiation on his body, to Richards' own collection of erotic objects, drug paraphernalia, and other ephemera that swim in a dark techno-pharmacological miasma."
QUARRIES. Dir. Ellie Ga. "In the wake of her brother's paralysis, artist Ellie Ga traces a psychogeography from New York to the Aegean Sea to Kenya to Lisbon, threading narratives about agency in the face of being forgotten. What results is a potent, digressive triptych of palimpsestic imagery that uncovers various histories of humans' relationships to stone—from prehistoric tools to stonemasonry. QUARRIES unfolds through sifting juxtapositions and stories of resistance in unlikely places."
THE NEWEST OLDS. Dir. Pablo Mazzolo. "Through his deft hand-processing and manipulation of 35mm film stock, Pablo Mazzolo creates a kaleidoscopic landscape study of sites in and around the transborder agglomeration of Detroit, Michigan, and Windsor, Ontario. Transforming this space into a pulsating environment of liquid terrain, volatile abstraction, and an ever-changing color palette, THE NEWEST OLDS also draws on archival sound and field recording to reveal the two cities' energies of uncertainty and unrest."
WATCH THE FIRE OR BURN INSIDE IT. Dir. Caroline Poggi, Jonathan Vinel. "As water-bombers fight wildfires scorching the island of Corsica, a young woman learns to embrace the flames in an act of resistance. Part mordant karaoke video, part eco-terrorist manifesto, WATCH THE FIRE OR BURN INSIDE IT is a work of noise, pyromania, and rage against a world of concrete."
---
More from Sloan Science and Film: