Winners of the 2023 Sundance/Sloan Partnership
For over 20 years, the Alfred P. Sloan Foundation has partnered with the Sundance Institute to celebrate feature films for their depiction of scientific or technological themes and characters, and to support the development of film and television projects that heighten public awareness of science in our culture. At the 2023 Sundance Film Festival, four filmmakers received a total of $70,000 from the Foundation. The three script development prizes went to projects that are inspired by true events, two of which are set during World War II, and all of which center on women characters.
The Sloan Episodic Fellowship was awarded to writer Benjy Steinberg for his series THE PROFESSOR AND THE SPY. The series is about "Maria Mayer, Columbia University's ambitious first female physics professor, who joins the Manhattan Project – only to discover that her research partner is a notorious Soviet spy. As Maria cooperates with the FBI to counterspy on her colleague, she must question the ethics of her country, and thus her own moral fiber."
The Sloan Lab Fellowship was awarded to writer/director Cynthia Lowen (NETIZENS) for her screenplay LIGHT MASS ENERGY, "the story of Mileva Marić Einstein, who confronted rampant discrimination to become one of the first women in physics and an essential contributor to the theory of relativity. As barriers to her career overwhelm her, Mileva battles mental illness and her own exclusion from history."
The Sloan Commissioning Grant was awarded to writer John Lopez, the second time he has received Sloan support. His screenplay INCOMPLETENESS is adapted from Rebecca Goldstein's book of the same name. It is set "in the run up to World War II, when logician Kurt Gödel falls in love and discovers two mind-bending proofs that shake mathematics and philosophy to their cores. However, in surviving an era of collapsing reason, Gödel's own mind soon turns against him with only his wife Adele to sustain him."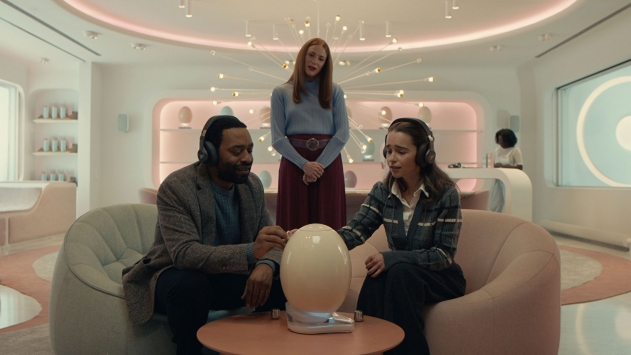 Emilia Clarke, Chiwetel Ejiofor and Rosalie Craig in THE POD GENERATION. Photo courtesy of Sundance Institute.

The 2023 Alfred P. Sloan Feature Film Prize was awarded to Sophie Barthes's THE POD GENERATION by a jury comprised of: Dr. Heather Berlin, Jim Gaffigan, Dr. Mandë Holford, Shalini Kantayya, and Lydia Dean Pilcher. The film, which stars Emilia Clarke and Chiwetel Ejiofor, made its world premiere in the Premieres section of the Sundance Film Festival. The jury awarded it the Sloan Feature Film Prize for "its bold, visually-arresting depiction of a brave new parenthood in which AI and artificial wombs provide technological benefits at the expense of our relationship to nature and to our own humanity, and for a woman artist's exploration of shifting gender roles dissociated from biology."
---
More from Sloan Science and Film: