2022 Sloan Student Prize Winners Celebrated
The winners of the 2022 Sloan Student Prizes–Samantha Sewell for UNTIL THEN WE KEEP BREATHING and Gerard Shaka for WOODSIDE–were celebrated on Thursday, January 5 at Museum of the Moving Image. The event included a reception and an awards presentation in the Museum's iconic Redstone Theater. During the program, MoMI Executive Director Carl Goodman, Curator of Science and Technology Sonia Epstein, and Sloan Foundation VP and Program Director Doron Weber gave remarks. Jurors Kate Biberdorf and Naomi Lorrain presented the awards, and prizewinners Samantha Sewell and Gerard Shaka accepted awards for their works. The awards presentation concluded with a conversation between both prizewinners and previous Sloan grantee Shawn Snyder (TO DUST).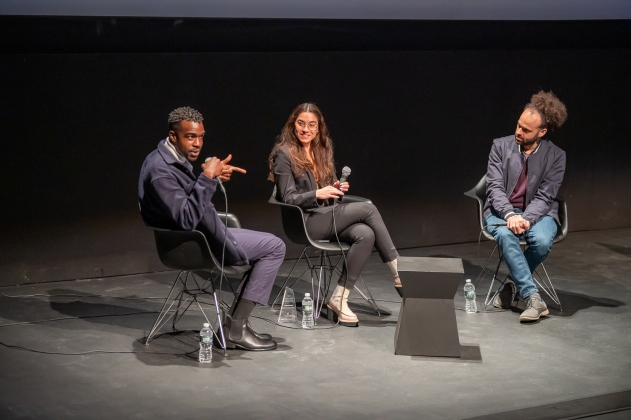 Gerard Shaka, Samantha Sewell, Shawn Snyder. Photo by Thanassi Karageorgiou / Museum of the Moving Image.
The winners and honorable mentions for each category are:
Sloan Student Grand Jury Prize Honorable Mention:
WHEN IT THAWS, a feature film by Anika Benkov, Columbia University
Logline: An aging scientist recruits his estranged daughter to come to the remote wilderness of Siberia and help him restore the tundra to Pleistocene-era plains, battling the melting permafrost, and his deteriorating memory, in the process.
Sloan Student Grand Jury Prize Winner:
UNTIL THEN WE KEEP BREATHING a series by Samantha Sewell, UCLA
Logline: Based in truth, UNTIL THEN WE KEEP BREATHING is a six-part limited series chronicling the life of a boy diagnosed with Cystic Fibrosis in 1963. From birth, to his first love, to the death of his parents, and several near-death experiences along the way, Until Then We Keep Breathing presents one man's will to live a full and normal life despite the limitations of his congenital illness and the uncertainty of his eventual demise.
Jury Citation: "For its eloquent and heartfelt depiction of a man's life with illness–interweaving developments in medical technologies and treatments with changes both personal and familial over time–we are pleased to award the 2022 Sloan Student Grand Jury Prize to Samantha Sewell for her limited series UNTIL THEN WE KEEP BREATHING."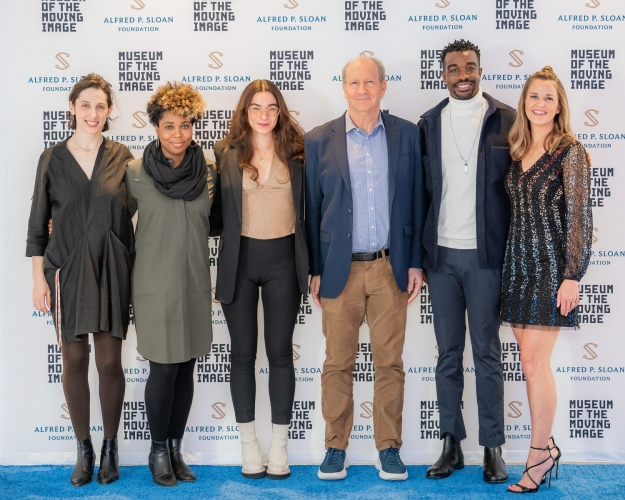 Sonia Epstein, Naomi Lorrain, Samantha Sewell, Doron Weber, Gerard Shaka, Kate Biberdorf. Photo by Thanassi Karageorgiou / Museum of the Moving Image.
Sloan Student Discovery Prize Honorable Mention:
IN VITRO VERITAS a pilot by Catherine Loerke, Brooklyn College Feirstein School of Cinema
Logline: When a brilliant, overly clinical fertility doctor on the brink of solving her own infertility woes loses the funding for an experimental IVF treatment that will put her clinic on the map (and make her a mom), her desperation sends her to the last patient she wants to help, her ex-husband's new-agey, wellness empress new wife, whose involvement in her trial complicates her quest to get her "differently fertile" patients–and herself–pregnant.
Sloan Student Discovery Prizewinner:
WOODSIDE a feaure film by Gerard Shaka, Florida State University
Logline: While struggling to cope with an abusive father and a complacent mother, a queer Bahamian boy discovers self-love through his experiences replanting mangroves with a marine conservationist.
Jury Citation:
"We are delighted to award the 2022 Sloan Student Discovery Prize to Gerard Shaka for his feature script WOODSIDE, an emotional story strongly rooted in place–with rich visual potential–of a teen boy navigating his identity while learning to care for mangroves in the Bahamas."
The Sloan Student Prize winners each receive a $20,000 prize, industry exposure, and year-round mentorship from both a science advisor and film industry professional. The Museum will also produce a work-in-progress reading of both winning projects as part of its First Look Festival in March 2023.
---
More from Sloan Science and Film: