Film Independent Spirit Awards Nominate To Dust
The Sloan-supported feature film TO DUST has been nominated for a Film Independent Spirit Award for Best Screenplay. Written by Shawn Snyder and Jason Begue, TO DUST tells the story of Shmuel (Géza Röhrig), a Hasidic cantor living in upstate New York, who is distraught by his wife's recent death and finds himself obsessing over how her body is decaying six feet underground. Seeking answers, he develops a clandestine partnership with Albert (Matthew Broderick), a community college biology professor. The two embark on an increasingly literal undertaking.
TO DUST began as a screenplay which Shawn Snyder and Jason Begue wrote in graduate school at NYU Tisch. The script received a $100,000 production grant from the Sloan Foundation in 2015 through its partnership with NYU. Subsequently, TO DUST was awarded the Sloan Student Grand Jury Prize through the Tribeca Film Institute, as well as a Film Independent Sloan Distribution grant in 2018. It was picked up for distribution by Good Deed Entertainment and opened in theaters in 2019.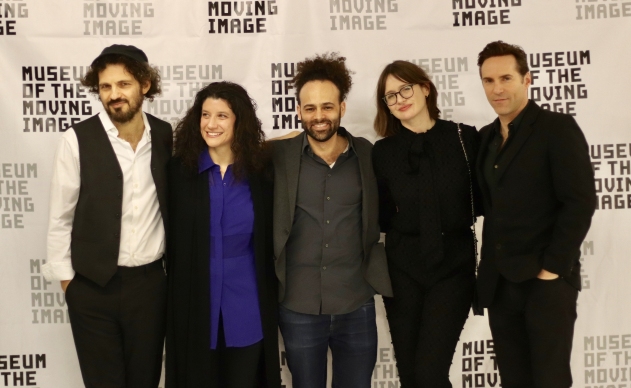 Géza Röhrig, Shawn Snyder, Emily Mortimer, and Alessandro Nivola at Museum of the Moving Image in February 2019
TO DUST was presented by Science on Screen at the Museum of the Moving Image in February 2019, before its theatrical release, followed by a conversation with writer/director Shawn Snyder, star Géza Röhrig, and microbiome researcher Maria Gloria Dominguez-Bello. The discussion touched on life, death, and microbes. It was introduced by producers Emily Mortimer and Alessandro Nivola, who became involved with the production after being on a Sloan jury and reading the script. That discussion is available to watch below.
The 2020 Film Independent Spirit Awards will take place on Feburary 8, and will be broadcast live on IFC Channel. TO DUST is directed and co-written by Shawn Snyder, and co-written by Jason Begue. It stars Matthew Broderick and Géza Röhrig. The film was produced by Emily Mortimer, Alessandro Nivola, Ron Perlman, Scott Lochmus, and Josh Crook. It is available to stream on Amazon Prime.