Five Film Projects Win Grants From Tribeca-Sloan Program
Five film projects in various stages of development have been awarded grants from the Alfred P. Sloan Foundation's partnership with the Tribeca Film Institute. All of the films are narrative projects which touch on topics ranging from HIV to the internet. The winning films were selected by juries of scientists and filmmakers, and will all receive financial awards as well as year-round scientific and film industry mentorship.
Anderson Cook's feature film script JAMES THOMAS THINKS THE EARTH IS FLAT is winner of the Sloan Student Grand Jury Prize. The film was selected from among all of the screenplays that were awarded Sloan grants by the Foundation's six film school partners 2018. The story centers on a 12-year-old aspiring physicist who can't seem to get anybody in his neighborhood to care about science, until he meets NBA All-Star and notorious flat-earther James Thomas.
Andrew Rodriguez's series PLUS is the inaugural winner of the Sloan Student Discovery Award. PLUS was chosen from submissions, by six graduate film programs without existing Sloan grants, of screenplays that integrate science or technology themes. Rodriguez is currently finishing his degree at SUNY Purchase's Film Conservancy. PLUS follows a New York City college student who finds out he has HIV.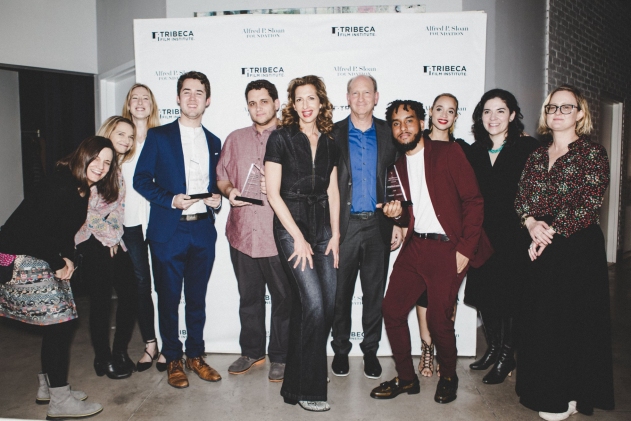 TFI-Sloan Student Winners at the Awards Ceremony
ASIA A, a feature film written by Andrew Reid and Roberto Saieh, is one of three winners of the TFI Sloan Filmmaker Fund. The film has been produced as a short, which won the Jury Award at the 2018 DGA Student Awards. It is about a college basketball player who suffers a debilitating injury. Jake Katofsky (LIVE CARGO) is attached to produce.
Written and directed by Juan Avella, BOLICHICOS is a recipient of the TFI Sloan Filmmaker Fund. The feature, inspired by true events, is set in Venezuela in 2006 where a currency exchange scam plays out. Diego Nájera is attached to produce and Carolina Costa will be the film's cinematographer.
WIRING UTOPIA is a feature film written by David Barker (THE EDGE OF DEMOCRACY) and Jerónimo Rodriguez (THE MONUMENT HUNTER) that is a TFI Sloan Filmmaker Fund grantee. It follows a British cybernetician who, in 1971, gets the opportunity to create the world's first internet in socialist Chile. Deepak Rauniyar (HIGHWAY) and Jay Van Hoy (AMERICAN HONEY) are attached to produce.
The TFI-Sloan Student jurors were Anne Hubbell, Dr. Francine Kershaw, Dr. Janna Levin, Alysia Reiner, Angie Wang, Dr. R. Gabriela Barajas-Gonzalez, Dascha Polanco, Shawn Snyder, and Olivia Wingate. The TFI-Sloan Filmmaker Fund jurors were Dr. Stephon Alexander, Dr. Wendy Suzuki, Jennifer Morrison, Laura Turner Garrison, and Warrington Hudlin.
Check back for more as these films develop.