Sundance-Sloan Winner Search: Aneesh Chaganty & Sev Ohanian
Winner of the Sloan Feature Film Prize at the 2018 Sundance Film Festival, the claustrophobic and engaging thriller SEARCH is told entirely through screens–browser windows, facetime, live streams, and instant messages. A father (played by John Cho) searches for clues as to his daughter's disappearance–his searches demonstrate the limits and vulnerabilities of today's server technology, as well as the way that lives are documented online. SEARCH is Aneesh Chaganty's first feature film. He co-wrote it with Sev Ohanian, who also produced; Ohanian was producer on FRUITVALE STATION, THE INTERVENTION, and other award-winning films.
SEARCH will make its world premiere on January 21 in the NEXT section of the Sundance Film Festival, where it will be awarded the $20,000 Sloan Prize. In addition to John Cho (STAR TREK, COLUMBUS), the film stars Debra Messing (WILL & GRACE), and Michelle La in her feature film debut. Science & Film spoke with Chaganty and Ohanian by phone before the film's world premiere.
Science & Film: Aneesh and Sev, were you aware of the Sloan Prize before receiving it?
Aneesh Chaganty: I was aware of the Sloan Prize and so was Sev; this will be Sev's fourth film at Sundance so he's been more aware than I have. But to be honest, we never associated SEARCH with this prize. I always associated Sloan with very science related films. When I found out that SEARCH was eligible I thought, oh my god, I guess it is, this is awesome! ANOTHER EARTH and GRIZZLY MAN are two of my favorite movies and the fact that we get to be on that same list is something we keep talking about.
Sev Ohanian: One thing that is amazing about winning the Sloan Prize is that it proved to us that audiences will be able to pull from it some of the thematic points we were trying to make about technology.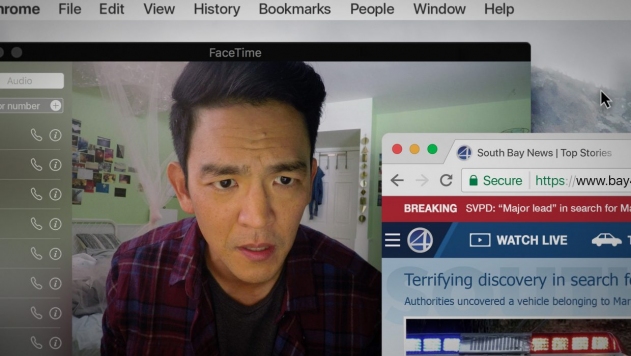 S&F: What were those thematic points?
AC: The film is essentially about what it looks like to live in a modern era, and especially what human connection looks like in a digital era. The film shows pretty much every aspect of people's lives through screens.
S&F: For both of you, what were some of the challenges of telling a story told through screens on a screen?
SO: How do you write a movie that doesn't take place in the world we live in–that instead takes place on screen? We found ourselves acting almost like pioneers in writing the script. We had to compile for ourselves a bible of sorts. Every time the dad goes on the internet we needed to find a way to showcase to our actors and crewmembers who will read the script what we're intending. That alone was difficult but ended up being quite fun.
AC: Telling a story the way we are demands a lot of the viewer. A big challenge for us was how to tell a proper mystery–with red herrings and twists and turns–on top of abiding this very complicated visual format. It was a very fun exercise in both the writing and filmmaking.
S&F: I know this is your first feature, Aneesh. How did you come up with this idea?
AC: Working at Google. After I graduated from college, the first short film that I made, with Sev, was a two and a half minute film [SEEDS] that took place all on Google Glass. When we put it online, it received a lot of attention and went viral. Google reached out that weekend and offered me a job in New York City as a filmmaker there. I moved to New York and for the past two years I've been at Google writing and directing a lot of their commercials. Most of the experience and skill set I used to make SEARCH I directly attribute to the lessons I learned while at Google Creative Lab.
Almost all of their commercials take place on a screen or are directly about humanizing the digital experience. We all experience and emote through a device. But what do these different emotions look like when they're executed on a screen? Those are things I directly learned via experience, or being taught by my mentors at Google. The biggest reason I felt confident enough to make this movie is because of the tools they gave me.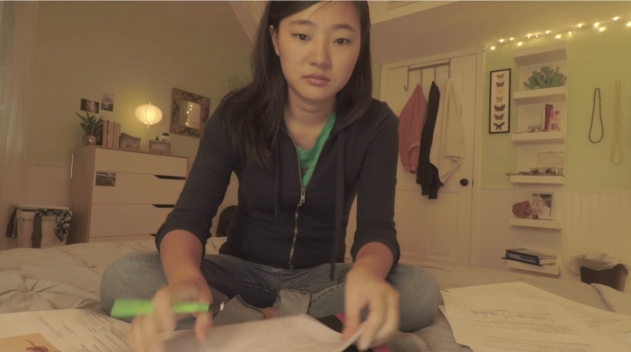 S&F: You mean technological tools or storytelling tools?
AC: Storytelling tools. They showed me what nervousness looks like with a space bar or a blinking cursor, and what love looks like with a click of a button, and what fear looks like with a progress bar. It's weird to associate those things with one another; it is like a language that everybody speaks but nobody knows that they actually speak it.
S&F: One of the things that we all know about technology is that it changes very quickly. Was that something that you worried about in writing and making a film that is so based in today's technological reality? Did you worry that it would quickly look outdated?
SO: You're basically reading our minds circa two years ago. We knew that the moment we released this movie it would become, for all intents and purposes, a period movie. We made a decision early on that we couldn't fight the movie. We chose a couple of days in a given year that the movie would take place in and committed ourselves to whatever was present-day at that point. One of the surprises people might find when they watch SEARCH is how much the relationship of technology over time plays a role in the story itself.
S&F: In the film, the father goes through his daughter's computer files. Aneesh, you worked at Google, so did you think about moral and ethical questions of privacy and access to information?
AC: I think every single tech-related issue presents itself as a plot point in the movie, and if you watch this movie with any sort of critical eye you will see these issues popping up. But again, for us the biggest objective of the film is to let the story tell itself and to have those issues be conversations that happen afterwards as opposed to directly commenting on them.
S&F: You said that you and Sev made SEEDS together, so you've known each other for a while. Sev, how did you two meet?
SO: We are both graduates of USC's School of Cinematic Arts. I was there for a master's degree and Aneesh was there for undergrad. I happened to be the TA of a producing class in which Aneesh was a student. I was drawn to his ideas, his energy, and his hustle and we always kept in touch. Once we graduated we would pitch each other fictional ideas for movies we wanted to make, and over time it became obvious that we were destined to make them together. He directs, I produce, and we develop and write together. We have formed this really awesome partnership and SEARCH is our first feature with hopefully many more to follow.
S&F: Aneesh, what was it like working with the actors in SEARCH?
AC: We were lucky enough to get some really talented people on the film. John Cho plays the lead. Last year he was in another Sundance film called COLUMBUS, which was my favorite movie at the festival. I think he is a godsend for this movie. Not only is he an extremely sympathetic human being, but when John takes direction he really thinks about it and if he believes it, we'll roll. But if he doesn't, he will question me and challenge me. These two things clearly made the film better because it led to a much more specific performance. I had a blast working with him.
Debra was just as fun, but in a totally different way. She's obviously a huge TV star on WILL & GRACE and all of those talents translated so well to the big screen. What I loved most was how she is able to take direction extremely quickly. We ended up getting a thousand different variations on everything because she is so versatile but it all came from a place of really studying the material. I remember she would ask so many questions about the tiniest aspects of the plot that Sev and I hadn't even thought of – and it ended up making the movie way better when we included some of those of things. But overall, the editing room process was just taking what I loved working with John and working with Debra and making them work together.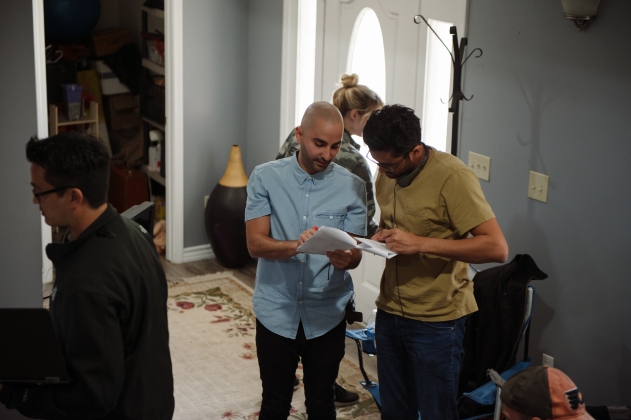 Aneesh and Sev, photo by Elizabeth Kitchens
SEARCH, directed by Aneesh Chaganty, will premiere at the Sundance Film Festival taking place from January 18-28, 2018. The film is produced by Sev Ohanian, Timur Bekmambetov, Adam Sidamn and Natalie Qasabian. Juan Sebastian Baron is the cinematographer, and the film was edited by Will Merrick and Nick Johnson. For more on science at Sundance, see Science & Film's lineup.
[Update, August 2018: SEARCH will be theatrically released under the name SEARCHING]