Listening to Women: DEAD RINGERS Consultant Erin Guerriero
The new Prime Video miniseries series DEAD RINGERS was adapted from the David Cronenberg film of the same name and the 1977 novel Twins by Bari Wood and Jack Geasland. In the series, Rachel Weisz stars as twin gynecologists who, jaded with the American hospital system, raise funds to start their own birthing center. Tension builds, however, as their interests diverge, both in terms of love and science—one is more interested in patient care, and the other in laboratory research. The series does not shy away from close-ups or facts about childbirth, fertility, and women's bodies. During production, the team engaged a number of professionals to help with these depictions. Erin Guerriero, a nurse based in Bellmore, New York, is credited as the series's C-section Tech Advisor. We spoke with her about her experience on set, her perspective on women's health, and her reaction to the show.
Science & Film: What is the main focus of your work?
Erin Guerriero: I have been a nurse for over 20 years now. The majority of my work was in the neonatal ICU, where I worked for about 18 years. Then, I left to go into community health roles. Currently, I am the supervisor for the lactation team on the new family home visiting program through the New York City Department of Health. I also have a small private practice where I see breastfeeding moms who are having challenges.
S&F: What was your role on set?
EG: On the set [of DEAD RINGERS], I was there to give some thoughts on room set up for the hospital set in which they were filming. I was able to answer questions about what made sense as far as ways to hold different pieces of equipment. It wasn't just me; it was a whole team. We were able to share thoughts on different things that occur during a procedure or surgery in order to add some realism to the show. And then some of us ended up in the background of the show, just because we had the skill set, which was fun. I actually got to be a hand double for Rachel [Weisz] during some procedures. Esther was a labor and delivery nurse. She had a lot of knowledge on C-sections. Diana was also a labor and delivery nurse. I worked with Barbara [Sellars] who was the midwife and Dr. Susan [Grant], an OBGYN. In the first C-section Esther was the one that did the actual incision, and it was my hands pulling the baby out. Then, I think it was the C-section of the quads that I did the cut for. We all worked together, making sure that the pieces were there in the background—things that most people wouldn't even think about. During the quad delivery, there were four isolettes in the room. In a regular delivery, you would of course have an isolette, to bring the baby over to resuscitate. They were quads, they could have been born a little bit early, so we wanted to make sure that all the resuscitation equipment was there and made sense for their size. You're not going to put on an adult mask on a baby to be resuscitated, you want to make sure you had neonatal masks.
I have to say, the props department really went above and beyond and had all the surgical equipment a hospital would have on hand. There were certainly times—because of the type of show it is, being a thriller—that our advice wasn't able to be utilized. As you know, there's also the creative angle, but they really listened to us and got us involved. It is my understanding—this is the first time I've ever done a job like this—that you're not always right there on set and so hands on. But it was very important to them that they got things as realistic as possible. We felt very welcome to share any of our thoughts, any of our suggestions. It was a great experience.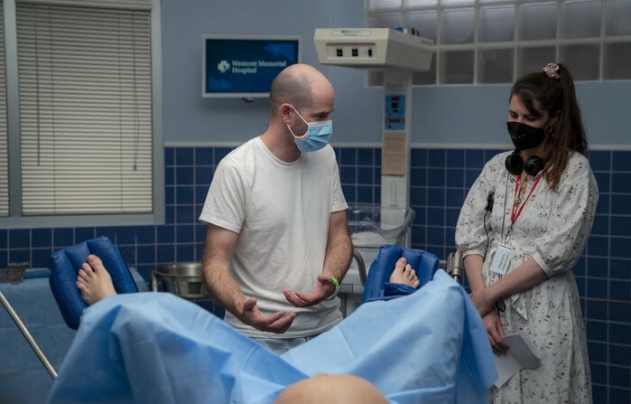 Behind the scenes, DEAD RINGERS. Credit: Niko Tavernise/Prime Video ©2023 Prime
S&F: Had you seen the film or read the book that the series is based on?
EG: I had not read the book, but I had seen the film a long time ago. So, of course, while we were filming, I rewatched it. I appreciate the spin they put on it and the new take, and I think it's being received well. It's also interesting timing with what we have going on in the world right now.
S&F: What do you make of the ethical questions embedded in the series? There is tension between some characters about how the field should evolve.
EG: Yes, that's very real. In health care, unfortunately, the bottom line sometimes gets put above care for the patient, which is part of the reason why I don't want to work in a hospital setting anymore. I think that our hospitals are actually seeing quite a crisis right now because of so many healthcare professionals not being able to sustain that and leaving the bedside, unfortunately.
S&F: I'm curious if you can talk a little bit more about that from the perspective of women's care in particular, and pregnancy. There is that line of dialogue in the show about pregnancy not being a disease and taking it out of the hospital.
EG: I'm glad that they highlighted that because the reality is, if you look at the statistics, birthing persons actually do better in birthing centers. Of course, there are those who have extenuating circumstances where they do need to be in a facility where they have that extra support on hand if there's a complication. But the way OBGYN developed, at least in our society, took a lot of control away from women. You can feel a real loss of control when you're delivering your baby in a hospital setting. Every birthing person needs to have an advocate who is knowledgeable and able to verbalize concerns or wishes, because we see it in the numbers. The U.S. has one of the highest infant and maternal mortality rates of any developed nation.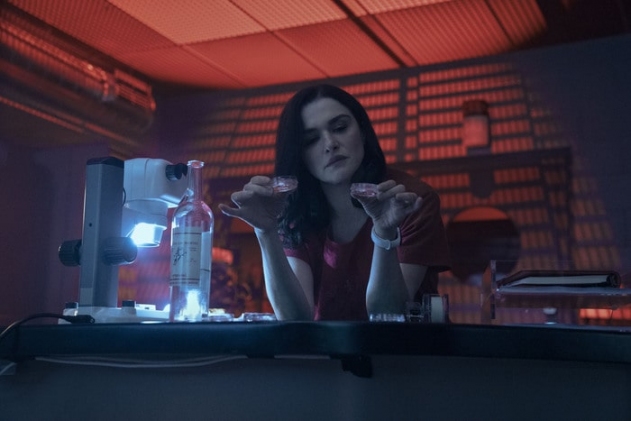 Rachel Weisz in DEAD RINGERS, Credit: Niko Tavernise/Prime Video, Copyright: Amazon Studios
S&F: I'm thinking of some of the scenes in the show where they're allowing people to give birth in whatever position they'd like. Are those the kinds of decisions that you mean, in terms of losing control in a hospital setting?
EG: Yeah, absolutely. In fact, those aren't new ways [of giving birth], right? That's how women birthed historically, in a squatting position. It is what makes most sense. It's considering the anatomy, it's considering gravity, it's considering all the things that help with that birthing process versus what we've been told to do, which is lie on our backs with our feet up in the air—nothing natural about that at all. I also think there's a power struggle at times when there are complications, it's just assumed by providers that they can go ahead and do what they want, they'll get consent, but is it really consent or, lots of times I think we pressure birthing persons into doing things without first explaining why something might be the best option. And sometimes we're not even giving accurate information. I feel like in every area of healthcare, we try to do what is evidence based, but in maternal childcare, there is a lot of anecdotal information provided and bias for the choices that birthing persons should make along the way.
S&F: That frustration that the twins feel in the show, in the scene where they decide to open their own center, felt very real.
EG: I say all the time that I would love to open this place called the postpartum house where women can go to heal, and get lactation support, and nutrition, and their other children can be cared for. But I don't have the money to do that. And insurance isn't gonna pay for it. There actually is a place now in New York City and I believe they're opening one in LA called Boram. But it's very expensive. It would be great if we had something like that available to all birthing persons.
S&F: I imagine you've seen the show now that it's out in the world, what do you think of it?
EG: I like the realness of presenting actual birth. We all go through birth, right? That's how we all came into the world, and it shouldn't be such a taboo subject. We're not going to improve outcomes if we keep it a taboo subject, so the realness... Episode one when she's staring at her miscarriage in her hand. It's raw, it's vulnerable, but it opens up conversation. And the same thing when they're showing an actual delivery—it's not an actual delivery, but you know. Legs wide open, babies being birthed, coming out, I think that it's really, really important to have that visual out there to open up conversation, because that's how we're going to learn and improve.
S&F: Is there one thing you think we could improve on in particular?
EG: Listening to women. When somebody says something doesn't feel right, believe them. Especially within minority groups whose infant and maternal mortality rates are three times higher than white women. Policy makers are currently making laws that are impacting women's health in states that already have higher infant mortality rates than states where women still have freedom of choice in their care.
♦
---
More from Sloan Science and Film: