Meet the Filmmaker: Ryan Craver
Ryan Craver—a writer, director, and producer—is the recipient of multiple awards from the Alfred P. Sloan Foundation's program partners, most recently for his feature film TADPOLE about a trans high-schooler experimenting with growth hormones in tadpoles and the ensuing backlash from their Evangelical community. Craver just completed his other Sloan-winning project, originally conceived as a prequel to TADPOLE, called SOUND TO SEA. The film made its world premiere at the 2022 New Orleans Film Festival where it won the Audience Award for Narrative Short. Supported by a Sloan Production Grant from Columbia University in 2019, the film is set during a sleep-away ecology trip for a group of middle schoolers and follows one in particular who is forced to confront is queer identity through discussions about the biology of frogs. We spoke with Craver about both projects.
Science & Film: Can you tell me a bit about how SOUND TO SEA came to be?
Ryan Craver: I remember one of my classmates from high school doing an experiment on tadpoles where they were using chemicals that were endocrine disrupting—like estrogen-mimicking compounds—and sex-swapping frogs. A decade later I was in film school, and I heard how generous the Sloan Foundation is, and I had the idea for a feature film that would be a political satire based on a trans student doing this in a Bible-belt public high school and then the PTA mom gets involved and it spirals from there. So, there is a related feature called TADPOLE, and that's where this started. I was going to make a short film that was going to be a prequal. The more I worked on it, it ended up turning into a slower, more poetic film about a kid who is incredibly lonely on a field trip. It all clicked when I realized I wanted to work with an actor I'd worked with before, [Alex Haydon], who plays the teacher Mr. Brad. It ended up being a poetic take on a life cycle. It's a young queer person and an older queer person's experiences put back-to-back, and that's when I fell in love with the script enough to want to make it.
S&F: How was Sloan involved in the short?
RC: I went to Columbia for my MFA and they had the short film production grant which I received in 2019. We shot in 2020, right before the pandemic which is why it's only coming out now—it took two years to finish.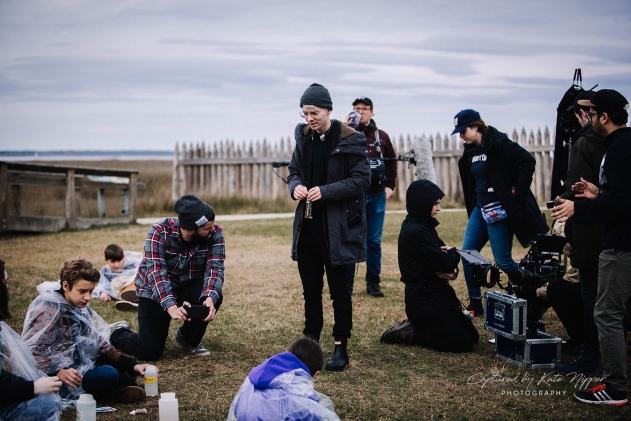 Behind the scenes of SOUND TO SEA, courtesy of Ryan Craver
S&F: How did you get the shots of frogs that are featured in the film?
RC: I kept in touch with someone who was a year below me in high school and ended up getting a PhD in biology at the State University of North Carolina, where I'm from. He was so happy to help me out. His name is Eli Hornstein. I sent him drafts of the script and he gave me some feedback, but the nice thing about this film is it's not about scientific discovery as much as how science impacts us without us being aware of it. I wanted to make it a science film poetically and spiritually. The good thing about that is I didn't have to have hard-core science in there because it's more about an eighth grader's awakening to other forces in the world, which to me is what science is.
Eli was so instrumental—we would not have a film without him because he was also our frog wrangler. I knew the film would not work without a real frog. There are all these hoops to go through to get animals in films, and animal wranglers are very expensive. We picked the species and Eli happened to have a box of them for his own research, so instead of paying thousands of dollars for a frog wrangler, Eli came out and brought his own. He put them in the shot and some of the kids got to hold them which was completely fine—he knew how to do all of that properly. They ended up being very good actors because it was cold enough outside to make the frogs slow down, so they would stay in place, and we could film them. They react to light, so there is a shot where the main kid Leo is walking away and hears a frog then flashes a light on it, and when he would do that, the frog would just walk up the tree a tiny bit and it looked like I was directing the frog to do that. The frogs were very nice to work with.
S&F: How has it been to share the film with audiences?
RC: I have some history with the New Orleans Film Festival, and I knew I wanted to premier there because their mission aligns with what I'm trying to do as a filmmaker. I identify as a Southern filmmaker, I grew up in a small town in North Carolina, and all my work has to do with the South in some way. They support Southern filmmakers and especially people whose voices have not traditionally been a part of the Southern narrative—a lot of queer filmmaking. My first short premiered there in 2018. I was really glad they wanted to show this one. It's a 26-minute short, not every festival wants to program something with that length, but it was in a block called "Queer Drawl" which was loosely for films that take a slower pace and look at different absurdities or corners or loneliness as a queer person in the South. It was a great program, and I did realize that I had made a short truly not meant for a computer screen, because seeing it on a big screen with an audience it was much funnier than I imagined. People were really laughing then were really shocked when certain things happened. I could just feel the crowd lean in a lot more than I anticipated. Then we won the Audience Award for Narrative Short, so, that was crazy.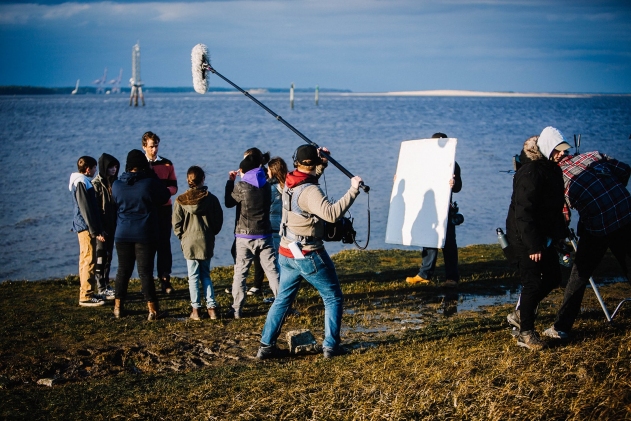 Behind the scenes of SOUND TO SEA, courtesy of Ryan Craver
S&F: What do you envision for the rest of the life of the film, and what's next with TADPOLE?
RC: With shorts you kind of just hope for the best. I want to show it at as many indie festivals as possible. I want to do my crew and actors justice because they worked incredibly hard on it—shooting on the coast in the winter. At a certain point, people believed in the script enough to follow me along. I really want it to show to fully honor the work other people did on this.
For TADPOLE, I received the Tribeca Film Institute Sloan Filmmaker Fund grant during their last year doing that, and the SFFILM Sloan Fellowship. So, I've had great support for it. I'm continuing to work on the script and hope I get some producing partners soon to put it together. Making this short also made me go back to the feature and realize that I want to do something different with it—something that's more poetic, slow, and sincere, and focused on the intergenerational conversations. Political satires are a little touchy right now anyway—politics stopped being funny a long time ago—so I'm finding a new way into the script.
---
More from Sloan Science and Film: