Science Films at DOC NYC 2022
November 9 to 27 marks the return of America's largest documentary film festival, DOC NYC. The 2022 edition will screen more than 200 films, both online and in theaters across Manhattan. From this year's lineup, we have identified the festival's 29 science or technology-themed films to look out for. The list below includes 15 shorts and 14 features, with descriptions quoted from the festival.
Werner Herzog fans have a great deal to look forward to: In addition to the NYC premiere of his Sloan-funded documentary THEATER OF THOUGHT, the DOC NYC Lifetime Achievement Award recipient will also screen THE FIRE WITHIN: REQUIEM FOR KATIA AND MAURICE KRAFFT. (The Kraffts are also the subject of Sara Dosa's FIRE OF LOVE, screening at the festival.)
Additional highlights include THIS MUCH WE KNOW, L. Frances Henderson's adaptation of John D'Agata's About a Mountain. Published in 2010, the non-fiction book received acclaim for its exploration of the government's plan to store nuclear waste in the Yucca Mountain region of Nevada. This year's festival also features a shorts program devoted entirely to the issue of climate change, entitled OUR CLIMATE / OUR CRISIS.
Feature Films
ALL THAT BREATHES. Dir. Shaunak Sen. "Winner of prizes at the Cannes and Sundance film festivals, ALL THAT BREATHES follows two brothers in New Delhi who have dedicated their lives to caring for the bird species called the black kite. As the city's pollution poses increasing dangers for the birds, the brothers Nadeem and Saud set up a home animal hospital."
ALL THE BEAUTY AND THE BLOODSHED. Dir. Laura Poitras. "Winner of the Venice Film Festival's prestigious Golden Lion award, ALL THE BEAUTY AND THE BLOODSHED is a collaboration between Oscar-winning director Laura Poitras (CITIZENFOUR) and the artist Nan Goldin. Poitras follows Goldin as she leads a campaign of protests against the Sackler family and their company Purdue Pharma. That's just one layer of the film that delves into Goldin's personal and artistic history, including the influence of her late sister Barbara."
CABIN MUSIC. Dir. James Carson. World Premiere. "When a spiritual crisis spurs him to leave the constraints of the conservatory, pianist and filmmaker James Carson embarks on a journey of evolution, discovering new connections between music and the natural world. His travels culminate in a cabin he builds in the Canadian wild where his experiences meld into a new form. A lyrical, genre-defying feast for the senses, CABIN MUSIC is a testament to the twin transcendent powers of music and nature."
FIRE OF LOVE. Dir. Sara Dosa. "DOC NYC alum Sara Dosa (THE SEER AND THE UNSEEN) tells the story of the married French volcanologists Maurice and Katia Krafft. The film's script, narrated by Miranda July, takes an essayistic approach vividly illustrated by the Krafft's film and photo archive of volcanic activity. Their career lasted two decades before they perished getting too close to what they loved."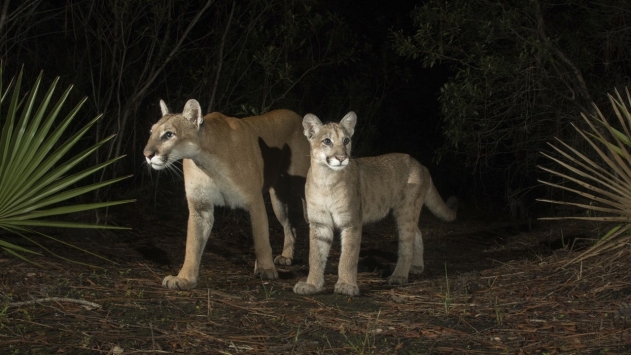 PATH OF THE PANTHER. Photo by Carlton Ward Jr and Malia Byrtus.
PATH OF THE PANTHER. Dir. Eric Bendick. NYC Premiere. "Using trap-motion cameras, wildlife photographer Carlton Ward charts the habitat of the elusive – and vanishing – Florida panther. Filmmaker Eric Bendick follows Ward and cohorts as they pursue the perfect photograph that they believe will change the tide of public indifference to government-sanctioned destruction of the Everglades' delicately balanced ecosystem and the panther's imminent extinction. Image-making has rarely felt this essential to our planet's survival. "
ROBERT IRWIN: THE DESERT OF PURE FEELING. Dir. Jennifer Lane. World Premiere. "Renowned experimental artist, Robert Irwin, explores human perception in a world that has expanded the presence of technology. Irwin's unorthodox style led to a long career and life, including periods as a gambler and a cherished teacher. Through his art, Irwin questions consumerism, technology, and human nature. The film spans Irwin's early work experimenting with biofeedback, to his immersive minimalist masterpiece in Marfa, Texas, which is a radical ode to the evanescent elements of light and space."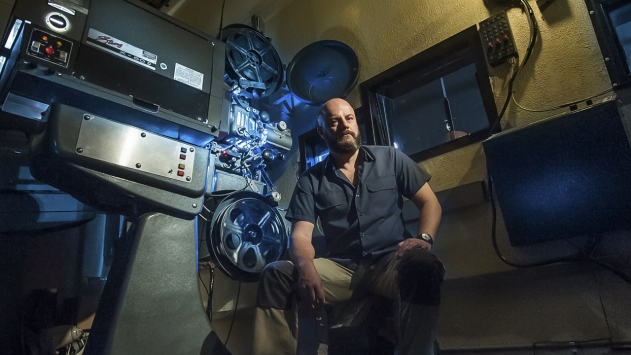 SPLICE HERE. Photo courtesy of Rob Murphy.
SPLICE HERE: A PROJECTED ODYSSEY. Dir. Rob Murphy. US Premiere. "Filmmaker and projectionist Rob Murphy's jubilant love letter to film projection and cinema. In the age of digital projection, cinema on film is a rarity, in SPLICE HERE, film projectionists step out of the shadows to recount their tales of Cinerama projection, explosive nitrate film shows, and lost film prints. After Quentin Tarantino announces a 70mm exclusive run of THE HATEFUL EIGHT, Rob races against the clock to build a projector out of parts so a new generation can experience the awe of film."
THE FIRE WITHIN: REQUIEM FOR KATIA AND MAURICE KRAFFT. Dir. Werner Herzog. Pre-Festival Premiere. "Werner Herzog's 2016 documentary meditation on volcanoes Into the Inferno contained a segment about the French volcanologists Katia and Maurice Krafft that introduced them to many viewers for the first time. Now Herzog devotes a full film to their lives in THE FIRE WITHIN paying tribute to their risk taking and image making. This year's DOC NYC contains another film about the Kraffts, FIRE OF LOVE, but Herzog's take is wholly unique, filtered through his distinct vision."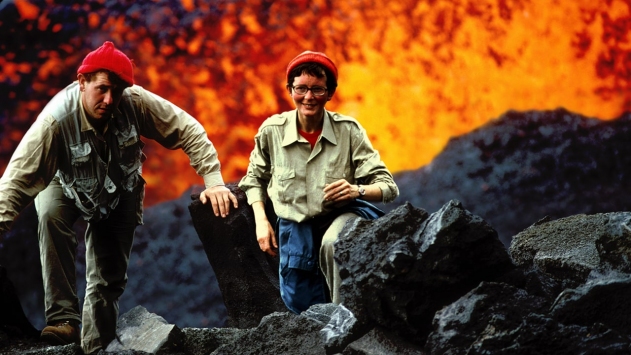 THE FIRE WITHIN. Photo courtesy Abacus Media Rights.
THE GRAB. Dir. Gabriela Cowperthwaite. NYC Premiere. "Filmmaker Gabriela Cowperthwaite (BLACKFISH) returns with another explosive exposé. On a global scale, governments and uber-wealthy private investors move to secure control of the natural resources that will provide food and water to the world's population for the next century and beyond, working either in the shadows or waging smokescreen wars to ruthlessly grab for power. Investigative reporters valiantly work to peel back the cover-ups, often at great personal risk."
THE QUIET EPIDEMIC. Dir. Lindsay Keys, Winslow Crane-Murdoch. NYC Premiere. "A young Brooklyn girl has suffered mysterious symptoms for years when her determined father stumbles upon a vicious medical debate: the existence of chronic Lyme disease. In 1975, the CDC and health insurance companies set guidelines still used today to deny the diagnosis and treatment for its debilitating symptoms. The film investigates the controversial history around chronic Lyme and the patients and medical researchers fighting to change policy and develop new treatments."
THE WIND BLOWS THE BORDER (VENTO NA FRONTEIRA). Dir. Laura Faerman, Marina Weis. U.S. Premiere. "On the violent border between Brazil and Paraguay, a battle between agribusiness and indigenous sovereignty wages. Filmmakers Laura Faerman and Marina Weis outline the clash between lawyer Luana Ruiz, heiress to the contested land and staunch Jair Bolsonaro supporter, and Alenir Ximendes, Guarani-Kaiowá leader, teacher and activist. A powerful cinematic chronicle of Ximendes's courageous fight against Ruiz and agribusiness to protect her community, culture and indigenous lands."
THEATER OF THOUGHT. Dir. Werner Herzog. NYC Premiere. "Werner Herzog turned 80 this year and is receiving DOC NYC's Lifetime Achievement Award. Now he teams with scientist Rafael Yuste to interview an eclectic array of brain specialists undertaking research that has the potential to make the world both better and worse. He probes into technology, human rights law, philosophy and more. For a filmmaker who's traveled to the furthest corners of the earth, this journey inside our skulls makes for a mind-bending trip."
THIS MUCH WE KNOW. Dir. L. Frances Henderson. NYC Premiere. "Grieving the suicide of a close friend, a filmmaker travels to Las Vegas, America's suicide capital. There she learns of the shocking death of Levi Presley, a local teenager who leaped from the roof of the city's tallest casino. THIS MUCH WE KNOW takes an essayistic, metaphor-laden approach to the subject of self-annihilation, masterfully linking it to environmental issues."
WHITE NIGHT. Dir. Tania Ximena, Yollotl Gómez Alvarado. U.S. Premiere. "A sensorial film about the members of a Zoque community in Chiapas, whose village was buried in a volcano eruption in 1982. Thirty-eight years later, a poet named Trinidad, prophetically born on the day of the eruption, leads the community to excavate their former town and unearth the relics of their church. Their moving encounter with grief, with their ancestors and with the spirit of the volcano is conjured in this cinematic delight."
Shorts Program: Our Climate / Our Crisis
BEYOND THE LANDFILL. Dir. Dewi Tan."A landfill community forms its own association to help uplift its children and community before the landfill closes in the near future."
BOUBÉ OF THE FULANI. Dir. Félicien Assogba. "In the deserts of Benin, shepherds struggle with droughts and a changing environment as they herd animals through ancestral lands."
---
READ MORE:
Science Films at DOC NYC 2021
---
ECO-HACK!. Dir. Josh Izenberg, Brett Marty. "A collection of biologists inventively save desert tortoises with a brilliant hack!"
FROM DREAMS TO DUST. Dir. Stephanie Tangkilisan, Muhammad Fadli. "The dark side of green technology comes into focus as an Indonesian worker risks his life to feed his family by mining nickel needed for electric car batteries."
THE FARM UNDER THE CITY. Dir. Brett Chapman, Jordan Carroll. "The possibilities of urban farming explode when an innovative business develops a fascinating closed loop system using local restaurant food waste to grow organic vegetables."
Short Films
ARECIBO WANTS ITS TELESCOPE BACK. Dir. Billy Ward."The iconic Arecibo Observatory made huge strides in astronomical research, until it collapsed. Now, a local scientist is advocating for its reconstruction."
BLACK GOLD. Dir. Natalie Peña Peart. "Jae Lee is an urban farmer at Phoenix Community Garden in Ocean Hill, Brooklyn, where she devises an inspiring community composting plan."
EVERYONE'S A STRANGER. Dir. John Nyberg. "One woman's experience having face blindness."HEART VALLEY. Dir. Christian Cargill. "HEART VALLEY follows a day in the life of Welsh shepherd, Wilf Davies, whose connection to nature provokes questions about what we should truly value."
ONCE THERE WAS A SEA…. Dir. Joanna Kozuch. "A stirring animated portrait of the dying Aral Sea, bordering Kazakhstan and Uzbekistan, and home to one of the worst man-made eco-catastrophes in human history."
SEASONS. Dir. Gabriella Canal, Michael Fearon. "A mother and daughter come together on a farm during the pandemic to nurture plants and harvest food."
SENTINELS. Dir. Derek Knowles, Lawrence Lerew, "Young environmentalists take to the trees to save an old-growth grove and outwit loggers."
THE GOATS OF MONESIGLIO. Dir. Emily Graves. "An immigrant family and Italian-born family work on a goat farm to make it a success and demonstrate the new face of Italian agriculture."
THE MONSTER IN OUR CLOSET. Dir. Nicole Gormley, Kathryn Francis. "A lawyer, reporter, and inventor team up to address one of the world's largest pollutants that goes under the radar: plastic in clothing. "
THE PANOLA PROJECT. Dir. Jeremy S. Levine, Rachael DeCruz. "This subtle yet engaging documentary features Dorothy Oliver as she organizes to keep her rural Alabama town safe from COVID-19 by vaccinating everyone."
---
More from Sloan Science and Film: