Experiment in 3-D Computer Animation Rediscovered
Early experiments in computer animation brought together art and technology, and often artists and engineers, to produce abstract films sometimes reminiscent of avant-garde cinema. When computer technology was still large and expensive, organizations such as Experiments in Art and Technology formed to provide artists with access to tech; E.A.T., as it was abbreviated, was founded in 1966 by artist Robert Rauschenberg and engineer Billy Klüver to pair artists with engineers at Bell Telephone Laboratories in New Jersey.
Bell Labs was then widely regarded as a hub of innovation in large part because of the resources it allocated to pure research, experimentation, and development—life changing technologies, such as the transistor, were invented there. Some individuals active in this scene in the 1960s, however, had the skills of both artist and engineer; A. Michael Noll, for example, made work that is of artistic integrity while also advancing the computer technology with which he worked. A 1964 experiment of Noll's, one of the first 3-D computer animations, was recently discovered and is now available to watch below.
At the 2018 Orphan Film Symposium, organized biennially by NYU, A. Michael Noll's 3-D computer animation was debuted by collector John Froats. Believed by Noll to have been lost, Froats discovered Noll's film still threaded through an old 16mm film projector at the home of Harry Kalish, a former Bell Labs engineer turned art supply purveyor. Kalish had worked at Bell Labs helping to create 35-mm film masks for computer circuits. A. Michael Noll was once his colleague. Noll joined Bell Labs in 1961 as a member of the technical staff, initially researching the subjective effects of phone call audio distortion.
As his research at Bell Labs continued, Noll developed an interest in 3-D animation. According to an article in Computers and Automation by Noll published in 1965, he was interested in the potential applications of animation to educational presentations of scientific concepts.
Noll's inspiration for the 3-D film that Froats discovered was one of the first public artworks at New York's Lincoln Center: Richard Lippold's 1962, 39-foot-tall sculpture "Orpheus and Apollo," removed from the building in 2014. Over the course of repeated visits to the sculpture, Noll drew numerous sketches of the artwork and then used a computer program to generate a 3-D rendering of the sculpture based on these sketches. The image looks 3D because of the side-by-side presentation of two views of the sculpture from slightly different angles, which have a 3-D effect when viewed together.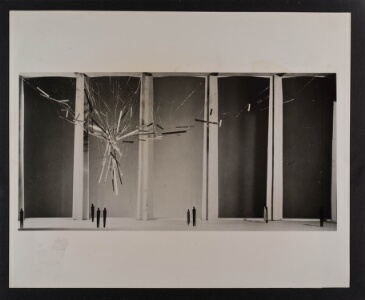 Philharmonic Hall: Construction Plans and Models A model of one-half of the sculpture by Richard Lippold, 1962, NY Philharmonic Archives
It became clear to Noll that a succession of 3-D pictures could be strung together to create 3-D movies. "Now the static character of the computer sculpture is gone and in its place are the almost limitless possibilities of three-dimensional movement and shape transitions," he wrote in an article called "Three Dimensional Movies." The film became part of a series called "Patterns" that Noll undertook at Bell Labs. Noll believed that 3-D animations could be used to present scientific concepts, and also that they could be used by artists in the process of creating sculpture; the animations could visualize an object in space before final construction. He also saw his animation as a kinetic work of art in and of itself.
John Froats restored Noll's lost 3D experiment, transferring the film to digital, together with his friend and colleague Helge Bernhardt. The original was a spliced, black-and-white, 24-second loop of 16mm film that Noll made in 1964. In his restoration, Froats also created an inversion of the image so it plays on a black background, added music, and slowed the film so it can be appreciated in multiple ways. Below, you can watch Froats's presentation at the Orphan Film Symposium and watch the restored Noll film starting at 9 minutes and 25 seconds.
---
More from Sloan Science and Film: