Thinking Machines
Artists used computers in a variety of ways that reflects changing computer technologies–which went from room size to lap size–in the three decades that followed World War II. The Museum of Modern Art's exhibition "Thinking Machines: Art and Design in the Computer Age, 1959-1989," curated primarily from the Museum's collection, includes computing elements such as IBM punch cards and computer chips, desktop computers, as well as video and two-dimensional works of art. The video works on display are by Stan VanDerBeek, Charles Csuri, and Beryl Korot.
POEMFIELD #1 (1964), on display (though without its soundtrack), is the first in an eight-part series of videos made by Stan VanDerBeek in collaboration with computer engineer Kenneth Knowlton. The two were paired by the organization Experiments in Art and Technology, founded in 1967 by artists Robert Rauschenberg and Robert Whitman, and computer engineers Billy Klüver and Fred Waldhauer from Bell Telephone Laboratories. The POEMFIELD films pair geometric images with text. To make them, Knowlton designed a computer programming language that VanDerBeek used to program an IBM 7094 computer which generated images, helped by an S-C 2040 amplifier, onto a monitor–the results were then filmed.
Charles Csuri's 12-minute animation HUMMINGBIRD is the earliest video work in the show; created in 1968, computer generated images of a hummingbird at various stages of flight were plotted directly on to 16mm film.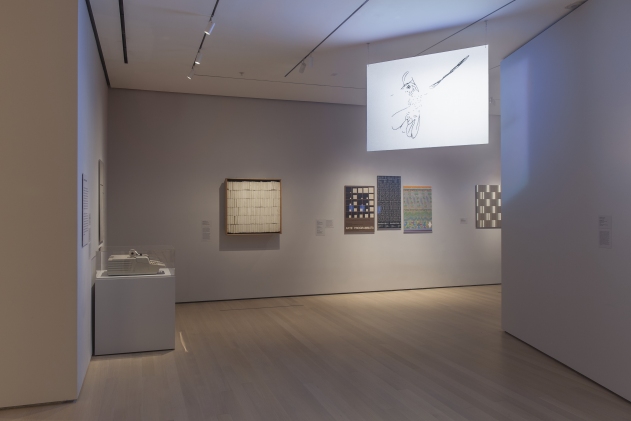 Beryl Korot, who co-founded the computer art journal Radical Software in 1970,
has a five-channel video installation on display. TEXT AND COMMENTARY (1976) juxtaposes hand-loomed weavings–which used punch cards–with computer code. The installation is comprised of three elements: five 11-foot tall weavings, opposite five monitors showing close-ups of the process of making each weaving, and wall-mounted drawn notations of hand and foot threading instructions. "I got interested in the multiple channel format because multiple channel [installations] forced you out of the broadcast, sitting-in-your-living-room, type of relationship [with screens] and made you go into a public space," Korot said at MoMA on November 14. The exhibit opened on that day and Korot was in discussion with exhibition curators Sean Anderson from the Architecture and Design Department and Giampaolo Bianconi from Media and Performance Art, as well as theorist Zabet Patterson and artist Tamiko Thiel.
Korot's work often addresses the relationship of humans with technology. Radical Software, which she helped establish, published critical pieces about how such technologies impact society. It was a direct response to Sony's Portapak, a hand-held videotape recorder released in 1967, "being accessed by an enormous number of really talented people who were trying to reimagine the information environment in which we were living, and who were talking about media ecology and breaking up the relationship between broadcast television and the viewer," Korot commented. "Radical Software was almost like a precursor to the internet in a lot of the thinking in that it talked about access to information and decentralizing information." Radical Software highlighted the work of individual artists who were experimenting with new ways of conveying information.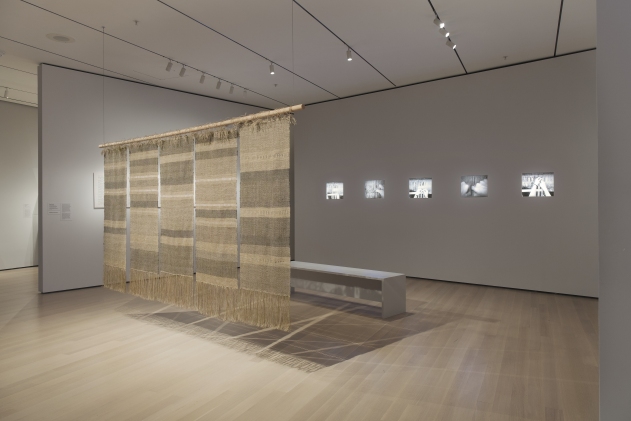 By contrast, there were artists such as Stan VanDerBeek (POEMFIELD) who "wanted access to mainframe computers. They wanted access to extreme high tech materials. Stan VanDerBeek really didn't want to work with hand-drawn animation. He wanted to see what was possible with computation," theorist Zabet Patterson said. Bell Labs was one institution willing to have scientists and artists experiment with their room-sized, expensive machinery.
This experimentation between artists and engineers was critiqued by reviewers in the late 1970s who called such practitioners "complicit with technology [companies]. At that point, people started to turn away from some of these experiments. They seemed less profitable both for the artists but also for the corporations who were maybe didn't want to have artists coming in and messing around with machines. Who thought, maybe this isn't in the best benefit of our legal department and shareholders," Patterson commented. By the 1980s, computer technology was portable and programming had advanced such that access to labs was not essential. "Thinking Machines" exhibits work made up to the year 1989, when the internet was made publicly available. This changed the tools, scale, and modes of production and distribution of computer art.
"Thinking Machines" is on view at MoMA through April 8, 2018. Works on view include those by John Cage, Richard Hamilton, Alison Knowles, IBM, Olivetti, and Apple. An exhibition about Beryl Korot's publication Radical Software, called "The Raindance Foundation, Media Ecology and Video Art," is currently on view at the ZKM in Germany through January 28, 2018. Stay tuned to Science & Film for more on the ZKM exhibition.
Top image: Stan VanDerBeek. Poemfield No. 1. 1967. 16mm film transferred to video (color, silent). 4:45 min. Realized with Ken Knowlton. Courtesy Estate of Stan VanDerBeek and Andrea Rosen Gallery, New York. Photo by Lance Brewer. © 2017 Estate of Stan VanDerBeek. Middle: Installation view of Thinking Machines: Art and Design in the Computer Age, 1959-1989. The Museum of Modern Art, New York, November 13, 2017–April 8, 2018. © 2017 The Museum of Modern Art. Photo: Peter Butler. Bottom: Installation view of Thinking Machines: Art and Design in the Computer Age, 1959-1989. The Museum of Modern Art, New York, November 13, 2017–April 8, 2018. © 2017 The Museum of Modern Art. Photo: Peter Butler.