Science At Sundance 2020: Preview
The 2020 Sundance Film Festival features 25 science or technology-related works, including two films that have been developed with support from the Alfred P. Sloan Foundation: Shalini Kantayya's documentary CODED BIAS and Michael Almereyda's feature film TESLA. TESLA is also winner of the $20,000 Alfred P. Sloan Feature Film Prize, which will be awarded to the film at the Festival.
What follows is a full list of the 25 works with descriptions quoted from the Festival. Sloan Science & Film will be at Sundance to provide coverage.
In the Premieres section: The world premiere of TESLA, written and directed by Michael Almereyda, and starring Ethan Hawke, Kyle Maclachlan, Eve Hewson, Jim Gaffigan, Hannah Gross, and Josh Hamilton."Highlighting the Promethean struggles of Nikola Tesla, as he attempts to transcend entrenched technology–including his own previous work–by pioneering a system of wireless energy that will change the world."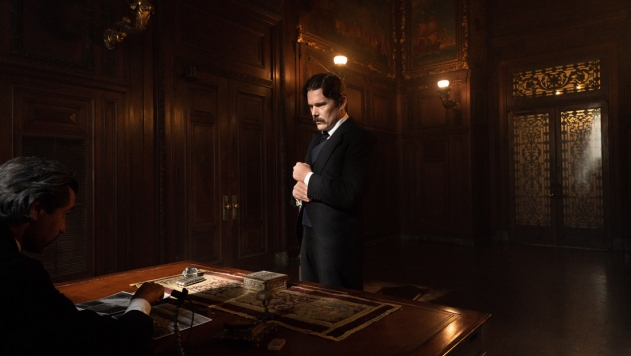 TESLA, courtesy of Sundance
In the Documentary Premieres section: The world premiere of OKAVANGO: RIVER OF DREAMS (DIRECTOR'S CUT), written, directed, and produced Dereck Joubert. "An insiders' view of one of the greatest river systems on the planet, presented as a love letter, exploring the layers of paradise, limbo and inferno in a natural history echo of Dante's Divine Comedy, a river of dreams, or beauty of conflict and turmoil."

OKAVANGO, courtesy of Sundance
In the U.S. Dramatic Competition: The world premiere of BLAST BEAT, written and directed by Esteban Arango, starring Moises Arias, Mateo Arias, Daniel Dae Kim, and Kali Uchis. "After their family emigrates from Colombia during the summer of '99, a metalhead science prodigy and his deviant younger brother do their best to adapt to new lives in America."
In the World Cinema Dramatic Competition: The world premiere of EXIL, written and directed by Visar Morina and starring Mišel Matičević and Sandra Hüller. "A chemical engineer feeling discriminated against and bullied at work plunges into an identity crisis."
The world premiere of LUXOR, written and directed by Zeina Durra, starring Andrea Riseborough, Karim Saleh, and Michael Landes. "When British aid worker Hana returns to the ancient city of Luxor, she comes across Sultan, a talented archeologist and former lover. As she wanders, haunted by the familiar place, she struggles to reconcile the choices of the past with the uncertainty of the present."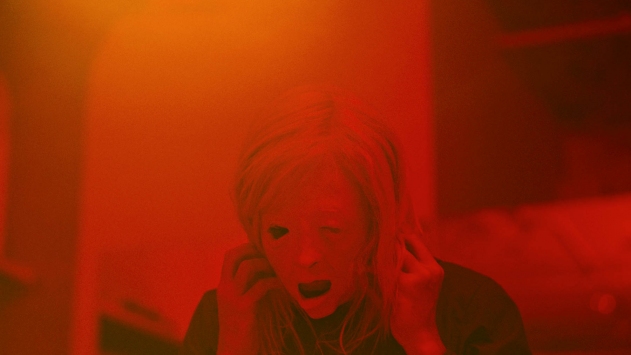 POSSESSOR, courtesy of Sundance
The world premiere of POSSESSOR, written and directed by Brandon Cronenberg, starring Andrea Riseborough, Christopher Abbott, Rossif Sutherland, Tuppence Middleton, Sean Bean, and Jennifer Jason Leigh. "Vos is a corporate agent who uses brain-implant technology to inhabit other people's bodies, driving them to commit assassinations for the benefit of the company. When something goes wrong on a routine job, she finds herself trapped inside a man whose identity threatens to obliterate her own."
In the U.S. Documentary Competition: The world premiere of CODED BIAS, written, directed, and produced by Shalini Kantayya. "Exploring the fallout of MIT Media Lab researcher Joy Buolamwini's startling discovery that facial recognition does not see dark-skinned faces accurately, and her journey to push for the first-ever legislation in the U.S. to govern against bias in the algorithms that impact us all."
The world premiere of SPACESHIP EARTH, directed by Matt Wolf. "In 1991 a group of countercultural visionaries built an enormous replica of earth's ecosystem called Biosphere 2. When eight "biospherians" lived sealed inside, they faced ecological calamities and cult accusations. Their epic adventure is a cautionary tale but also a testament to the power of small groups reimagining the world."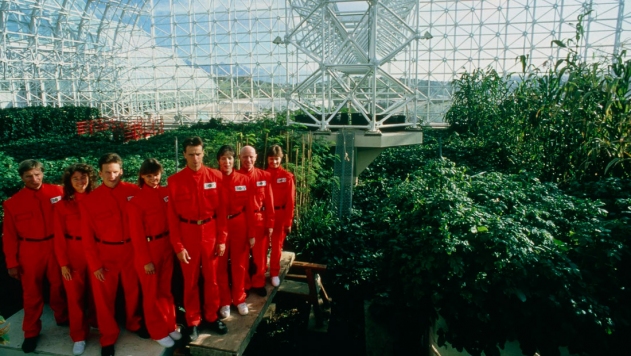 SPACESHIP EARTH, courtesy of Sundance
The world premiere of THE COST OF SILENCE, directed and produced by Mark Manning. "An industry insider exposes the devastating consequences of the Deepwater Horizon oil spill and uncovers systemic corruption between government and industry to silence the victims of a growing public health disaster. Stakes could not be higher as the Trump administration races to open the entire U.S. coastline to offshore drilling."
In the World Cinema Documentary Competition: The world premiere of ACASA, MY HOME, written and directed by Radu Ciorniciuc. "In the wilderness of the Bucharest Delta, nine children and their parents lived in perfect harmony with nature for 20 years–until they are chased out and forced to adapt to life in the big city."
The world premiere of INFLUENCE, written and directed by Diana Neille and Richard Poplak. "Charting the recent advancements in weaponized communication by investigating the rise and fall of the world's most notorious public relations and reputation management firm: the British multinational Bell Pottinger."
The world premiere of THE TRUFFLE HUNTERS, directed and produced by Michael Dweck and Gregory Kershaw. "In the secret forests of Northern Italy, a dwindling group of joyful old men and their faithful dogs search for the world's most expensive ingredient, the white Alba truffle. Their stories form a real-life fairy tale that celebrates human passion in a fragile land that seems forgotten in time."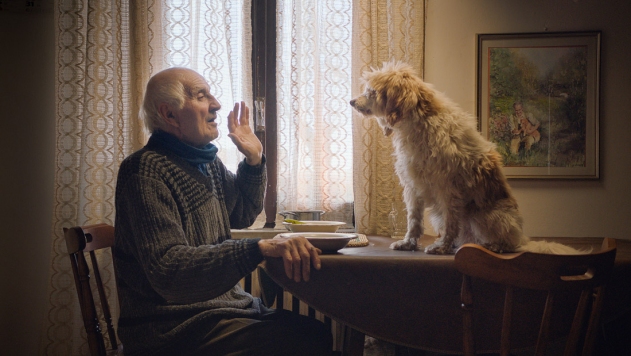 THE TRUFFLE HUNTERS, courtesy of Sundance
In the NEXT section: The world premiere of SPREE, directed and co-written by Eugene Kotlyarenko, and starring Joe Keery, Sasheer Zamata, David Arquette, Kyle Mooney, Mischa Barton, and Josh Ovalle. "Kurt Kunkle, a rideshare driver thirsty for followers, has figured out a deadly plan to go viral. As his disturbing livestream is absurdly embraced by the social media hellscape, a comedienne emerges as the only hope to stop this rampage."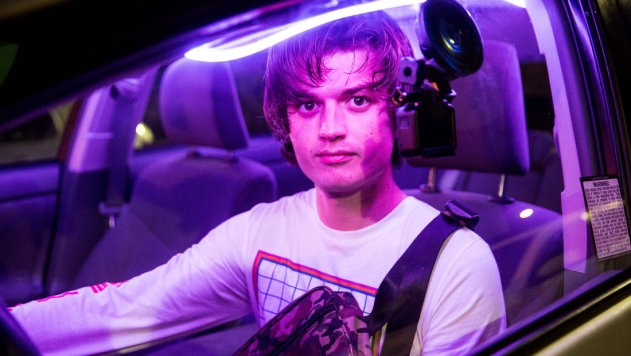 SPREE, courtesy of Sundance
In the U.S. Narrative Shorts section: The world premiere of HOW DID WE GET HERE?, written and directed by Michelle Miles. 'A visual exploration of progressive atrophy. A study in how microscopic changes can go unnoticed, but amass over time. Even as these changes become drastic, we sometimes fail to realize anything has happened at all."
MERIDIAN, written and directed by Calum Walter. "Footage transmitted by the last unit in a fleet of autonomous machines is sent to deliver an emergency vaccine. The film follows the machine before its disappearance, tracing a path that seems to stray further and further from its objective."
In the Documentary Shorts section: The world premiere of THE DEEPEST HOLE, directed by Matt McCormick. "While the space and arms races are Cold War common knowledge, few know about the United States and Soviet Union's race to dig the deepest hole. This is particularly surprising since Hell may have been inadvertently discovered in the process."
The international premiere of LICHEN, written and directed by Lisa Jackson. "An otherworldly deep dive into the hidden beauty of lichens, asking what we might learn from them. Ancient and diverse, thriving in adversity, confounding scientists to this day, lichen is a model of emergence."
In New Frontier: Miwa Matreyek's INFINITELY YOURS. "A live performance at the intersection of cinema and theater exploring what it means to be living in the Anthropocene and the time of climate crisis. A kaleidoscopic meditation that is an emotionally impactful and embodied illustration of news headlines we see everyday."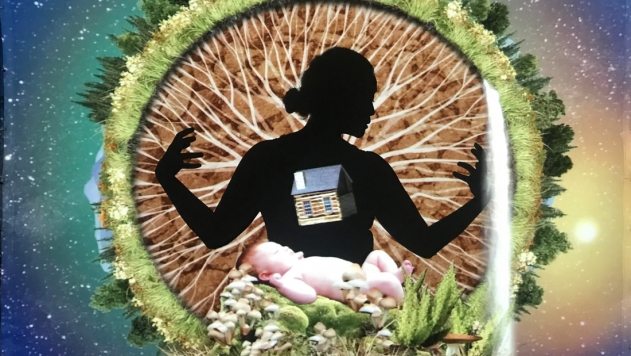 INFINITELY YOURS, courtesy of Sundance
In Exhibitions: Sloan-supported artist Lynn Hershman Leeson's THE ELECTRONIC DIARIES OF LYNN HERSHMAN LEESON, with a cast that includes Dr. George Church, Eleanor Coppola, Dr. Caleb Webber, Dr. Elizabeth Blackburn, and Dr. Anthony Atala. "In 1984, after teaching herself how to use a video camera, Lynn Hershman Leeson sat down in front of it and began to talk and for 40 years developed a sly, profound and raw confessional mediated expression for an unknown audience that led towards personal evolution and survival."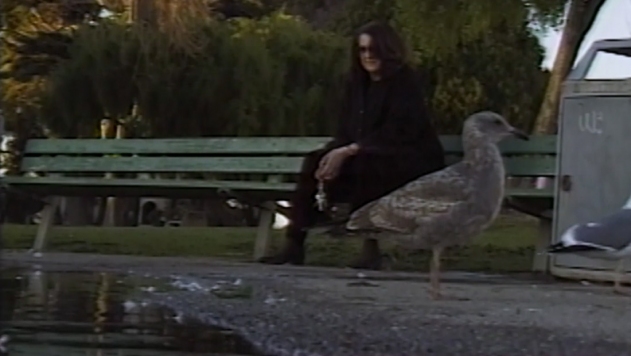 THE ELECTRONIC DIARIES OF LYNN HERSHMAN LEESON, courtesy of Sundance
Bianca Kennedy and Felix Kraus's ANIMALIA SUM. "I am animals. I eat animals. A duality explored in a virtual reality experience in which insects will be the future's main food supply."
ANTI-GONE, by Theo Triantafyllidis, starring Lindsey Normington, Zana Gankhuyag, and Matthew Doyle."In a post-climate change world, environmental catastrophe has become normalized. Cities are sunken, yet the vestiges of late-capitalist culture live on, clinging like barnacles to the ruins of civilization. Spyda and Lynxa are a couple navigating this world, gliding frictionlessly from shopping to movies to psychedelic drugs."
Natalia Cabrera's HYPHA, with Trinidad Piriz. "An immersive virtual reality journey to heal the Earth–by becoming a mushroom. Experience the life cycle of a fungus, and comprehend the importance of the fungi kingdom, Earth's main bioremediation agent."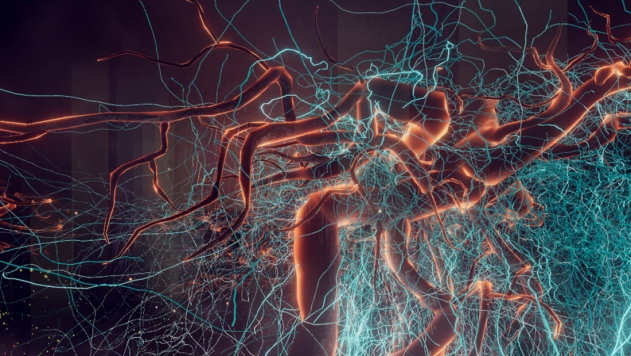 HYPHA, courtsesy of Sundance
Karim Amer and Guvenc Ozel's PERSUASION MACHINES. "How are your likes, shares, selfies, and devices being used against you? By making the invisible world of data visible, this experience will show you how your digital footprint is shaping your reality."
Antoine Viviani and Pierre-Alain Giraud's SOLASTALGIA, with Mehdi Belhaj Kacem, Audrey Bonnet, Anne Brochet, Nancy Huston, Arthur Nauzyciel, and Corine Sombrun. "A mixed-reality installation set in a mysterious future exploring the surface of a planet that has become uninhabitable. The last generations of humans are living as holograms, repeating the same scenes over and over again. What secret does this strange paradise contain?"
Pyaré's SPACED OUT. "An underwater VR experience transports you aboard a voyage from the Earth to the moon, as well as within, led by the audio conversations of the Apollo 11 mission. Using special underwater VR goggles and a snorkel, the experience becomes a space simulation immersing all of the senses."
In the VR Cinema: Brian Andrews's HOMINIDAE, with Phyllis Griffin, Luis Mora, Emily Weems, Kidjie Boyer, Austin Daly, and Oliver Angus. "Against a landscape of X-ray imagery and wild anatomical reimagination, a mother and her children struggle for survival. This experience follows an Arachnid Hominid, an intelligent creature with human and spider physiology, from the birth of her children to her premature death in the teeth of her prey."