The Aeronauts and More Awarded Sloan-SFFILM Prizes
Tom Harper's biopic THE AERONAUTS, starring Eddie Redmayne and Felicity Jones, is the winner of the 2019 SFFILM Sloan Science in Cinema Prize. The Prize is awarded annually to a new film with significant scientific themes—last year's winner was Damien Chazelle's FIRST MAN. The Sloan Foundation presented the film with the prize at a special screening SFFILM hosted on November 20, which was followed by a discussion between director Tom Harper, producer Todd Lieberman, NASA scientist Ved Chirayath, and physicist Aparna Venkatesan.
An Amazon production, THE AERONAUTS is based on the true story of James Glaisher, pioneer of meteorology, who went on a record-breaking flight 37,000 feet high in 1862. On the harrowing journey, Glaisher managed to record new measurements in temperature and humidity which ultimately advanced the field to allow for scientific prediction of the weather. When we interviewed producers David Hoberman and Todd Lieberman after the film's Toronto International Film Festival premiere, they told us about the balloon experts who helped on multiple aspects of the film's production.
"The science of how to fly a hydrogen-filled, or in this case a helium-filled balloon is really about ballast. We had a group of people Colin Prescot [balloon expert] put together who were phenomenal who were a rogue group people who like flying gas-filled balloons. One grain of sand could be the difference between a lift off and being grounded, that's how specific they get. These guys were really into it and it was fun watching them do it."
THE AERONAUTS is now in theaters and will be available to stream on Amazon starting December 20.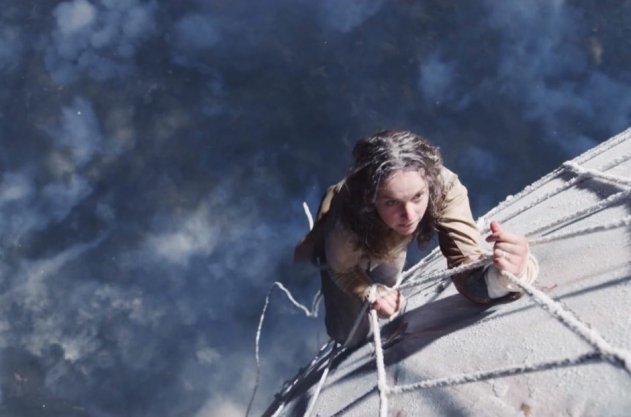 SFFILM also just announced the winners of the 2019 Sloan Science in Cinema Filmmaker Fellowships which supports the script development of narrative feature films rooted in science or technology. The winners, Gina Hackett (A BRIDGE BETWEEN US) and Josalynn Smith (SOMETHING IN THE WATER), will each receive a $35,000 cash grant and a two-month residency at SFFILM's FilmHouse with mentorship opportunities. This is the second Sloan grant for these projects, which each received screenwriting awards from Columbia University's partnership with Sloan in 2019 and 2018, respectively.
Gina Hackett's A BRIDGE BETWEEN US is based on the true story of the chief engineer of the Brooklyn Bridge who becomes paralyzed in the early stages of its construction. His wife Emily reluctantly steps up to act as his intermediary, courting jealousy and hostility as she blossoms into an engineer in her own right.
Josalynn Smith's SOMETHING IN THE WATER follows Leah, a teen girl living in St. Louis City, who feels isolated and ignored after moving to a new neighborhood and being bused to school in an overwhelmingly white county. When Leah begins to observe behavioral changes in her little brother, through her research and experimentation she soon discovers that lead is the culprit. Now tasked with finding the source of the contamination and advocating for a systemic overhaul, Leah begins to find her voice.
Stay tuned to Science & Film for more as these films develop.