November Science & Film Goings On
Here is a selection of creative takes on the world of science and film for the month of November:
THE CURRENT WAR
THE CURRENT WAR stars Benedict Cumberbatch as inventor Thomas Edison, Michael Shannon as George Westinghouse, and Nicholas Hoult as Nikola Tesla. It is set during a thirteen-year period beginning in the early 1880s when Edison and Westinghouse were vying for the implementation of their opposing methods of delivering electricity. The film is directed by Alfonso Gomez-Rejon and written by Michael Mitnick, whom we interviewed. It is now in theaters.
AD ASTRA
The space epic AD ASTRA stars Brad Pitt as an astronaut tasked with travelling to the far reaches of the solar system on a mission to save mankind from his father. Director James Gray, consulted with a number of scientists on the scientific accuracy of the film, including NASA aerospace engineer Robert Yowell. He also consulted with experimental film scholar Leo Goldsmith to develop a visual language for the film. We interviewed both Yowell and Goldsmith. AD ASTRA is now in theaters.
THE SOUND OF SILENCE
THE SOUND OF SILENCE, directed by Michael Tyburski, is a Sloan-supported film starring Peter Sarsgaard as an NYC "house tuner" who harmonizes home electronic appliances to help clients with everything from depression to chronic fatigue. Science on Screen at the Museum of the Moving Image presented a conversation between Tyburski and physicist Janna Levin which is available to watch online. The film is streaming on Amazon.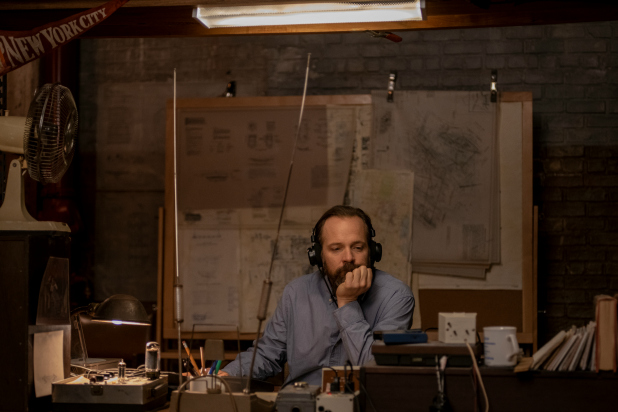 LOOK WHO'S DRIVING on PBS
Directed by Michael Schwarz, the new one-hour documentary LOOK WHO'S DRIVING investigates how self-driving cars work and if they are safe. The film was supported by the Alfred P. Sloan Foundation and premiered on PBS's NOVA series. It is now available to stream for free.
MINDHUNTER on NETFLIX
The Netflix series MINDHUNTER stars Jonathan Groff and Holt McCallany as FBI agents establishing a behavioral psychology unit to profile serial killers. For our "Peer Review" series, forensic psychiatrists Wade Myers and Zain Khalid from Brown University wrote about the depiction of criminal profiling in season two.
BLACK MIRROR on NETFLIX
Charlie Brooker's Netflix anthology series BLACK MIRROR depicts dystopian visions of how technological advances could impact humanity. For our "Peer Review" series, we asked social psychologist Rosanna Guadagno to write about the second episode of season five entitled "Smithereens," which stars Andrew Scott (FLEABAG).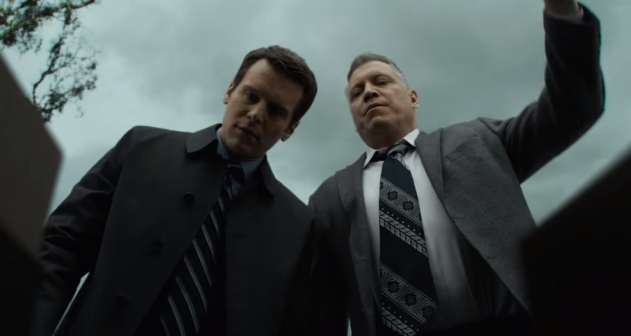 LOST CITIES on National Geographic
LOST CITIES is a new four-part series from National Geographic that follows engineer and explorer Albert Lin and his team as they travel around the world using advanced mapping technologies to uncover evidence of lost cities. We spoke with Lin about why he considers technology a "superpower." The series premiered on National Geographic Channel on November 4.
MOOD KEEP on Sloan Science & Film
Exclusively on Sloan Science & Film for the month of November, you can watch Alice dos Reis's short film MOOD KEEP, which regards the axolotl as its regards us from its habitat in a research laboratory. The short made its world premiere at Doclisboa in 2018.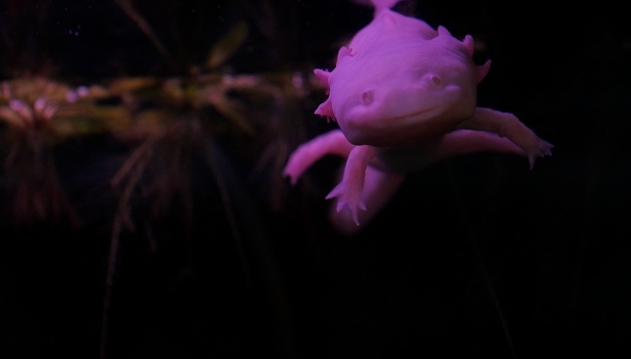 DOC NYC
The documentary film festival DOC NYC runs November 6 to 15 in New York, showcasing over 300 films. These include Thomas Balmès's SING ME A SONG, about the changes within a monastery in Bhutan when internet comes to the country; Nanfu Wang's ONE CHILD NATION, about the effects of China's One-Child Policy; and KIFARU, which follows the caretakers of the last male northern white rhinoceros.
EINSTEIN'S DREAMS at 59E59
A musical inspired by the best-selling novel Einstein's Dreams, the production of the same name will open at 59E59 Theaters on November 5 and run through December 14. The play is directed by Cara Reichel and stars Brennan Caldwell, Talia Cosentino, and Stacia Fernandez.
This is a monthly listing of science-themed cultural offerings about town. Subscribe to our newsletter to hear about these films and more.