The Sound of Silence at Sundance
The main character Peter Lucien in Michael Tyburski's directorial debut THE SOUND OF SILENCE professionally tunes New York City houses—or as he prefers to call them, homes. The film made its world premiere at Sundance in the U.S. Dramatic Competition on January 26. Peter Lucien (Peter Sarsgaard) is extremely sensitive to his surrounding environment. He tunes homes because he believes that disharmonies caused by dissonant sounds, produced by a toaster and refrigerator, for example, are the root cause of an inhabitant's malaise.
THE SOUND OF SILENCE originated as a short film called PALIMPSEST, supported by the Sloan Foundation through its partnership with the Hamptons International Film Festival, which won the Special Jury Prize when it premiered at the 2013 Sundance Film Festival. Tyburski is the director and co-writer, with Ben Nabors, of both films. THE SOUND OF SILENCE stars Peter Sarsgaard, Rashida Jones, Bruce Altman, and Tony Revolori. We spoke with Tyburski and Nabors at Sundance, after the film's premiere.
Science & Film: There is a tension between old and new in your film. All the technology with which Peter surrounds himself is dated, and personally he is stuck in his ways. How did you conceive of that dimension of his character?
Michael Tyburski: Peter's philosophy isn't so different from my own. It's not that I don't want to embrace digital or new things, it is just that if it still works, then there's no reason to fix it. Peter uses equipment in his field that suits him and does what it needs to do. At the same time, there is a reluctance to embrace new, shiny things.
Even though Ben and I invented the role—it's not real—we based it in science. We looked at audio engineers, who are essentially professional sound proofers in New York City, and at the actual tools that they use. Our prop master got exactly those items. They happen to be 20 years old but they work.
Ben Nabors: Furthermore, current devices are distracting. Peter takes his attention so seriously. I think Peter Lucien the house tuner would hate a cell phone because it is someone else's ability to generate noise in his pocket whenever they want, not when he wants. You'll notice that in the movie his phone doesn't ring; it doesn't have a ring, he schedules people to call him when he is ready to answer. He takes his quiet space very seriously.
I think your question gets at this idea of history in the film too. History is a strong theme: history of the city, history of meaning, and relationships. The film emerged from a short film called PALIMPSEST which is a layered manuscript in which the past is always still there.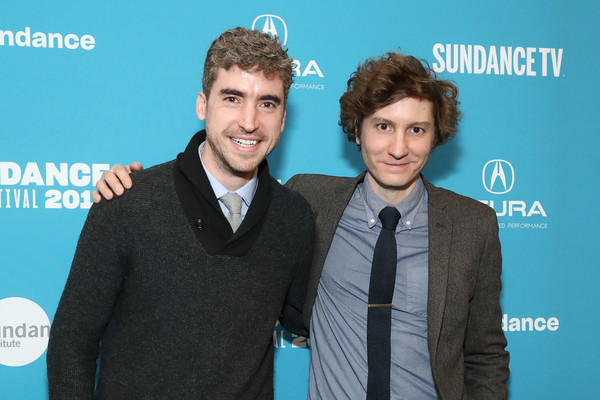 Ben Nabors and Michael Tyburski
S&F: You have great historical clips at the beginning and end of the film. Can you tell me what is going on in those?
MT: They are these Fox Movietone newsreels filmed on 35mm nitrate. They are non-point-of-view documentaries of the late 1920s and the subjects in that piece were called the Noise Abatement Commission. The Department of Health set them up when people were starting to think about how sound was distracting them in the city.
BN: And physically affecting the health of citizens. It was at a time when industrialization was beginning. Cars and trains were getting noisier and the city was booming, so people were suffering under the impact of noise.
MT: They concluded their study by producing a pamphlet called City Noise which was beautifully designed and had a lot of data, but wasn't solving anything. Essentially the problem has only gotten worse 100 years later. The film was made right around the invention of the decibel system which was a new data representation, a new way of measuring. Those people feel like kindred spirits to Peter's character; they are taking sound seriously and so it didn't seem so far fetched that someone like Peter could exist.
BN: I am thinking about when we encountered that footage, and it was a real-world touchstone for a fictional character. Throughout the movie there are other references to sound phenomenon. There's a moment where Peter is listening to the radio hour of a fictional science sound magazine that references the Windsor Hum.
S&F: You made up the sound journal?
MT: The New American Journal of Sound, yes.
BN: Couldn't that exist though? Yes.
S&F: [laughs] It all could exist!
BN: It is a minor moment in the story when the radio references the Windsor Hum, but the Windsor Hum is a true phenomenon. It is a strange hum in Windsor, Ontario. There are hums in New Zealand, there is a hum in Kokomo, Indiana. Real things are affecting people that only some part of the population can hear.
MT: Ben and I both realized early on in this film that we share an intrigue in interesting sound phenomena. NASA figured out a way to record space and they registered a black hole as a B flat. I love that we associate a sound in space with a note on the Western musical scale.
BN: I also think if you spoke to a composer they would say, if you want to generate a particular emotion then write in this key. I don't know if this has been observed through Western music or if Western music created these emotional expectations with sound, but I think we're all kind of swimming in the same water and notes affect us a certain way because of the music we've been exposed to.
S&F: So in the film you made Peter a music theorist, who has conducted his own research and is trying to break into academia. Why did you give him that background rather than something more technical, like an acoustic engineer?
MT: The history that we built [for Peter] goes back further. We reference this somewhat in the film. He worked in the basement of the Metropolitan Opera House tuning period instruments for period performances. What we really liked about Peter not being part of academia is that he's an outsider. Whenever there is an outsider's discovery, it is always looked upon as, until that's proven, that's pseudoscience, that's not real. So Peter, although he is not a trained scientist, is still working in that realm. He has bizarre ideas, but that is what makes it a compelling character study.
BN: Academia has boundaries, too. I've observed this myself. There is structure to how a paper is supposed to be written, how a graph is supposed to be labeled, and if you don't check the boxes then you're not taken seriously. I think you can see that in all disciplines: if you're not properly trained then people don't take you seriously, and I think that's very relatable to a lot of people.
S&F: Did either of you feel like outsiders ever while making a film that deals with science and scientists?
BN: We interacted with a group of scientists at Columbia [called Neuwrite]. Specifically, we had two scientific advisors named Andrew Fink and Carl Schoonover. Andrew's work was originally in cochlear neurons. We would spend time around the scientists to workshop our ideas. Of course THE SOUND OF SILENCE is not a typical science film; it's not a biography of a real scientist, it's also not science fiction about something imaginary, but walks that line of, could be real. I like that.
MT: Dealing with scientists was a good thing in terms of making a film because those are two worlds that don't collide a lot. I felt like anybody we encountered in the science community was welcoming and helpful, which was exciting.
BN: I like scientists. I think that they're entrepreneurs. They need to find a place to set up shop, they need to generate income in the form of grants, they need to be productive with their work in the form of products or publishing, and they're working on a dream. They're looking for something that doesn't exist yet and they are motivating people around them that it does.
THE SOUND OF SILENCE was picked up at Sundance by Film Constellation which will distribute it internationally. The film is directed and co-written by Michael Tyburski together with Ben Nabors, who also produced the film. Will Bates composed the music.
Cover photo: Courtesy of Sundance Institute, Photo by Eric Lin