Watch Isabella Wing-Davey's Short Film The Rain Collector
THE RAIN COLLECTOR is an award winning, Sloan-supported short film directed by Isabella Wing-Davey. It is inspired by the true story of a woman who got involved in what might now be called a citizen science project in Victorian England. The film is making its online premiere on Sloan Science & Film, and will henceforth be included in our streaming library of short, science-based, narrative films.
Celine Buckens (Steven Spielberg's WAR HORSE) stars as an amateur meteorologist defying her mother (Hermione Norris, COLD FEET) to conduct rainfall measurements for the British Rainfall Organisation, much to the surprise of a passing gentleman (Max Bennett, THE DUCHESS). THE RAIN COLLECTOR is produced by BAFTA-winning producer Emily Leo and Theodora Dunlap, who also produced the Sloan-supported feature ROBOT & FRANK. It was shot on location in Yorkshire, England. Wing-Davey received a Sloan Production Grant through NYU to make the film.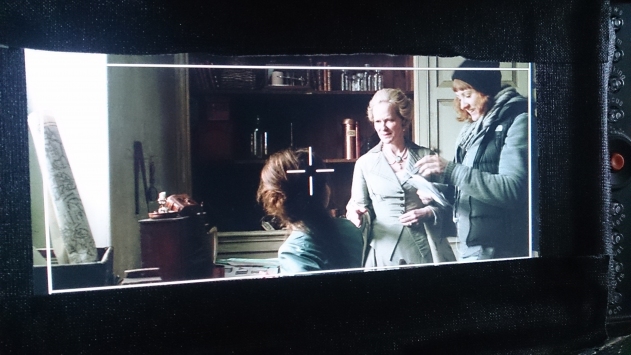 Celine Buckens, Hermione Norris, and Isabella Wing-Davey
THE RAIN COLLECTOR premiered at the Leeds International Film Festival, and went on to play at dozens more festivals around the world. It won the Audience Choice Award at the Fusion Film Festival, Best Production Design at the First Run Film Festival, Best Narrative Short at the Hobnobben Film Festival, and Wing-Davey was nominated for Best Woman Director at the London Short Film Festival.
Currently, Isabella Wing-Davey is developing a feature film about a female neuroscientist in Brooklyn together with THE RAIN COLLECTOR producer Theodora Dunlap (Park Pictures). "I seem to be drawn to narratives about the unexpected, about the surprising choices people make, and about characters who defy expectations. This doesn't mean all of my female characters are trailblazers, but recently I've been drawn to narratives with a scientific or medical bent," Wing-Davey wrote to us in an email. She is also developing a feature about post-partum depression with writers Michelle Bonnard and Zoe Tapper. A short film about two of the characters from the feature is in production.