Interactive Storytelling: Interview with TFI's Opeyemi Olukemi
For four and a half years Opeyemi Olukemi has been overseeing the Tribeca Film Institute (TFI) New Media Fund and leading the Institute's interactive programs: TFI Interactive, TFI Interactive Playground, Tribeca Sandbox, and Tribeca Hacks. She came from the tech industry where she experimented with different kinds of storytelling in magazines and textbooks. The annual Tribeca Film Festival showcases a huge number of projects she and her team of four put together. Science & Film spoke with Olukemi on the 27th floor of the AT&T building in Tribeca. We spoke about changes in storytelling which have taken place over the past few years.
Science & Film: What is the presence of TFI Interactive at the Tribeca Film Festival?
Opeyemi Olukemi: When we first started a few years ago, the [New Media] Fund was my focus and then Tribeca Interactive just blossomed. We had the Hackathon program. The Interactive program is massive at the Festival now. It was only one day in 2012, and now it is eight and a half days of programming.
S&F: Are there major challenges to that growth?
OO: Staffing. Right now it's me and Zeina [Abi Assy] (Program Coordinator), and Ingrid [Kopp] is doing consultant work part time in South Africa, and then Lauren helped us do some of the Virtual Reality (VR). So, it's basically four people.
S&F: How many projects did you have at the 2016 Festival?
OO: The Playground was 27, the VR Arcade was 30, Storyscapes was 10, and then we had panels and talks.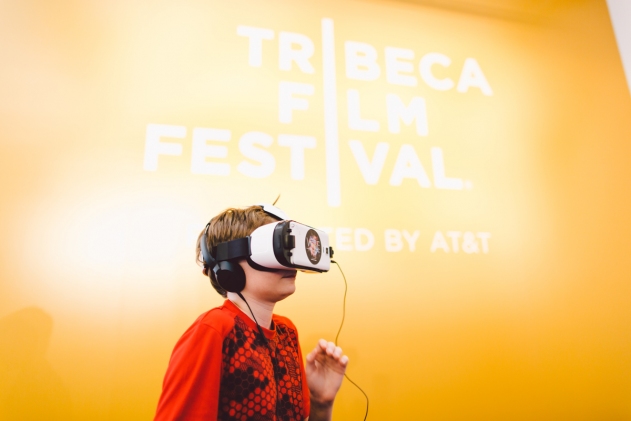 S&F: Do you think that growth is because the field of technology is blossoming?
OO: Yeah. I think everyone, including Tribeca, is trying to get ahead of the curve which is great; it's a great place to be. But, it is really important to know why we are doing this. I don't know how we pulled it off this year, because behind the scenes it was a nightmare. Zeina went 48 hours without sleeping. For my biggest event I had two hours of sleep the night before. It was intense to say the least. Now, it's just about staying on mission. Why are we doing all this work? What's the point?
S&F: What do you think is the point?
OO: To me, I don't even think it's just film anymore, I think the intersection of all these different disciplines can create something really beautiful. I think there is an opportunity to create content that allows us not to just absorb and walk away, but to actually change our life on a very deep, spiritual level. I didn't know what to call it, but I remember in 2013 and 2014 I saw when our Hackathons were wrapping up, that people were crying. There is something going on. For months afterward, people continued to work. I think there is something very interesting about bringing various aspects of humanity together to create. I think we have to shift to more of a Maker Space, to more of a community focus approach, and not just constantly bring things to showcase.
S&F: How do you think funders are driving this field?
OO: No one is really actively creating content for VR and pushing the boundaries. In my former job I was heavily involved in tech. I have a lot of connections and people who have grown in the industry in the past five years. I have had phenomenal bosses before who are pioneers, so it was great to be exposed before this whole interactive element exploded. But, I am able to have offline conversations with people who are saying, VR is going to die. And these are the heads of VR. They're saying, we're riding the wave, or, we don't really know, we're just experimenting. VR is creating a lot of hype.
It's still expensive to get the headsets, and then when you have them and you have a very, very small amount of great content… It's kind of like, I would rather spend money on a game, or keep watching HOUSE OF CARDS, you know?
But, what's driving it? Competition. I do think there is validity in VR but funders are taking the wrong approach. There should be a set of people spending time with artists figuring out what it can be. Seems like we're rushing to market. Developers need a lot more incubator spaces and a lot more strategy on what it means to create VR. And not just VR, VR plus scent. VR plus tactile feedback is going to become its own thing. It's like creating these new worlds with technology.
S&F: What do you think of VRSE?
OO: Chris Milk [VRSE founder and chief executive] is trying. I have a lot of respect for he and Aaron [Koblin] [co-founder and CTO]. THE WILDERNESS DOWNTOWN is still one of my favorite interactive experiences of all time. It is just browser windows and is so simple but so beautiful. We wanted to do something with some of VRSE's older projects. David Lynch's daughter is doing something around senses and VR as well but she's in London.
S&F: What is driving the content? Is it the technology?
OO: Technology is driving content, absolutely. We saw some examples during the festival of content catching up to technology: ALLUMETTE by Penrose is an animation piece, about 14 minutes, and it's almost like CORALINE—very beautiful, very detailed. It was on the HTC Vive, so it was like a floating city and you could go under the clouds and peak in and go on your toes. It was gorgeous.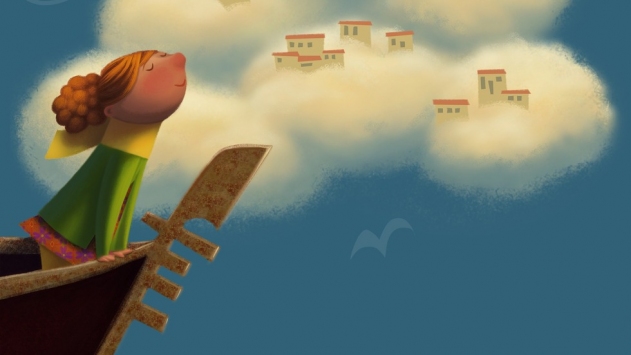 Google did its job with Cardboard from the tech angle but they should have created an incubator where you can play around with the technology. I know they are experimenting internally, but it is just for Google, not for the field, so everything is being trapped and tracked. I am not seeing that much I am very impressed with to be honest.
S&F: The way you see things, if I understand, is that there is VR plus a whole field of interactive?
OO: There is a whole field. What is interesting is when really good interactive docs started to emerge in 2013. With VR it's like we've gone back to 2013–people are just putting film on VR and calling it 360 video. Todd Shaiman at Google, who leads VR with Aaron Luber, he was part of The New York Times partnership to distribute Google Cardboard and he said, I'm curious about your thoughts. I said, I really do feel like it's a gimmick; I applaud you for doing something with The New York Times because that's cool, the journalistic approach, but you have to push harder. And he said, I agree, we knew our limitations and we decided just to do something small that is getting people to reconsider what journalism is.
S&F: Are you interested in games too?
OO: Yes, I'm interested in games. Our biggest funder was the Ford Foundation and they're so social justice oriented that it's hard to do proper games. The closest thing I saw that could kind of be fundable was THANK YOU FOR PLAYING.
S&F: Part of the issue it seems is, how do you exhibit all of this? Access to that technology is so limited, which seems like a huge obstacles.
OO: It is a huge issue. I do think it can die. I actually think it's probably going to die.
S&F: If you were on the funding side what would you be doing?
OO: I would be giving as much money as possible to be creating avenues for people to experiment and then additional funding for the success stories to push it forward. But, I also understand that funders also have larger goals. Ford, they want to relieve inequality, so how does that work with interactivity? It can work, but it also changes what creative experiments you can do.
S&F: Is there any one project you're most proud of?
OO: During the festival we did something at the Playground called FAMOUS DEATHS. It's a mortuary chamber.
S&F: I saw that and walked the other way.
OO: You basically experience the last four minutes of a famous person's life. So there was Lady Diana, Whitney Houston, Muammar Gaddafi, and JFK. At the festival we had JFK and Whitney Houston. Even though it was such a pain in the ass to get to New York because the makers are in Amsterdam, it was so important for people to see that interactivity is not just VR. The fact that they were playing with scents I thought was just phenomenal. It was also just freaky. It was such a huge success. I refused to do Whitney Houston until one of the last days, and even though I had a problem with the story arc and how they told her story, it was still really beautiful and I got emotional in the coffin.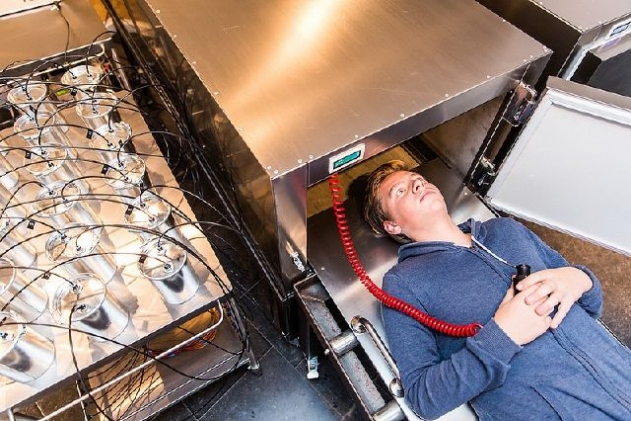 S&F: Do you see the physical or sculptural element entering into the VR space?
OO: It's great, and no one is doing it. What would happen if you had a sculptor working with a hardware designer? There is a something there and people aren't used to seeing this type of cross-disciplinary work. So, I'm really excited about it and I think that's going to feed into what is going on in film as well. The first series of six hackathons we did starting in June 2013 failed because it was just so film heavy. The technologists felt like they were slaves to the filmmakers' vision and it just wasn't collaborative. And then when we started to take the power away from the filmmaker and made an equal playing ground and everyone had the ability to add to the project, that's when things started to blossom. It is definitely worth creating that safe space where people feel like they are able to contribute something meaningful and beautiful.
The Sloan Foundation is a founding sponsor of the Tribeca Film Institute and awards annual Filmmaker Fund grants to filmmakers tackling science and technology themes and characters.
The Museum of the Moving Image has an ongoing initiative called VR360 exploring virtual reality. A current exhibition, "Arcade Classics," goes back to the era of the video arcade showcasing innovations in gaming from 1972 to 1993.