Thank You for Playing and "That Dragon, Cancer"
A giggle, first words, first walks—what if these intimate family moments could be experienced by thousands of people? "That Dragon, Cancer" is an innovative and deeply emotional videogame that shares the life of five-year-old Joel Green who was diagnosed with a rare form of cancer—Atypical Teratoid Rhaboid Tumor—when he was one-years-old. The cancer invades the brain and spinal cord, and is often found in the cerebellum, the area of the brain that keeps you balanced. The first symptom Joel's mother, Amy, noticed was that Joel's head was tilting to the side. The cancer has a very low survival rate and Joel's cancer spread, though he lived two and a half years beyond the doctors' predictions. "That Dragon, Cancer" was developed over three years by Joel Green's young parents, Amy and Ryan, along with a team of five developers. Ryan is a computer programmer; he first presented his idea at the 2013 Game Developers Conference.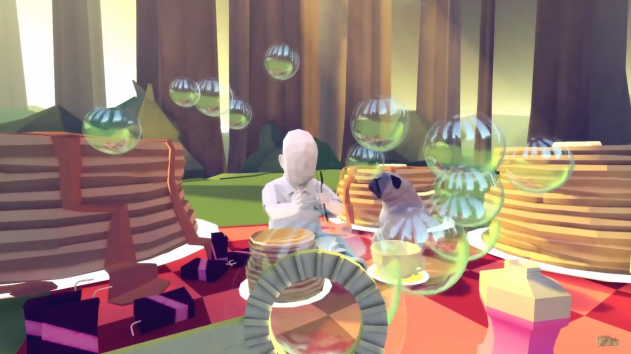 What starts as a story of hope develops over the years into one of surrender. The parents' voices reassure their three other children that Joel will be okay. "That Dragon, Cancer" is full of strange geographies—tall trees, a cathedral lined with arteries, and, at the end, a clearing in a forest where Joel rests with mountains of his favorite food, pancakes, and a dog. The world is an origami-like rendering of bold colors and faceless people—it is a simple view of the world, stripped down to the basics. The functionality of the game is limited to moving around and selecting different objects. Nothing you do actually alters the course of the story, and often your efforts to soothe do not help–this speaks to what a parent with a terminally ill child must go through. The emotional pull of the story keeps the videogame moving. At times, you become different characters—often Ryan, the dad. Water floods the most desperate scenes and a black cell-like structure with thorns, representing the cancer, looms large. It is a deeply distressing story, but one which others have suffered.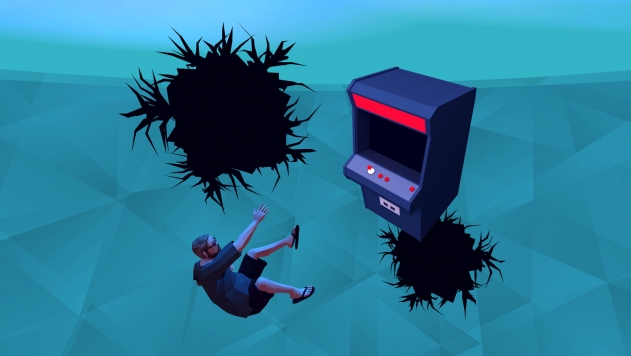 Science & Film spoke with the directors of a new documentary on the game's same subject. THANK YOU FOR PLAYING, directed by David Osit and Malika Zouhali-Worrall, shows Ryan in his home life with baby Joel and moves at times beautifully into the videogame. There are scenes of him deciding what Joel's character will look like and recording what he will sound like. The game is not escapist and players at the Developers Conference cry—a picture of Ryan and Joel sits next to the console. THANK YOU FOR PLAYING premiered at the 2015 Tribeca Film Festival. It is currently making its rounds on the festival circuit; it will be released on March 18.
Science & Film spoke with Osit and Zouhali-Worrall about the film:
S&F: The film beautifully intersperses scenes from the video game with the home life of the Green family. Can you speak about the editing process?
O & Z-W: We knew there were two stories to follow concurrently–one, the creation of the video game, and two, Ryan and Amy and their family as they cared for Joel during his treatment. In real life though, the first story followed course with the second story. Decisions made and conversations had during Joel's treatment ended up being scenes made for the game, and following both simultaneously meant that we were able to document both journeys in real-time. In that sense, editing those moments together was less of a challenge than we initially thought, as the virtual world of the video game often ended up closely mirroring reality. The video game world also provided a unique window into the minds of Ryan and Amy, and we could often use those scenes to share emotions and thoughts they were having but otherwise wouldn't have been able to vocalize to us.
Science & Film: Was the response to "That Dragon, Cancer" in 2013 at PAX Prime, when the game was first exhibited to a general audience, unexpected?
Osit & Zouhali-Worrall: The response to That Dragon, Cancer at PAX Prime was very unexpected, both for us and for the video game team. We already knew the video game was beautiful even in its early stages, but the sheer number of people who had an extreme emotional response to a simple ten-minute demo was very surprising. It was one of the first moments we realized how unique the story was that we were following-up until that point, we'd never seen a video game engender such serious conversations between people about grief and mortality. We had no reason before PAX to even think that a video game could start conversations like that.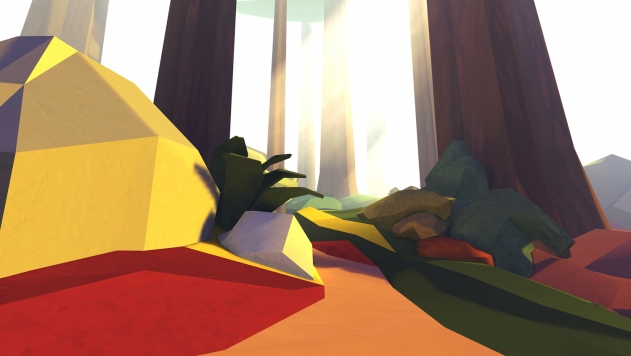 "That Dragon, Cancer" can be downloaded for Mac and PC and also played on Ouya. The game was released on January 12, 2016. You can walk through "That Dragon, Cancer," in an online simulation. Each section or verse of the game has chapter headings, like the bible.
For more in-depth information about the current state of cancer research, look to the Sloan-funded Ken Burns documentary CANCER: THE EMPEROR OF ALL MALADIES, directed by Barak Goodman and based on Siddhartha Mukherjee's book of the same name.