Ramanujan: The Man Who Knew Infinity
Director Matthew Brown's new film, THE MAN WHO KNEW INFINITY, is a biopic about the Indian mathematician Srinivasa Ramanujan. Ramanujan had a mind unlike any other, and almost all of his work has revolutionized the field of pure mathematics—there are Ramanujan equations, Ramanujan theorems, Ramanujan primes, Ramanujan series. You may know Ramanujan's name from GOOD WILL HUNTING; Professor Lambeau (Stellan Skarsgard), compares Will Hunting (Matt Damon) to Ramanujan when trying to convince Sean (Robin Williams) to take him on as a patient.
Growing up in a poor village in Madras, India at the turn of the century, Ramanujan had no formal education. Before he was a teenager, he was writing calculations. In his 20s Ramanujan made contact with G.H. Hardy, the famed mathematician at Trinity College, Cambridge, who invited Ramanujan to study with him and promised to help him publish his work. After spending five years in residence in England, Ramanujan died at the age of 32. In 1976, the "lost notebooks" of Ramanujan were discovered—pieces of papers that contained some of his final calculations which are being used today to understand black holes.
Twelve years in the making, THE MAN WHO KNEW INFINITY is based on Robert Kanigel's book of the same name. In the movie Dev Patel stars, and Jeremy Irons plays G.H. Hardy. The book, as well as the film, were supported by the Sloan Foundation. The film was developed through multiple grants at Film Independent and the Tribeca Film Institute. Science & Film spoke with the film's producer, Jim Young, in New York at Soho House the afternoon before the film's screening at the Festival on April 15.
Science & Film: How do you depict the relationship between G.H. Hardy and Ramanujan?
Jim Young: There is this assumption among some historians and screenwriters that Hardy had this obsession or crush on Ramanujan. We didn't delve into that: for us, he is more in love with his mind, and the fact that this guy is the next Sir Isaac Newton and he can change the world with what he's doing.
S&F: Isn't it true that in the end Ramanujan couldn't articulate what he was doing?
JY: The mathematician Ken Ono was on the set in England teaching Dev and Matt Brown. During the filming he had a breakthrough. He has studied everything Ramanujan and Hardy worked on during the years between 1914 and 1919. Last year, his breakthrough was published in Discover magazine, and it was voted as the number one story of the year. It was all based on working from where Ramanujan and Hardy concluded and then taking it to the next level. Meanwhile, I've been working on this thing for 12 years and I have no idea what he's talking about or what any of this means in terms of the mathematics. We try to break it down to make it more understandable to audiences. I've always been fascinated by people whose minds work in such a way.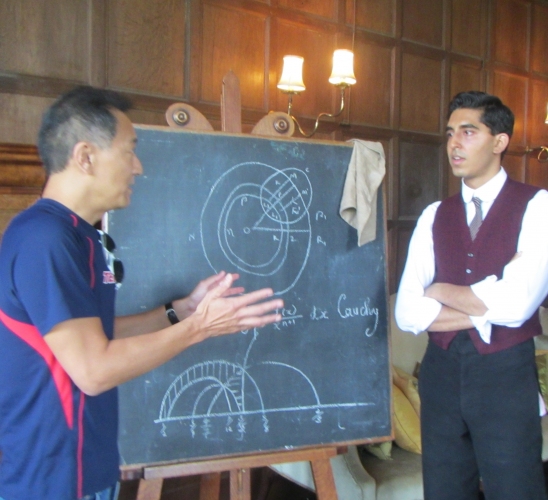 S&F: How important is it from your perspective that people walk away with some sort of understanding of the math?
JY: From a narrative perspective, and from an audience understanding perspective, it really is a human story. This guy had no education whatsoever. In his mind there was a goddess who was divining these mathematical proofs into his brain while he was praying and then he'd write them down. Nobody anywhere around him understood anything he was talking about. In a way, he had a very lonely existence because nobody understood where he was coming from. Then, he got a job, and his employers started to understand it to a certain degree, but not nearly enough. They said, we need to send his work to the most preeminent minds in the world. It was not until he got to Cambridge that anybody could ever talk with him on his level. Then he finally gets there and he's finally able to relate to people but then he's an outcast because he's brown skinned in a very white environment. Kind of pudgy too, and a devout Brahman Hindu—he didn't eat meat. The war starts and he's having a hard time just getting enough food to eat because everything is rationed. He felt this sense of isolation wherever he went for one reason or another. Then, he's sick and dying and there is a ticking clock on him trying to get what he went there to do, done. In the narrative we focused on telling the story. There is a lot of math but hopefully we made it digestible enough. It is more about this guy's very human story. It is that classic KING'S SPEECH kind of narrative structure.
Originally, the project went through the Film Independent Producer's Lab with Sloan support, and then we got a post-production grant through TFI last year. During the production we got additional support from Sloan to pay for Ken Ono's hotel in England when he was over there. He ended up staying for two or three weeks. Ken and Manjul Bhargava have been so incredibly supportive after the fact in terms of getting the math community behind us. Next week we are doing a screening at Yuri Milner's house. He is bringing a bunch of tech people but also people from the math and science world to the screening.
S&F: It's amazing that people are still learning from Ramanujan's work.
JY: It became the basis of so much eventual practical science. They say that a lot of the work they did towards the end of his time at Trinity became the basis of digital technology today. ATMs and computers and everything else are based on the work they were doing. What's been great is to have the support of these guys who are more knowledgeable about this stuff than anyone in the world. And also Robert Kanigel, who wrote the book.
S&F: How did he help you with the film?
JY: He came to the set. Ken was there to write the proofs on the board and make sure Dev knew what he was writing. Robert helped more with the historical accuracies of what happens in the narrative. He was reading scripts as they were being drafted.
We were having to re-up the book option every year, then every six months. For such an obscure story, there was a lot of interest in it. We were competing against Scott Rudin to make this movie. The Sloan grants helped us keep the meter running on that. In some ways it's the most impossible movie to get financed.
It's about an Indian kid in World War I who goes to a university in England. Some people would think that's like watching paint dry. I work on a lot of true story stuff. I am doing a movie about Ian Fleming, who was a spy during the Second World War. All the people in his life became the basis for all the 007 characters. Even though it is a period movie, you pitch that story and the movie is financed. We are also doing one about Agatha Christie and how she went missing for eleven days in her 30s. Again, it's a very pitch-able, high concept thing. THE MAN WHO KNEW INFINITY is about an Indian mathematician you've never heard of, and he's going to work with an English male professor. There are very few female characters. On the surface, why I ever got involved in this and thought it would be an easy move to get made, I don't know. But, it's such an amazing story I was always attracted to the relationship between these two guys and how people from the other side of the world came together and not only achieved what they achieved in terms of the intellectual pursuit, but on a social level, he became the first Indian to be considered by the minds of the people of the time the equal to an Englishman by getting the Royal Fellowship.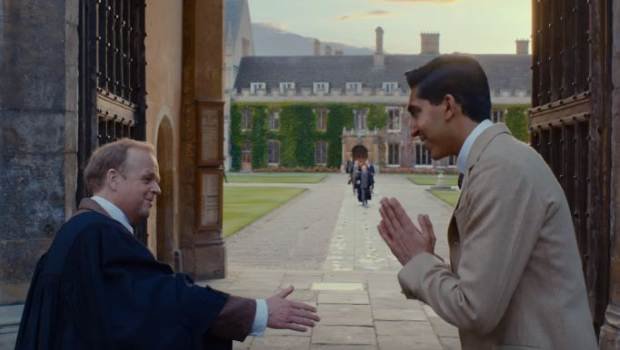 What we have been told by a lot of people within India is that he was an inspiration for Gandhi to start the independence movement in India, because he was the first Indian about whom the British said, you are the same intellect as us, so it was a big deal.
S&F: How was the film received in India?
JY: We premiered in September at Toronto and then IFC acquired the movie for the US, which opens April 29. We played at the National Film Festival of India, in Goa, and it was received very well. It was surprising because we had two non-native Indian actors in the two lead Indian roles: Dev is from England and Devika Bhise is from New York. All the other Indian actors are Indian, and it's English language. There was a concern that maybe it would be received in a strange way there. But in fact, the reviews have been very strong. Overall critically we've been very pleased with the response.
Warner Brothers released THE MAN WHO KNEW INFINITY in the UK. The film was released by IFC films in the US on April 29.
Jim Young is currently working on another TFI-Sloan supported film, THE CATCHER WAS A SPY, about the baseball catcher Moe Berg who was also a CIA operative. It will be directed by Ben Lewin. The filmmakers have just attached Paul Rudd. They hope to begin shooting by the end of 2016.