From Stage to Screen: Marjorie Prime
The play MARJORIE PRIME is about technology and humanity. It is written by Jordan Harrison and directed by Anne Kauffman, and is a technologically-themed production currently at Playwrights Horizons through January 3, 2016. At a talkback following the December 2 performance, Harrison said he is interested in "how technology makes it easier and makes it more difficult to feel human." Set about 50 years into the future, MARJORIE PRIME centers on an 85-year-old woman with dementia who has a companion—called a "Prime" in the script—a robot who serves as a memory repository. Characters are constantly feeding the Prime information to make it more believable; no memory is too small to help the Prime act more human.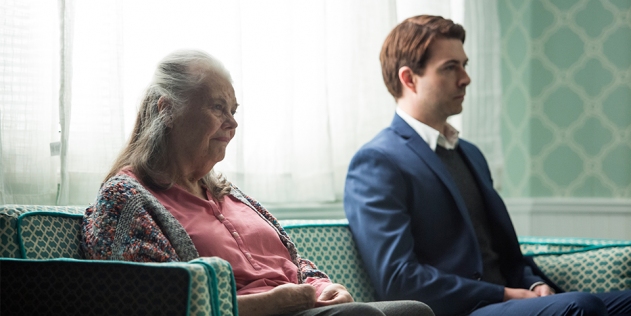 Jordan Harrison is a young and prolific playwright. He and Anne Kauffman have now collaborated on four of his plays. MARJORIE PRIME addresses the idea of Artificial Emotional Intelligence—A.I. with charm. In the writing of this play, Harrison was influenced by Brian Christian's book The Most Human Human about the Turing Test and A.I., and also by his parents' experience taking care of his 90-year-old grandmother. They spent time everyday reminding her of who she was, an act mimicked in the play by the relationship with the Prime.
In Harrison's plays, according to director Anne Kauffman who also spoke at the talkback, "There is always this imagined world... He creates these worlds that we work out emotions in so there is the present day, the circumstance we're wrapped up in, and then these alternate universes. In this play, there is this imagined world where we can actually have our dead loved ones back and continue to work out our issues." As the theater's Artistic Director Tim Sanford says, "The creation of the 'Primes' in the play in a way mimics the efforts of the artist to recreate and recapture the lost, precious, combustible Other."
MARJORIE PRIME catches the audience up in its drama and with a concise 80-minute run time leaves plenty for discussion. The refrain in the play: "how nice it is that we could love somebody," creates a sense of unease when said by a Prime invoking the idea of the "Uncanny Valley", when a robot resembles a human too closely for comfort. The play's human-come-robot stars are Noah Bean, Lisa Emery, Stephen Root, and Lois Smith.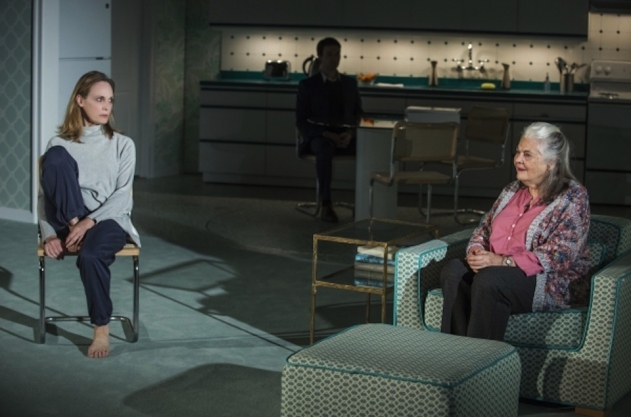 Lois Smith, whose long and varied career was just touted in a profile in The New York Times, was attached early on and played in the 2014 LA production at Mark Taper Forum. Recently, Smith finished shooting the film adaptation of the play in which she will star. Smith, a longtime friend of Sloan-supported and acclaimed director Michael Almereyda, whose feature film EXPERIMENTER has received multiple Sloan awards and is now in theaters, spoke enthusiastically to him about the script. In an exchange with Science & Film, Almereyda said he was "hooked by the premise, the characters, this dialogue." Now the story is his for the making, though he plans to respect the play's basic structure. Almereyda's film adaptation of MARJORIE PRIME is currently in post-production, and is expected to wrap in spring 2016.