Bill McKibben on EXTRAPOLATIONS
EXTRAPOLATIONS is a new eight-part series on Apple TV+ that is set is in the near future, between 2037 and 2070, as global temperatures have continued to rise. Elephants and countless non-human animals have gone extinct, fires and floods are common occurrences, the North Pole is being developed now that the glaciers have melted, and generally it's clear that capitalism and society's inability to change are at fault. Each episode explores this future from a different perspective.
The series was created by Scott Z. Burns and stars Kit Harington, Sienna Miller, Daveed Diggs, Yara Shahidi, Michael Gandolfini, Indira Varma, Tahar Rahim, and many more. EXTRAPOLATIONS employed a number of technical consultants on the show including author, environmentalist, and educator Bill McKibben, founder of Third Act and co-founder of 350.org. We corresponded with McKibben over email about his role in the show and his thoughts on its depiction of climate change.
Science & Film: What was your role on the show?
Bill McKibben: I provided technical help–which was mainly, 'what's likely to happen in the world as it heats?' And my answers were, interestingly, that they [the show's writers] were often underplaying the timing–that is, they were thinking things would happen in 2070 that are already more or less happening, and will clearly be playing out over the next decade or two. My constant advice was: get this thing out there soon, because truth is definitely moving faster than fiction.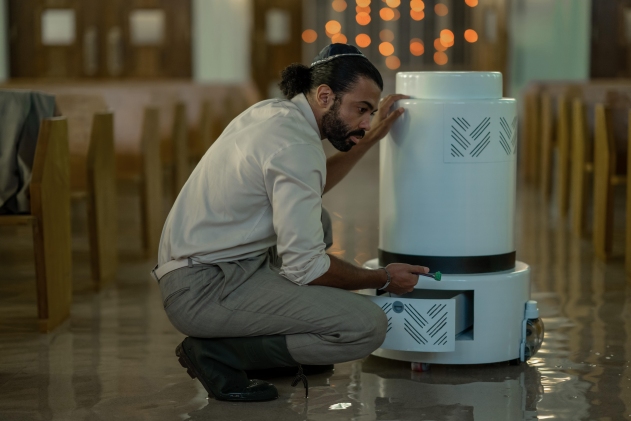 Daveed Diggs in EXTRAPOLATIONS, courtesy of Apple TV+.
S&F: How do you feel about climate storytelling and its place in the conversation at this moment in time?
BM: I think it's always important to keep nudging the zeitgeist. Nothing by itself breaks through; taken all together, these cultural signals keep making the issue more salient and pressing.
S&F: Is there a character or storyline that you most identify with?
BM: Ha! They actually had me come down for a day and filmed me playing a climate activist giving a speech, which is mostly what I've done as a volunteer for the last 35 years. (And they actually paid me a little!). But I guess I was not quite convincing enough, either that or slightly less good looking than the actual cast, because I ended up on the cutting room floor. But somewhere out there in the world there's footage of me as a hologram...
And, I'll just add, I thought they really got it [the depiction of climate change] right.
♦
---
More from Sloan Science and Film: