Science Films at IFFR 2023
International Film Festival Rotterdam 2023 (IFFR) runs January 25 to February 5 across Rotterdam and partially online. We have rounded up the science and technology-themed projects to look out for, with descriptions excerpted from the festival's programmers. Highlights include 2022 festival favorites making their Dutch premieres (Jerzy Skolimowski's EO, Laura Citarella's TRENQUE LAUQUEN) and repertory gems of renewed significance (Sanjiv Shah's LOVE IN THE TIME OF MALARIA, Anton Kutter's DIE HERRGOTTSGRENADIERE). In addition, nearly two dozen short and feature-length films will make their world premieresbringing to life a diversity of subjects, from the self-driving car of Lawrence Lek's THETA to the coastal plants featured in Vanessa Nica Mueller's LANDEN.
For its 52nd edition, IFFR has also commissioned an artwork by Oscar winner Steve McQueen, entitled SUNSHINE STATE.
FEATURES:
ANOTHER SPRING. Dir. Mladen Kovačević. Dutch Premiere. "Yugoslavia's 1972 smallpox epidemic is traced from transmission to spread, and from medical confusion and misdiagnosis to the united, historic containment effort in Mladen Kovačević's haunting documentary. An impactful, resonant thriller that echoes in resounding contrast to the 2020 pandemic."
BIRDLAND (INDIVISION). Dir. Leïla Kilani. World Premiere. "Leïla Kilani conjures a Moroccan world that is both enchanted and danger-filled in INDIVISION. A radical combination of family melodrama, poetic lyricism and revolutionary fable, the film fuses the magic of the natural world, turbulent contemporary politics and the creativity of the digital age."
CIELO ABIERTO. Dir. Felipe Esparza Pérez. World Premiere. "The debut feature of Felipe Esparza Pérez demonstrates the power of Slow Cinema, examining the crossover between old and new worlds in an estranged father and son. The father works with Peru's volcanic stone; the son digitizes sacred images. Can their worlds meet?"
CROMA KID. Dir. Pablo Chea. World Premiere. "In 1993, 13-year-old Emi finds a strange device that mistakenly transports his magician parents to another dimension. Now, he has to find a way to bring them home in this whimsical celebration of family and all the trappings of the late analogue age."
É NOITE NA AMÉRICA. Dir. Ana Vaz. Dutch Premiere. "Against the bustle of Brasília, the expansion of pavement and industry, the animal kingdom struggles to maintain its place. Ana Vaz's astonishing and genre-bending debut feature is a 16mm meditation on the dark, imperialistic dangers propelling extinction."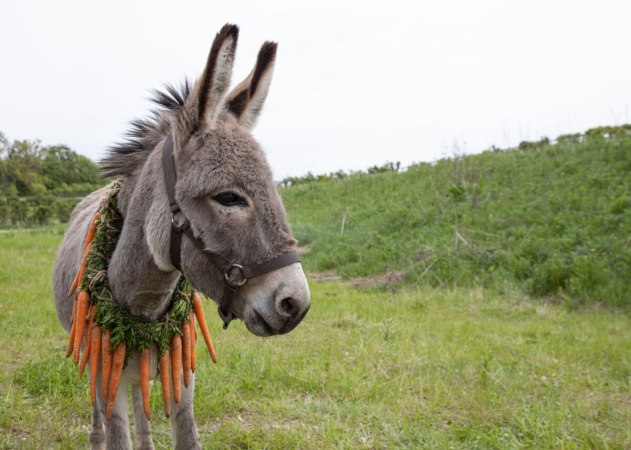 Still from EO
EO. Dir. Jerzy Skolimowski. Dutch Premiere. "A humble donkey wanders through the forest, villages and cities of Europe, meeting people good and bad, and finally, his fate. A paean to cinema as a space of freedom and longing, aesthetically unpredictable, full of jest and tragedy. Three brays for Eo!"
GIRL INTERNET SHOW: A KATI KELLI MIXTAPE. Dir. Kati Kelli. World Premiere. "Kati Kelli created a universe of videos through her YouTube channel, ranging from raw documentary realism to wondrous performance bits parodying the social ordinary, to her lone fully-fledged short film."
DIE HERRGOTTSGRENADIERE. Dir. Anton Kutter. "The inhabitants of an impoverished alpine hamlet hope for a better life thanks to the building of a road, but go wild when a nearby mining company finds gold... A little-known gem of alpine cinema graced with a staggering, New Objectivity influenced visual style."
LANDEN. Dir. Vanessa Nica Mueller. World Premiere. "A wonderful collage-like essay about coastlines and plants such as the marsh samphire, the milk thistle, the angel's trumpet or the crimson bottlebrush, about adaptation and transformation as well as resistance, about changes desired and dreaded, and the city of Beirut and its unexpected revelations."
LIKE & SHARE. Dir. Gina S. Noer. International Premiere. "Innocence and the harsh reality of life online collide as two school friends struggle to manage their screen time. But when events suddenly go viral their lives veer out of control, in the international premiere of this dark drama from Indonesian filmmaker Gina S. Noer."
LOVE IN THE TIME OF MALARIA. Dir. Sanjiv Shah. "The democratic kingdom of Khojpuri calls upon starry-eyed scientist Hunshilal to quell a mosquito insurgency. Hunshilal's complacency and naïve idealism are, however, undone by a wavering heart as he falls in love with a fellow researcher."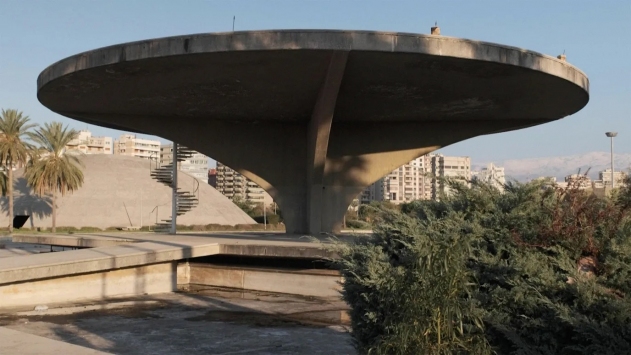 Still from LANDEN
NATURA. Dir. Matti Harju. World Premiere. "Two isolated and increasingly desperate men find each other online and devise a plan to rob a crypto-millionaire. Over the course of an evening, the hostage situation crumbles into absurdity as the assailants come to terms with the intangibility of digital wealth."
OKIKU AND THE WORLD. Dir. Sakamoto Junji. World Premiere. "A tale of romance, resilience and waste management in Edo-period Japan. Get ready for a perfect blend of sewage humour and savage wit, as OKIKU AND THE WORLD has plenty of surprises and delights for you."
THETA. Dir. Lawrence Lek. World Premiere. "A self-driving police car laments to a built-in therapist in this exploration of non-human life."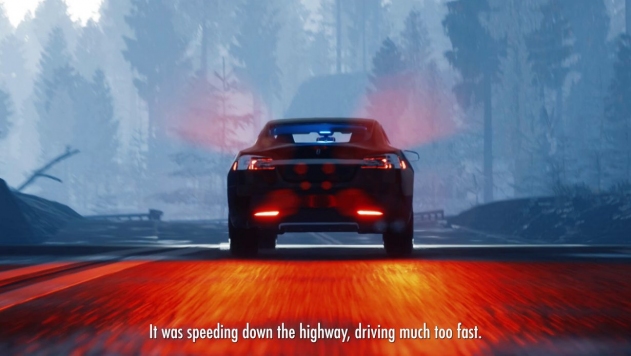 Still from THETA
TRENQUE LAUQUEN. Dir. Laura Citarella. Dutch Premiere. "An enigmatic disappearance triggers the tale: Laura, who has been investigating a real-life romance literally hidden inside library books, vanishes. As others embark on a search, Laura Citarella's film transits fluidly but magically from mystery to love story, even to discreet sci-fi and horror."
SHORTS:
THE AGE OF THE BARBARIANS. Dir. Sándor Reisenbüchler. "A gaudy vision of our modern age's gruesome grimness, done as a funky picture-collage animation."
ALIEN0089. Dir. Valeria Hofmann. European Premiere. "Online war game becomes a battle ground for a female gamer, but the violence isn't virtual."
ALPHA KINGS. Dir. Faye Tsakas, Enrique Pedráza-Botero. World Premiere. "A look into a novel economy of online domination and the new faces of sex work."
THE ANTARCTIC GARDENER. Dir. Elisa Strinna. World Premiere (Festival). "A woman creates life in a confined environment, while the forces of Antarctic nature rage all around."
DELIVERY DANCER'S SPHERE. Dir. Ayoung Kim. World Premiere (Festival). "A young delivery driver loses her way in the algorithmic labyrinth of an unrecognisable Seoul."
DVA. Dir. Alexandra Karelina. World Premiere. "Dystopian cyberpunk sci-fi, Russian-style, returns with a vengeance in this inventive, allusive, experimental, morbid tale."
E6-D7. Dir. Eno Swinnen. World Premiere. "With the arrival of a successor, a lonely surgical-assistant robot is confronted with its waning relevance."
A FIELD GUIDE TO COASTAL FORTIFICATIONS. Dir. Tijana Petrovic. World Premiere. "A study of the interaction between landscape and military technology in the San Francisco Bay."
FILM DEDICATED TO WATER AND TREES. Dir. Florian Yuriev. "An unfinished film by the late Ukrainian polymath Florian Yuriev, curatorially prepared by Oleksiy Radynski."
FIN. FINITO. INFINITO. Dir. Laurence Henriquez. Dutch Premiere. "In this blend of documentary and science fiction, a society prepares for the end."
FLOWER RAIN. Dir. Gao Wei. World Premiere (Festival). "A translucent, dreamlike journey through the floral cosmos of photochemical reaction."
FROM VOICE TO PULSE. Dir. Zeno van den Broek. World Premiere. "An audio-visual work, driven by algorithmic compositions for percussion and voice."
GREETINGS FROM WORMHOLE 61. Dir. Rogier Mulder. World Premiere. "An ambitious businesswoman travels the galaxy with a truck driver, conversing about ordinary, hard-working people."
HUMUS (MULTIPLEXING). Dir. Antonin De Bemels. Dutch Premiere. "Between figurative and abstract, this one-man show is like Busby Berkeley for the digital age."
ISSUES WITH MY OTHER HALF. Dir. Anna Vasof. World Premiere. "Dividing the body and the tools it uses: Anna Vasof's neo-Švankmajer avalanche of digital gags."
MARINE TARGET. Dir. Lukas Marxt. International Premiere. "A disquieting exploration of the Salton Sea – haunted by traces of catastrophic US nuclear testing."
LA NOIRCEUR SOUTERRAINE DES RACINES. Dir. Charles-André Coderre. World Premiere. "An immense and interconnected network of subterranean natural phenomena is illuminated using analogue film techniques."
ON A BARE ROCK BY THE OCEAN YOU WILL NEVER HEAR ANYTHING BUT BIRDS WHOSE CRIES BLEND WITH THE SOUND OF WINDS. Dir. Sol Archer. World Premiere. "Serene natural wonder within the glass walls of a greenhouse, with volunteers creating the sounds of the tropics."
PHARMAKON. Dir. Ryan Cherewaty. World Premiere. "Myth of Persephone reboot in a 3D-animated world. What is mortality in a virtual world?"
RECORTES. Dir. Kimberly Forero-Arnias. World Premiere. "A documentation of indigenous flora and fauna that builds on personal relationships, going beyond just observation."
RITUAL FOR A DYING PLANET. Dir. Eric Raynaud. Dutch Premiere. "French new-media artist Fraction performs a ceremony for a collapsing ecology."
VACATION. Dir. James Mercer, Yifan Jiang. Dutch Premiere. "Animated bizarro-surrealism or profound eco-absurd metaphor – only you can decide."
VISÃO DO PARAÍSO. Dir. Leonardo Pirondi. International Premiere. "The desire to expand physical frontiers links the age of expeditions with contemporary virtual reality."
A WHITE SCREEN IS VISIBLE. Dir. Sohaib Bouaiss. "The sensations and perceptions experienced in parasomniac states are brilliantly rendered in this hypnotic dream-exploration."
---
More from Sloan Science and Film: