Writer Anna Symon on The Essex Serpent
THE ESSEX SERPENT is a new limited series on Apple TV+, starring Claire Danes and Tom Hiddleston, that is set in 1890s England where a widow named Cora Seaborne (Danes) who is devoted to paleontology moves to the village of Essex to investigate a mythic serpent the town says is terrorizing them. She theorizes it might be a real creature evidence of which she might find in the fossil record. THE ESSEX SERPENT is based on Sarah Perry's bestselling novel of the same name. It is directed by Clio Barnard (DARK RIVER) and written by Anna Symon (MRS. WILSON, DEEP WATER). Both also served as executive producers. The six-episode series has debuted four episodes to date, and the final two will be released on Fridays through June 10. We spoke with writer Anna Symon from her home in London about her interest in the story, the depiction of science, and its contemporary resonance.
Science & Film: How did you get involved with THE ESSEX SERPENT?
Anna Symon: I was a massive fan of the book. It was a really big book when it came out in the UK in 2016. I was so attracted to the mix of ideas and character, and all that was swirling around in 1893. It was a time of such incredible change: scientific progress, political progress, people fighting against the establishment. I first heard about the project was when I was with a producer of See-Saw Films; I was in their office, and I saw the manuscript. I was like, oh my god I love that book. They were already underway developing it and the director was involved and Apple was on board, but I managed to jump onboard. It was such a thrill because I was a fangirl [laughs].
S&F: The series is visually amazing in terms of its depiction of medical technologies at the time and the field work of paleontology. What research went into adapting those scenes from the book into the show?
AS: It was a very well-researched novel. Luke's surgery and those early cardiac experimental operations were in the book. We had a cardiologist on set during those scenes. I also visited, as did the director and the production [designers], the old operating theater in London which is an incredible museum in which we filmed the operating scenes to get that sense of authenticity. We tracked down various historians who knew about medicine at that time. We were also keen to make sure that we were casting in a color-conscious way; we looked a lot at people of color who were doctors at that time in London who had never had much representation. From the paleontology point of view, we did a lot of research about discoveries made at that time. The Essex Serpent itself, the myth, is a real myth. Sarah Perry is fascinated by that time of change and scientific progress, and we used her novel and amplified it with our own research.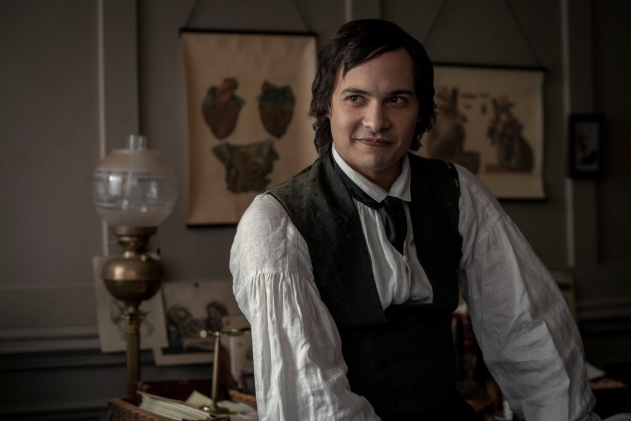 Frank Dillane as surgeon Luke Garrett in THE ESSEX SERPENT
S&F: The scenes in the operating theater are like a boxing match, the way the audience is cheering for the surgeons.
AS: Surgery was brutal then. It was a very high-risk procedure. This was a still a time when you could go and buy a cadaver and experiment on dead bodies. It was quite an unsavory game in that way. There were one or two women in that field but very few, it was a boy's world.
S&F: Was the series filmed on location?
AS: All the exteriors were and then all the interiors were on a built set in London.
S&F: How did Cora's interest in science inform the depiction of her character?
AS: What's fascinating about people's perception of science generally is that—and this is my opinion, it may not be everyone's—people see it as less glamorous or exciting than the arts. Cora says to Will in Episode 2, "science requires dreams, just like your theology." That encapsulates a lot about her character. She understands that being rational isn't being boring and being interested in science is intriguing and has a own rollercoaster ride like faith or a creative pursuit.
Particularly today, having emerged from the pandemic and the battles that we have in the world between scientific, empirical thinking and the lack of it, it felt really resonant and important to me that Cora, as a woman of science, would be someone who was exciting and willing to engage with the unknown and to question and challenge it—not to be scared by it. One of the things we are trying to say in the series that again feels very resonant today is that being scared of the unknown can lead to unpredictable consequences. It's better to embrace uncertainty and try and understand it, than to come up with your own explanations. It's quite rare in television drama to find those ideas being talked about. I'm not sure that it's everyone's cup of tea but it's absolutely what the book is, and it would have been a travesty to just pull the monster story out of the book and not live in the complexity of the ideas behind it.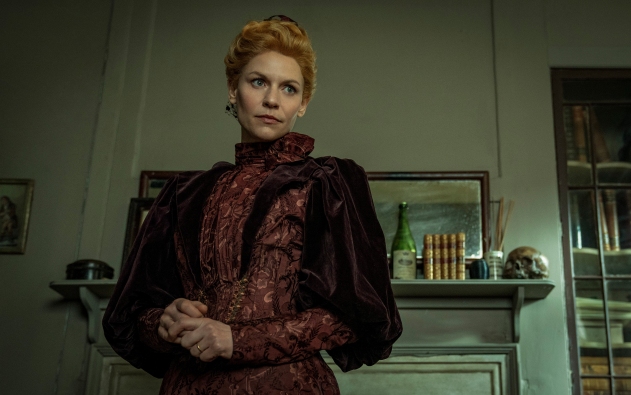 Claire Danes in THE ESSEX SERPENT
S&F: Is there anything in particular that you want viewers of THE ESSEX SERPENT to notice or appreciate?
AS: I hope that people have a think about the ideas behind the piece and go to the book, where those ideas are also illuminated. What is the serpent in today's world? I also hope people come to it because there are incredible performances from all our lead actors and just watching them is a real treat. Watching the design that our production team put together, the costumes, these unbelievable locations only a couple hours from London some of them—come for that as well.
♦
---
More from Sloan Science and Film: