The Dystopian and Utopian of TikTok in TikTok, Boom.

TIKTOK, BOOM., making its world premiere in the U.S. Documentary Competition at the 2022 Sundance Film Festival, examines the highly influential social media platform TikTok. The film features influencers whose lives have been changed by the platform, as well as people speaking on issues of cybersecurity, global politics, and algorithmic biases. Director Shailini Kantayya's previous film, the 2020 Sloan-supported documentary CODED BIAS, also examined the interface of technology and society. We spoke with Kantayya about choosing the film's subjects, her interest in technology, and why TikTok is so addictive.
Science & Film: How did you choose your main subjects?
Shalini Kantayya: What I always knew about TIKTOK, BOOM. is that the story would be told through Gen-Z influencers. The story of TikTok has so much to do with a generation coming of age during a very specific time of history—the pandemic—and this app blowing up. I was looking for personal stories that illuminated broader themes. Feroza Aziz is a 17-year-old high school student, and she had her account get taken down for speaking out about Uyghurs, so that spoke to something broader in the film. All of the characters in the film—Spencer [X], Deja [Foxx], Feroza—their lives are fundamentally different before and after TikTok
S&F: Were all of these subjects open to you telling their story?
SK: The craft of documentary is earning people's trust and trying to respect the trust they have in you to share their story. It was a different process with each of them, explaining what the film was. I always think verité documentary is such a strange thing to explain to anyone. But what was beautiful was that I've never had protagonists who are so camera savvy and used to being vulnerable in front of the camera. It's not something that comes to me naturally, that vulnerability. That was something they brought.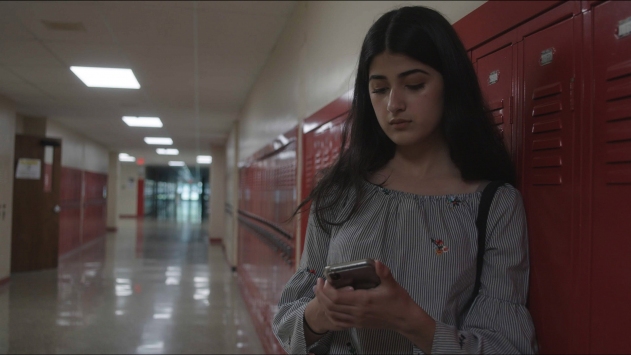 Feroza Aziz in TIKTOK, BOOM. Courtesy of Sundance Institute.
S&F: What drove you to make this film in the first place?
SK: I think that we haven't reconciled with what a massive force TikTok is; it has outpaced Google, Facebook, Twitter—all of these Silicon Valley giants that had a ten-year head start. When I first started hearing about it being at the center of national controversy, I thought, that is bizarre, the President wants to ban a teenage dance app because it was made in a foreign country? It sounds like an ironic plot [laughs]. I was so fascinated. The more I dug down the rabbit hole, I was amazed by how this app is changing the world and what that means. Because my prior work explored algorithms and data collection, that plays a role in this—the invisible backend of these technologies is what I'm exploring with the film.
TIKTOK, BOOM. was made very quickly, in nine months from concept to premier, at a breakneck speed. We filmed five countries, ten cities, 22 shooting days. All of it was during COVID. I have so much respect for my crew and cast who adapted to new ways of making films.
S&F: In terms of the issues that the widespread use of TikTok has raised, how did you decide what to focus on?
SK: I was exploring how this eerie preciseness [of the algorithm] works. What is interesting about this technology is that it's not just dystopian, it's utopian. I had TikTok on my phone and the thing ate my attention. It knew every weird, quirky thing I was interested in. It knew without me telling it, and I thought that kind of technology is interesting in and of itself because it's a recommendation algorithm that you're not giving inputs to. That may be the way future technologies work.
S&F: Did you use TikTok before making this film, and do you continue to?
SK: I did, and I don't anymore. I did and then I used it quite a bit and I would call it "research" but I really was just on TikTok a lot. But I've also gotten off many other social media platforms.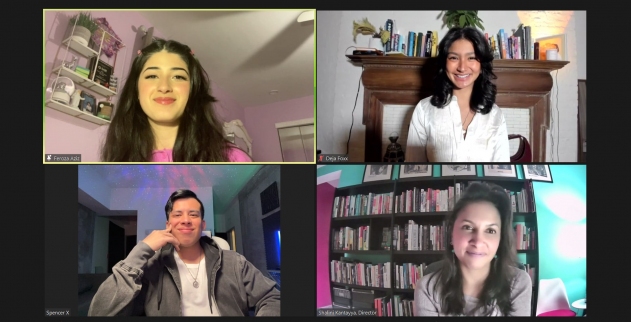 Film participants Feroza Aziz, Deja Foxx, and Spencer X, and director Shalini Kantayya attend the Q&A of a virtual screening of TikTok, Boom. © 2022 Sundance Institute.
S&F: So it wasn't necessarily a result of the research you did for this film?
SK: No, but it gave me more of a sense of where I was putting my attention. When I had TikTok, it was more addictive than any other social media platform that I've had, and I would see the hours and think, this is time I could be [using]. So, I started to become more aware. But you can also learn a lot on TikTok. That is the double-edged sword, it's both utopian and dystopian. It's the, oh my gosh, it knows me so well, it knows me better than myself. And, wow, that's so strange and sci-fi to say about an algorithm. To me, TikTok is a symbol of where social media is going, and what I'm trying to do with the film is to get people to ask questions and examine it a little more closely.
S&F: Is this a subject you would like to continue exploring?
SK: I am definitely curious about technology. It continues to be something that has my fascination. I am forever a science fiction addict, so you might see something in that space from me.
♦
TIKTOK, BOOM. Is directed by Shalini Kantayya and produced by Kantayya, Danni Mynard, and Ross M. Dinerstein.
---
More from Sloan Science and Film: