Director Interview: Juanjo Giménez on Out of Sync
The new feature film OUT OF SYNC, directed by Spanish filmmaker Juanjo Giménez, follows a sound designer and foley artist (Marta Nieto) whose hearing suddenly starts falling out of sync with reality. She hears everything with an increasing delay, an state that morphs from affliction to something closer to a superpower as the film progresses. OUT OF SYNC made its world premiere at Venice and played in the Contemporary World Cinema section of the Toronto International Film Festival (TIFF). We spoke with Giménez during TIFF. He had just returned to Barcelona to meet with colleagues about his next film.
Science & Film: How did you conceive of the central premise of the film?
Juanjo Giménez: I used to work with friends in sound post-production and when you spend ten hours in a studio and then go outside, you start to think, maybe the real world has a soundtrack. Or, your friends are out of sync—you watch their lips and then start to think, maybe they are out of sync. In one of these situations, I started to think, maybe it is me who is out of sync. This "what if" is the movie. I told the idea to my co-writer Pere Altimira—we wrote several films together before this.
At first, we had this idea that the delay was affecting humankind. But we decided to attach this disability to a character. We wanted to play with the basic tools of image and sound. In our first draft, she was a kind of prophet. She was the first to know that something was wrong in the world.
S&F: And the film does go there, just in a more personal way. It reminded me of when I had COVID over a year ago and I lost my sense of smell.
JG: Me too.
S&F: I remember at first, it was eerie and there were moments that made me realize how much I rely on senses—smelling the garbage or if something is burning—but then I started imagining it as a kind of special power… I can go places that others won't.
JG: Yeah. We decided to transform [the delay] into a superpower because I loved the first issues of Spiderman and Fantastic Four in my youth. I'm a comic guy. I wanted to play with this. For some, they felt there were two movies in one. I usually work with rules when I start writing, and one of the rules for this film was: play with image and sound, and second, trying to put this supernatural thing into the movie.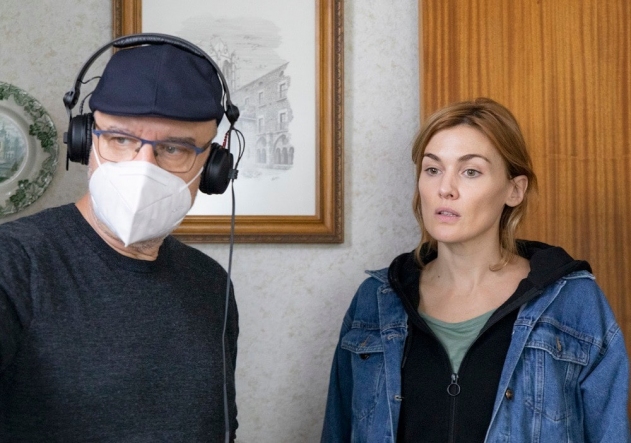 Juanjo Giménez and Marta Nieto.
S&F: How did you work with the film's sound designers? Was it all in the script how things should be out of sync, or were there ideas they brought to the shoot?
JG: I talked a lot with sound designers. Almost every sound designer who read the script wanted to do it. It was a kind of: this is my life. Films about sound designers don't get made that often. That was an advantage because they were heavily involved from the beginning.
My first intention was to shoot the out of sync scenes for two weeks, then try to work for another two weeks on postproduction to know if this was working or not. We had no reference for this movie. Of course, you think of SINGIN' IN THE RAIN, films that pay with out of sync issues, but not self-consciously. We needed to play for those two weeks. But then the pandemic made it impossible, so we made it in the usual way: we shot for five weeks in a row and then went into postproduction for image and sound. It was like working blind. In postproduction we tried to get the soul of the film and realized that it worked! My afterthought is that, if we had shot more out of sync sequences, all of them would be in the film because I think it's the soul of the film. Maybe there is a sequel or a series where we can do it more. All the scenes we deleted were the normal, character-driven sequences, with her mother or work colleagues, but none of the out of sync sequences.
♦
OUT OF SYNC is written and directed by Juanjo Giménez and co-written by Pere Altimira. It stars Marta Nieto, Miki Esparbé, Fran Lareu, Luisa Merelas, Cris Iglesias, Julius Cotter, Iria Parada, and Francisco Reyes.
---
More from Sloan Science and Film: