Sundance: Playing with Sharks

PLAYING WITH SHARKS, which premiered at Sundance in the World Cinema Documentary Competition, tells the captivating, remarkable story of Australian icon, diver, shark expert, and conservationist Valerie Taylor. Once the female spearfishing champion, Taylor traded in her weapons for the film camera and, working with her husband, fellow diver, and pioneering underwater filmmaker Ron Taylor, has since played a crucial role in the perception of sharks. As PLAYING WITH SHARKS shows, the Taylors often put themselves in what seem like extremely dangerous situations—baiting sharks, swimming without cages, even trying to be bitten—in order to prove that sharks are not as dangerous as many fear. Ironically, the Taylors once worked on two films that have probably contributed most to people's fear of sharks: Peter Gimbel's documentary BLUE WATER, WHITE DEATH and Steven Spielberg's JAWS. PLAYING WITH SHARKS addresses this legacy directly.
In the film, Emmy-nominated writer and director Sally Aitken interweaves newly scanned footage that Ron Taylor shot from the 1950s, 60s, and 70s, with present-day footage and interviews with a now 85-year-old Valerie Taylor. Since its Sundance premiere on January 29, PLAYING WITH SHARKS has been picked up for distribution by National Geographic Documentary Films. We spoke with the Sally Aitken from her home in Australia.
Science & Film: The footage in PLAYING WITH SHARKS is incredible, how did you get access to it?
Sally Aitken: This extraordinary archive, largely the Ron and Valerie Taylor collection, covers 50 or 60 years of underwater footage shot on 16mm and 35mm. We have more footage in the film because Valerie's father had an 8mm camera when she was a child, so that's why you see some images of Valerie as a teenager post-polio.
With our modern sensibility, you just can't quite conceive how pioneering the technology was that made the underwater footage possible. Ron was very technical and made all his own housings—the way you protect a camera from water seeping in. He was incredibly frugal as well; that was a necessity, they were both from working-class backgrounds, very humble beginnings. They literally made everything themselves: their own swimsuits and weight belts. Valerie and Ron would go to the bottom of the ocean and collect lead then Ron would smelt it down into these little molds then Valerie would stitch that onto Army surplus belts. This was do-it-yourself like you cannot quite imagine.
In terms of the camera, Ron would have to hold his breath, go down, and film essentially in one take. Then he would resurface, get back into the boat, dry off, and re-load a mag, then do it all again. When you understand that, and then look at these images, the fact that they could have filmed everything that they did both speaks to the abundance of marine life that existed at that time, but also Ron's superior ability to shoot and hold his breath and control his image.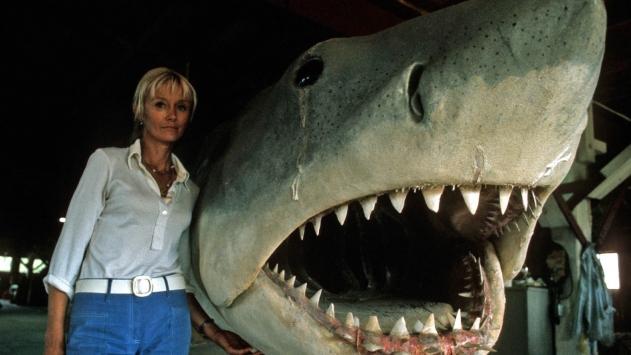 Valerie Taylor in PLAYING WITH SHARKS. Courtesy of Sundance Institute | photo by Ron & Valerie Taylor.
Then, I think the other fascinating aspect of the film footage from a scientific point of view is, throughout their lives, the Taylors used film for entertainment and educational purposes. These were images that were recorded for documentaries. Today, Valerie is working with the University of New South Whales here in Australia, in Sydney, and there's an incredible legacy project in which PhD students are looking at this archive for secondary information. They return to the same dive sites and coastal areas and so not only do you have Valerie's own testimony of a changing baseline, you also have it in the film in a way that can be measured and contribute to our scientific understanding of what is happening in our oceans.
So yes, the film is beautiful, the color holds up, it was all re-mastered using a Blackmagic cintel scanner, and we're so pleased that people have the chance to see this extraordinary collection presented in this wonderful story.
S&F: That's super interesting what you're saying about the film's inherent scientific merit, which I'm sure the Taylors were not thinking about at the time, right?
SA: Not in the slightest. BLUE WATER, WHITE DEATH, it's an action verité documentary feature. The thrust was capturing this extraordinary journey of four divers: Ron and Valerie, Stan Waterman, and Peter Gimbel the filmmaker and their quest to go and dive with sharks. [It has] those amazing images of the divers all exiting the cage in the middle of the Indian Ocean with a pack of oceanic, white-tipped sharks. That was obviously recorded so people would see those images and learn something new about sharks and the adventure. What nobody could have predicted at the time is that you cannot go and film that scene today; there just aren't enough sharks.
---
READ MORE:
Nautical Filmmaking
---
I was speaking with a lot of people about Valerie—some of those interviews are in the film—and so many divers said to me, it's the fact that you see so many sharks! To the lay person, the fact that they're out free swimming for sharks is gob smacking. For people who really know the ocean, the fact that there are so many sharks is gob smacking. Our documentary incorporating these kinds of scenes is a historic record, which is fascinating and devastating at the same time.
S&F: Ron and Valerie were involved in the use of film for different audiences—documentaries as you're speaking about but also JAWS. How did you want to integrate that into your film?
SA: One of the things I thought was particularly interesting, as you see in PLAYING WITH SHARKS, is that in 1965 Ron went on a white shark expedition and in doing that he achieved the world's first footage of a great white shark swimming underwater. The images are incredible, the color is beautiful, but you know, there is a shark approaching the boat and its jaws are wide open—it's terrifying. Those images were the inspiration for Peter Gimbel, the filmmaker behind BLUE WATER, WHITE DEATH, because he wanted to see great white sharks for himself. So those images beget that film and then it was that film, and again with those kinds of images, which really excited Peter Benchley who wrote Jaws. At the time, he had this idea about a story involving a fish and he was inspired to complete that novel, and we know that went on to create the phenomenon that is JAWS, and that in turn had its own impact. I was very interested in that lineage.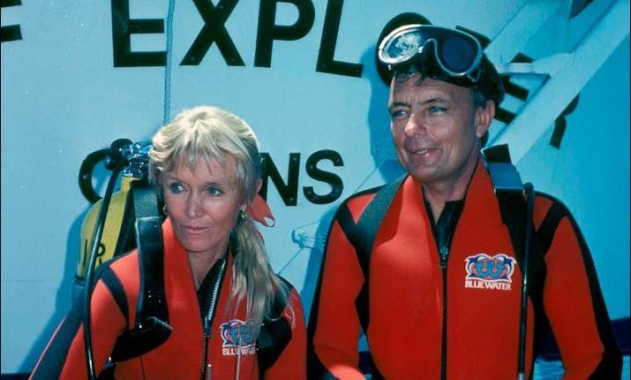 Valerie and Ron Taylor.
Interestingly enough, Ron's footage is used the poster for BLUE WATER, WHITE DEATH and in a scene of JAWS with Roy Scheider flipping through a magazine. Today we talk about documentary and fiction…it was there back then.
With respect to JAWS, I was keen that we try to tell the story in a 360-type way. We had the great fortune of Valerie being able to recount what it was like to make JAWS, and she herself picked up a 16mm camera so you have the footage of them in expedition making the film. We intercut the making-of footage with the final film and I think that's a real treat, particularly for movie fanatics—you see the construction of the film along with the understanding of the impact that particular Blockbuster had on sharks and then the epiphany that results for Valerie personally out of that experience.
S&F: What was it like working with Valerie on the making of this film?
SA: Valerie is nothing if not forthright, so it was a little intimidating meeting her for the first time. Bettina Dalton from WildBear Entertainment knows Valerie, they've got a longstanding friendship and worked together 20 years ago, and Bettina had seen the footage and asked me if I'd be interested and of course I said yes in a heartbeat. I had that initial meeting, and I was nervous; Valerie does not suffer fools. I liked her from the get-go, and I thought the feeling was mutual but then it was confirmed because she sent me a very perfunctory email saying: yes, I think you and I are going to get on just fine. I thought, that is the most effusive that someone like Valerie Taylor gets. We've developed a beautiful friendship.
---
READ MORE:
The Bathysphere and Underwater Films
---
With respect to making the film, Valerie is deeply respectful of the story process. She says, I always will listen to a director. This did not mean that I didn't consult her, it just meant she was largely happy for us to pursue the different avenues and ways in which we could construct this film. I really should have recorded the first time she saw one of the rough cuts; it's kind of like a comical director's commentary: oh look, there's Toby! when different shots appear on screen. Then, cut! No, boring! I was like, Valerie, it's not boring I swear, you've seen this [footage] a million times. There are also some very distressing things in the film: her early life as a champion spear fisher incorporates her hunting, there is one very graphic scene in which she power hits a shark. She hates that footage. It's so upsetting for her to see that today. But she also recognizes the power of incorporating that from a story perspective and allowing people to see the trajectory of understand she's been on. She also really owns that responsibility. I deeply admire her for that. It speaks volumes about the honesty with which she lives her life.
S&F: She is a very charismatic center of the film. Her directness and honesty are admirable.
SA: Also, I think her sage wisdom. There is something so amazing to me in images of Valerie today and the look in her eyes. They tell you a story and you want to know what that story is. I was very interested in the interplay between the older, beautiful, enlightened Valerie and the younger, dynamic, hungry, gorgeous, sexy Valerie. We all want to live our lives with meaning and purpose, so having the younger and the older, we don't get to have that in our real lives, and we were able to do that in the film. There's something so emotional when you see the vibrancy of someone young and the intelligence and wisdom of someone old and where those two things meet. It gets me, still, and I've watched it thousands of times.
♦
PLAYING WITH SHARKS is created and produced by Bettina Dalton and written and directed by Sally Aitken. It is filmed by Ron Taylor, Michael Latham, Judd Overton, Nathan Barlow, and Toby Ralph. Adrian Rostirolla edited the film, and Caitlin Yeo did the music. The film will be released by National Geographic Documentary Films.
---
More from Sloan Science and Film: