When Kate Winslet Came to Lyme Regis



Lyme Regis is a small seaside town situated on the south coast of England, where the counties of Dorset and Devon meet. Its most famous feature is the Cobb, a stone sea defence that was famously used in the film of John Fowles' novel The French Lieutenant's Woman in 1981, starring Meryl Streep and Jeremy Irons. At the risk of destroying fans of the movie's illusions, it is a stunt person in an auburn hair piece standing on the end of the Cobb in the storm, not Meryl Streep herself. Lyme has a great regard for Americans as many of your young men were stationed here in the spring of 1944, so taking care of your greatest actress was rather a point of principle for us.
Like Lyme itself, the Lyme Regis Museum is no stranger to the movies. For several years Fowles was honorary curator of our museum and his writing can be found on several documents within our collections. For the film's production, our main thoroughfare Broad Street was transported back to the 1850s and strategically placed props disguised road markings and inconvenient bus stops.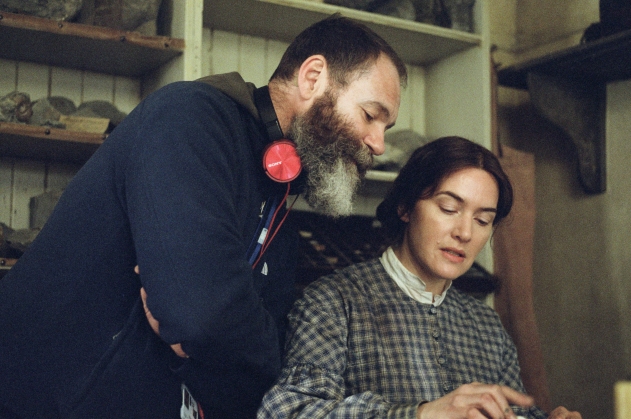 Francis Lee and Kate Winslet on the set of AMMONITE. Courtesy of NEON.
For the most recent production, AMMONITE, a fictional drama based on the life of Lyme's most famous daughter, fossil hunter, and early scientist Mary Anning, the museum was once again heavily involved. It takes truly appalling weather to keep museum geologist Paddy Howe off the fossil beaches and in the winter of 2017, he spent a morning fossil hunting in the rain with director Francis Lee. One interesting conversation later we were aware of Lee's ambition to make the film and were sworn to secrecy. By the end of the year, we helped the film's producer with the identification of possible locations–again in secrecy.
Of course, we were aware at a very early stage that Lee wished to make a film about a same-sex relationship. None of us know anything about Mary Anning's personal life, and our role in the production (for which we were paid) would be to guarantee that the science and the social history were as accurate as they could be. My decision was simple: I didn't doubt that in the hands of an auteur like Lee the production would have a unique stamp capturing his own world view.
---
READ MORE:
Interview With JURASSIC PARK Paleontologist
---
The location work was done in Lyme in the spring of 2019. We provided information about life in Lyme in the 1840s, as well as fossil specimens. When Kate Winslet, as Mary Anning, is seen working on a large ichthyosaur skull, it is the life-sized model usually on display in the museum; the original resides within the Natural History Museum in London. Although Lyme has many old and protected buildings, Mary's home and original shop no longer exists. Standing very close to the sea it finally succumbed to the constant pounding of the waves in the 1860s, two decades after Mary's death in 1847. Fittingly our museum, built in 1902, stands on the site of Mary's home.
Perhaps the most fascinating aspect of the process was seeing a truly consummate actor learn her character's skills. Our geologist taught Kate how to break open a rock to reveal the fossilised creature inside. Doing this is difficult enough in itself, but she learned how to split a nodule at speed, as Mary Anning would certainly have been able to do. The museum was fortunate to have on display Mary Anning's Commonplace book and Kate even ensured that she could write in Mary's hand. We also helped with the development of an accurate Lyme Regis accent. The south west of England has a broad rural accent that many actors simply portray in a generic way (think of the pseudo-pirate accent used in many movies!). One of our team, Lizzie Wiscombe, was born in our small town, and she worked with the movie's vocal coach to help Kate capture the nuances of the way people speak within Lyme itself. As one might imagine, the script was kept under wraps, but Lizzie had the unique experience of having an Oscar-winning actor run through key sections of the dialogue just for her.
Rather less of Lyme was converted into a set than had been the case when the French Lieutenant's Woman was filmed here almost forty years ago, although it was ironic that one major aspect of the set–a false wall–was constructed to ensure that the museum's 2017 extension, the Mary Anning Wing, was out of shot.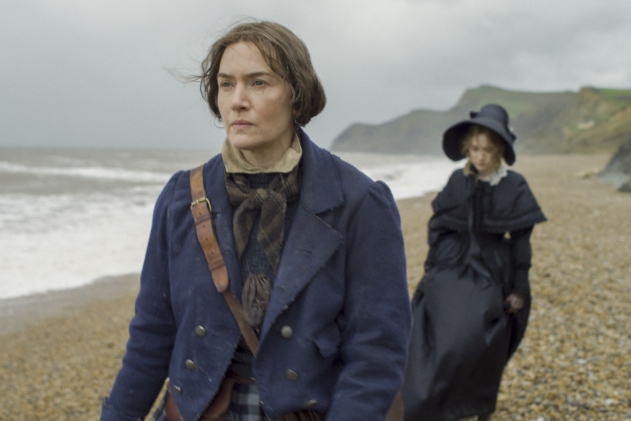 Kate Winslet and Saoirse Ronan in AMMONITE. Courtesy of NEON.
Mary Anning belongs to a group of neglected contributors to British science. She is one of many who, because they were neither university educated nor gentlemen, were in many cases lost to history for years. Fortunately for our museum, Mary Anning is now a key figure in our national schools' curriculum and many children, especially girls, visit us to find fossils like their heroine. If we have one regret about the adult content of 'Ammonite', it is that the movie itself isn't appropriate for that young audience.
Because of our unique location at the home of palaeontology, we're quite used to working with the media. We don't get star-struck! This was the first time in over a decade that a movie was partially shot in Lyme and from our perspective at least, it was all pretty painless. We wait to see how the movie will be received. There have been limited screenings because of the pandemic, but the reports from those who have seen it are very favourable. Our contribution was to ensure that the movie was as accurate, especially in its science, as possible.
Our geologist's view is that whilst there are some inaccuracies, including shots on other beaches, the science is as near to correct as anyone might hope for in a fictional drama. We fully expect that there will be criticisms where the detail is not exact. It's quite clear the movie captures the environment in which Mary worked. Often wet, cold, and isolated, as a professional fossil hunter Mary needed to take risks and work in conditions where even the most enthusiastic modern collector might decide to seek shelter with a pint of beer in front of roaring fire.
---
More from Sloan Science and Film: