Carla Ching on AMC Studios Developing Fast Company
AMC studios has announced that they are going to develop as a television series the Sloan-supported play FAST COMPANY, written by Carla Ching. FAST COMPANY tells the story of a fictional, legendary family of con artists. The play premiered in 2014 at the Ensemble Studio Theatre, which commissioned and developed it in partnership with the Alfred P. Sloan Foundation. It went on to be produced by theaters including Lyric Stage in Boston, and to win the Seattle Times's Footlights Award for one of the year's best New Plays on a Small Stage. Ching subsequently worked with 3AD Media (which also developed ABC's THE GOOD DOCTOR) to develop it as a series. We spoke with Ching by phone in July.
Science & Film: How did AMC become interested in FAST COMPANY?
Carla Ching: I pitched it to them. As someone who very much liked working on the play with Ensemble Studio Theatre, South Coast Rep, and other places it went, I thought it would be a shame to completely say goodbye to the characters. Might it be interesting to do some more long-form storytelling with them, which is possible in television? So I started working with a company called 3AD, which is Daniel Dae Kim's production company. Then we took it out to a bunch of different folks, told them the story of the Kwans, and it ended up being AMC that we are lucky enough to partner with to try to develop it into a show. This is not a guaranteed series; I'm only in development which means that I need to turn around an outline and script to AMC and they need to decide if they like it enough to send it to series.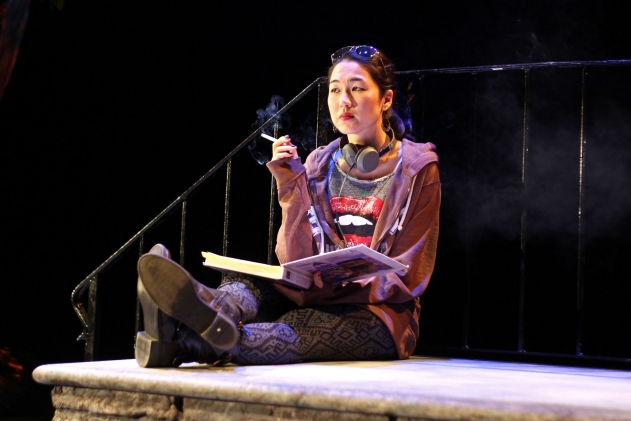 Jackie Chung in South Coast Repertory's 2013 production of Fast Company. Photo by Debora Robinson/SCR.
S&F: Do you shoot a pilot or do they decide purely based on the script?
CC: It depends—from my understanding, they can do it a few different ways. They could say, okay, this is interesting but we need more material, perhaps you can have a mini room. Or, we'd like to see more scripts or a bible. Sometimes they'll shoot a pilot.
S&F: How has the story changed as you've started conceptualizing it as a series?
CC: It has totally changed. I've added a couple of characters. In the play there are only four characters: there is Mable, the matriarch of the family and one of the greatest con artists that ever lived; there are her three children, H who has since retired from conning and is now a sports analyst in the way of Bill Simons; Francis, the middle child who has left conning to become a magician; and the youngest daughter, Blue, who has never left conning but has become a con woman in her own right. She wanted mom's approval. The father, Henry Senior, wasn't in the play—he was mentioned and talked about, but he wasn't cast. So I'm making him a character in the show. There will also be a long-lost daughter he has from a second family. She enters in order to build out the world and provide more story opportunities.
Also, because it's long-form storytelling, we're going to follow these characters for at the very least the length of a season and hopefully more than that. I need to build out each of their individual storylines and the people in their worlds. There is Blue's crew who she references in the play, Red Headed Johnny and Lazy Slate, we never meet them, but we'll meet them in the show. We're working towards having ten hours of story versus the hour and a half of the play so there is a lot more real estate to play with. I also wasn't able to do flashbacks in the play but I'm going to do some flashbacks to their childhoods in the television series to show what their lives were like and to have those past actions influence present actions.
S&F: You got a grant from the Sloan Foundation to develop FAST COMPANY as a play. Can you tell me about working with a science advisor and what your focus was?
CC: I worked with two different advisors. There was Gabriel Cwilich who was wonderful. He referred me to Qingmin Lu who was very helpful in the game theory aspect.
The whole idea [in the story] is that Mable decided that her daughter didn't have the gift of grift. There was a test that she put to each of the kids to decide if they were good enough to be able to be part of her con crew: When the kids were ten years old, she would leave them at the far edges of New York—she left Blue at Far Rockaway—without any money or map to find their way home. She wanted to see just how resourceful they were and how they could talk their way into getting help, because those are skills that would be useful on cons. The boys both got home in an hour or two and it took Blue two days, which is what made Mable feel like she didn't have the skills. Blue takes it upon herself to arm herself with game theory; she studies it on the graduate level with the idea that this is the magic bullet, the special set of skills that she'll be able to use to become a great con woman. We wanted to make sure that the cons and game theory that was applied was authentic and made sense, which is super complicated. The science advisors were super helpful in making sure that there was accuracy in what we were using and how we were explaining it. I'm incredibly grateful for the support the Sloan Foundation gave to the play to help develop it, for giving us the technical advisors we needed to create something true but that works dramatically. I owe them a great debt of gratitude for that.
S&F: Do you see that aspect of Blue's background remaining an essential part of her character as you re-conceptualize the story for television?
CC: I do, yes. Brinkmanship in particular gets used all over the place and one of the challenging things about doing the play was being able to break it down in layman language. It was also one of the fun parts of writing because you get to see these concepts put into dramatic action where the characters are using these ideas against each other. So, I'll see how much I can have it be Blue's superpower. Because she's not as naturally gifted as the rest, she had to arm herself with it to survive.
S&F: Where are you now with the project?
CC: We're in very early stages. I still need to turn around the outline, then I get notes on the scripts to AMC, and get notes from them, and then proceed. We are starting to talk cast and directors, but really I need to make sure the writing is good enough to merit there even being a series.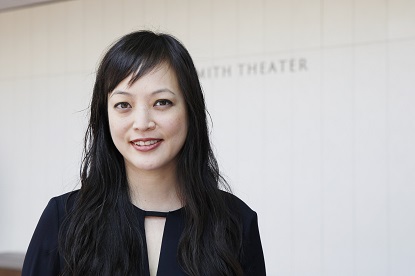 Carla Ching
Carla Ching has written on television series including Amazon's I LOVE DICK, AMC's FEAR THE WALKING DEAD and PREACHER, and Hulu's THE FIRST. Her plays include NOMAD MOTEL, THE TWO KIDS THAT BLOW SHIT UP, and TBA, which have been produced or workshopped by The O'Neill Playwrights Conference, The Atlantic Theatre Company, Ma-Yi Theatre Company, and The Women's Project, among others. Stay tuned to Science & Film for more as FAST COMPANY develops.
cover image: Nelson Lee, Jackie Chung, Emily Kuroda, and Lawrence Kao in South Coast Repertory's 2013 production of Fast Company. Photo by Debora Robinson/SCR.