Naomi Lorrain Will Star In New Play About "Father Of Gynecology"
A new play based on the true story of the "father of modern gynecology," J. Marion Sims, whose monument was taken down in New York City following protests in 2018, will open on January 9 at Ensemble Studio Theatre (EST). Commissioned and developed through the Alfred P. Sloan Foundation's partnership with EST, the play is written by Charly Evon Simpson. It will be directed by Colette Robert (MARY'S WEDDING). Set between 1846 and '48, BEHIND THE SHEET is told from the perspective of Philomena, a young black woman who is the doctor's slave, medical assistant, and victim of his sexual advances. In reality, there are three women that are known by name to have worked with J. Marion Sims. "I could not speak for them, so the work was to create different characters based on them in an attempt to explore what they may have been thinking and feeling," Simpson told us when we interviewed her about the play in October 2018.
Simpson worked with Dr. Evelynn Hammonds, Professor of African and African American Studies and Chair of the Department of the History of Science at Harvard University, to ensure the scientific accuracy of the play's portrayal. "One of the things that I find really interesting about looking at history is that we have to hold in our hands the good things that people do and the bad things that people do," Simpson said.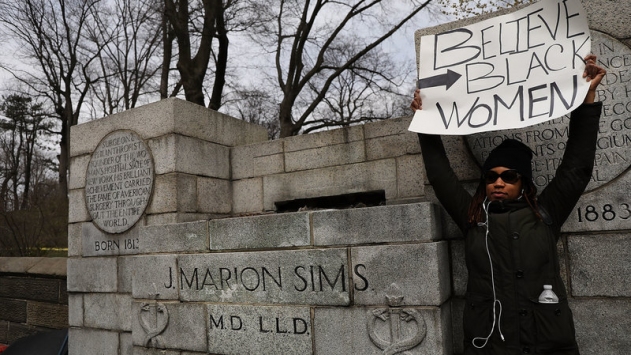 BEHIND THE SHEET is set to star Naomi Lorrain (ORANGE IS THE NEW BLACK) as Philomena; Joel Ripka (AMERICAN JORNALERO) as George, the doctor; as well as Stephen James Anthony (WAR HORSE), Nia Calloway (ALL ONE FOREST), Cristina Pitter (BALLS), Shawn Randall (TRAVISVILLE), Megan Tusing (MOPE), Jehan O. Young (THINK BEFORE YOU HOLLA), and Amber Reauchean Williams (NO KING IN ISRAEL). The play begins previews January 9, opens on January 17, and will run through February 3. For more, read our full interview with the playwright.