Preview of Projections Program at the New York Film Festival
The Projections program of the 56th New York Film Festival (NYFF) features 36 works that draw on "a broad range of innovative modes and techniques, including experimental narratives, avant-garde poetics, crossovers into documentary realms, and contemporary art practices," according to the Festival. Projections, which is curated by Film Society's Dennis Lim together with independent curator Aily Nash, will run October 4 to 7, 2018. Here is a preview of the nine science and technology-themed films in the program, with descriptions drawn for the Festival's press release:
Daniel Schmidt and Gabriel Abrantes' DIAMANTINO will open Projections, making its U.S. premiere. The film features a soccer star who, after missing a critical goal, "flees the public eye; no longer able to conjure the giant fluffy puppies that guided him to superstardom, he is rendered a vessel without a purpose. And thus begins an unexpected journey toward love and enlightenment that involves cloning, the CIA, a Syrian refugee, and Diamantino's nefarious twin sisters."
Dora García's debut feature SEGUNDA VEZ (SECOND TIME AROUND) will make its North American premiere. The film "explores the intersection of politics, psychoanalysis, and performance as developed through various texts and artistic stagings of the 1960s and '70s. Through evocative reconstructions of Argentinian theorist Oscar Masotta's storied 'happenings,' and lightly dramatized vignettes based on contemporaneous writings by Macedonio Fernández and Julio Cortázar (whose story 'Segunda Vez' lends the film its title), García nimbly interweaves narrative and nonfiction devices to arrive at something wholly distinct from either—cinema as historical intervention."
The three films in Jeremy Shaw's QUANTIFICATION TRILOGY imagine "a dystopian—and increasingly familiar—social order in which marginalized societies strive against extinction. Through transcendental experiments and cathartic rituals, these future humans seek feelings of desire and faith that have been expunged from the species' capacities." The films will make their U.S. premiere.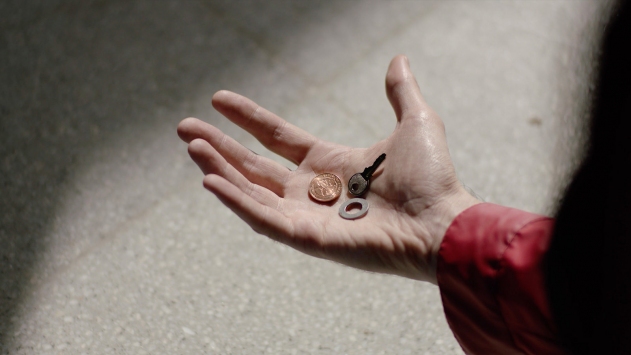 Nazli Dinçel 9-minute film BETWEEN RELATING AND USE examines ethnographic art, dissecting "the thin line separating unconscious fantasy from cultural appropriation. Pairing the words of scholars Laura Marks and D.W. Winnicott with sensual 16mm images of the human body in direct contact with the natural environment, the film slowly turns the notion of fetishization into a tool for reflexive thought."
Alan Segal's short film KEY, WASHER, COIN, making its world premiere, "breaks the marketing model down to its component parts, highlighting the complex capitalist infrastructure that fuels our economic reality."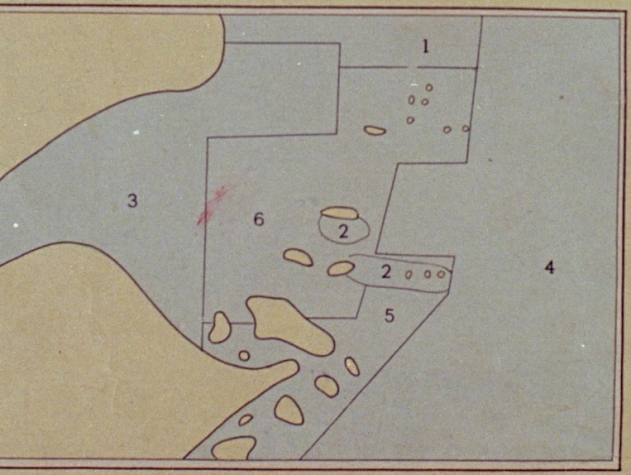 Courtney Stephens' short film MIXED SIGNALS makes it North American premiere. "Stricken with an undisclosed illness, the narrator of this reflexive work draws evocative parallels between the darkened hulls of an industrial ocean liner and an increasingly disorienting mental state. Courtney Stephens was inspired by the nautical imagery and turbulent inner monologue of Hannah Weiner's maritime code poems."
THE AIR OF THE EARTH IN YOUR LUNGS is Ross Meckfessel 11-minute film that used "drones and GoPros [to] survey the land while users roam digital forests, oceans, and lakes," according to the filmmaker. The film is also in the Wavelengths section of the Toronto International Film Festival.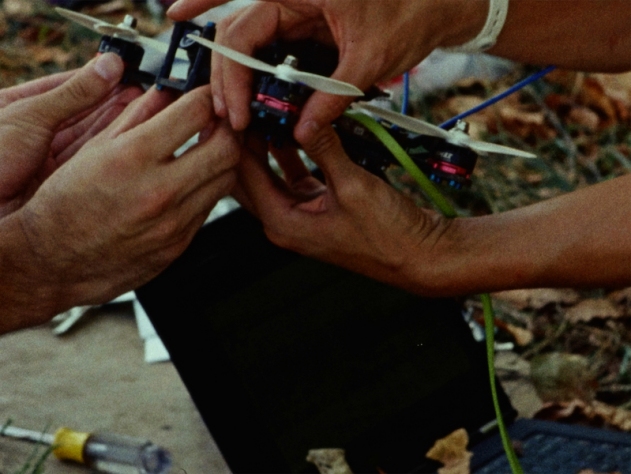 KODAK is Andrew Norman Wilson's "semi-biographical fiction inspired by his father's work at one of Kodak's first processing labs." The 29-minute film, which makes its world premiere, is a "speculative gloss on the evolution of photochemical science [that] entwines multiple perspectives and personas. Co-written by James N. Kienitz Wilkins, KODAK imagines a dialogue between a blind, mentally unstable former film technician and George Eastman himself, recordings of whom play out over a procession of photographs, home video footage, vintage Kodak ads, and animations."
In the Elinor Bunin Munroe Amphitheater at Lincoln Center, Ben Thorp Brown's 20-minute film GROPIUS MEMORY PALACE will be presented. Viewers are asked to use the architectural space presented in the film as a "memory palace," which is a memorization technique that uses visualization specific to spaces. In the film, "droning ambience and languid images of laborers at work foster a psychoanalytic space through which the viewer may deeply consider the nature of memory and its constant negotiation between context and content." Ben Thorp Brown worked with musician Gryphon Rue on the sound.
Tickets for the 56th New York Film Festival will be on sale beginning September 9. All events will take place at the Film Society of Lincoln Center. Check out the feature-length science films in the festival's main slate.