February Science & Film Goings On
Here is a selection of creative takes on the world of science and film for the month of February:
OF THE DEEP: FILMS BY THE DEPARTMENT OF TROPICAL RESEARCH
On Sunday, February 25 at 2pm, the Museum of the Moving Image's Science on Screen series will present documentary films taken between 1927 and '34 by members of famed ecologist and Bathysphere explorer William Beebe's crew The Department of Tropical Research. The films will be accompanied by live music performed by multi-instrumentalist High Water. The Director of the New York Aquarium, Jon Forrest Dohlin, will introduce the screening, which will then be followed by a discussion between whale researcher Howard Rosenbaum and Fabien Cousteau, grandson of famed explorer and filmmaker Jacques Cousteau and himself an oceanographic explorer and filmmaker. William Beebe is often called the Jacques Cousteau of his time.
ANNIHILATION
A biologist leads a team of five scientists into an environmental disaster zone. ANNIHILATION is directed by Alex Garland (EX MACHINA), and is based on a novel of the same name by Jeff VanderMeer. It stars Natalie Portman, Jennifer Jason Leigh, Tessa Thompson, and Gina Rodriguez. The film will be released into theaters by Paramount on February 23, and subsequently on Netflix. Check back on Science & Film for an article about synthetic biology and the film.
THE FEMALE BRAIN
Written, directed by, and starring Whitney Cummings, THE FEMALE BRAIN is a comedy about a neuroscientist studying gender differences in the brain. It is based on a 2006 book of the same name by neuropsychiatrist Louann Brizendine. The film will be released into theatres by IFC Films on February 9.
BLACK HOLE APOCALYPSE
The two-hour PBS NOVA documentary BLACK HOLE APOCALYPSE explores the frontiers of research into black holes. Janna Levin, an astrophysicist at Columbia University and author of Black Hole Blues, hosts the show (she is the first woman to host a NOVA special). The special was supported by the Alfred P. Sloan Foundation, and is available to watch online.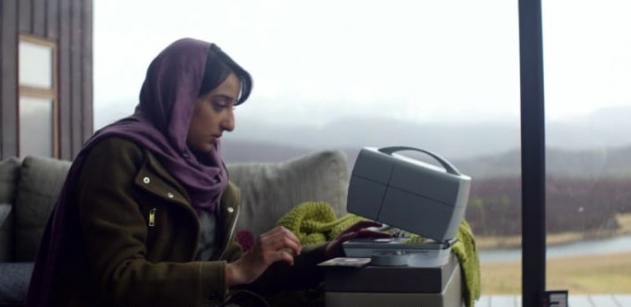 BLACK MIRROR
Created by Charlie Brooker and originally produced and distributed by the UK's Channel 4, the series BLACK MIRROR depicts dystopian visions of how technological advances could impact human relationships. Each episode features a unique cast and crew. Season four is now streaming on Netflix. Science & Film wrote about the real-world equivalent of a mind-reading technology that is central to one episode.
WORLD OF TOMORROW EPISODE TWO
Academy Award-winning animator Don Hertzfeldt's new short, WORLD OF TOMORROW EPISODE TWO: THE BURDEN OF OTHER PEOPLE'S THOUGHTS, asks questions about what it means to be human. The short, which played at the 2018 Sundance Film Festival, is available directly from Hertzfeldt on Vimeo. Science & Film interviewed him about the film.
ELECTRIC DREAMS
Amazon's new ten-part series PHILIP K. DICK'S ELECTRIC DREAMS bases each episode on a different short story by Philip K. Dick, whose books have inspired BLADE RUNNER, TOTAL RECALL, and other science fiction films.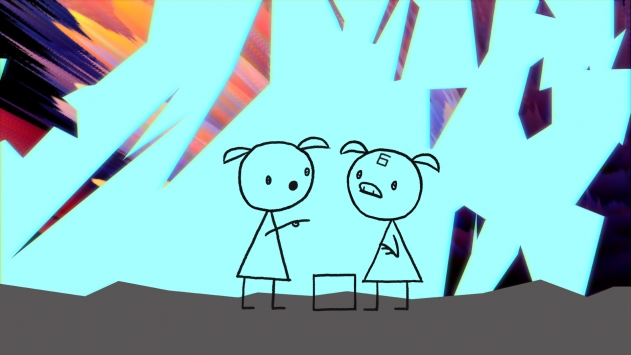 ALTERED CARBON
Based on a novel of the same name by Richard Morgan, ALTERED CARBON is set 500 years in the future when technology allows people to transfer their consciousness to a new body in order to prolong their life. The ten-episode series begins streaming on Netflix on February 2. It is created by Laeta Kalogridis (SHUTTER ISLAND) and stars Joel Kinnaman (ROBOCOP).
MINDHUNTER
Set in the 1970s, the Netflix series MINDHUNTER follows two FBI agents working to bring social psychology into the process of identifying and tracking serial killers. The series is directed in part by David Fincher (SOCIAL NETWORK) and stars Jonathan Groff (LOOKING), along with Hannah Gross (MARJORIE PRIME), and Holt McCallany (SULLY). The ten episodes of season one are now streaming. Investigative psychologist Marina Sorochinski wrote for Science & Film about the science of criminal profiling.
WORMWOOD
Errol Morris's six-part series WORMWOOD is about an army scientist who was covertly dosed LSD by the CIA during the Cold War. The series mixes in-person interviews with dramatic recreations starring Peter Sarsgaard. It is now streaming on Netflix.
ART IN THE AGE OF THE INTERNET
Opening February 7 at the ICA Boston, the exhibition "Art in the Age of the Internet, 1989 to Today" examines the impact of the Internet on art, and features video works by artists such as Lynn Hershman Leeson, Camille Henrot, and Lizzie Fith/Ryan Trecartin. The show is curated by Eva Respini. It is on view through May 20, 2018. Stay tuned to Science & Film for an interview with Respini.
THINKING MACHINES
The Museum of Modern Art in New York's exhibition "Thinking Machines: Art and Design in the Computer Age, 1959-1989," displays objects including desktop computers and punch cards as well as works such as those by Stan VanDerBeek and Beryl Korot. Curated by Sean Anderson from the Department of Architecture and Design and Giampaolo Bianconi from the Department of Media and Performance Art, the show is on view through April 8.
VERTIGHOST
Pioneering artist and filmmaker Lynn Hershman Leeson (TEKNOLUST) has a new multi-platform project called "VertiGhost" on display in San Francisco. Drawing from Alfred Hitchock's masterpiece VERTIGO (1958), Leeson used a variety of technologies to create interventions at the Legion of Honor, the de Young Museum, and online. Science & Film spoke with Leeson about the project.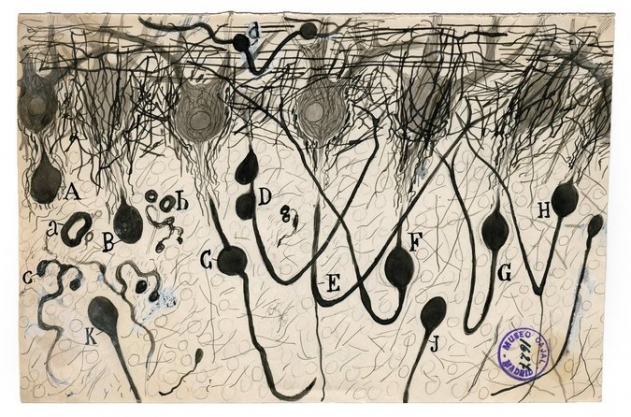 THE BEAUTIFUL BRAIN
"The Drawings of Santiago Ramón y Cajal" is the first major exhibition of Nobel Prize-winning biologist Ramón y Cajal's drawings. The show, which received support from the Sloan Foundation is on view at NYU's Grey Art Gallery through March 31.
PHILIP K. DICK SCIENCE FICTION FESTIVAL
The Philip K. Dick Science Fiction Festival features work inspired by Philip K. Dick and runs the weekend of February 23 with two features playing at the Museum of the Moving Image. AYLA, with director Elias Ganster in person will screen on February 23, and THE CHILD REMAINS, with director Michael Melski in person will play on February 24.
ATHENA FILM FESTIVAL
The annual Athena Film Festival at Barnard College, featuring films about women, will present the documentary BOMBSHELL: THE HEDY LAMARR STORY by Alexandra Dean, about Hollywood actress and technological innovator Hedy Lamarr. The Festival takes place from February 22 through 25 at Barnard.
THE CHILDREN
Olivier Award-winning playwright Lucy Kirkwood's new work THE CHILDREN features a trio of retired nuclear engineers who reunite after a disaster at the nuclear power plant where they once worked. A production by the Manhattan Theatre Club runs through February 4 at the Samuel J. Friedman Theatre. Science & Film interviewed Kirkwood.
FIRST LIGHT FESTIVAL
The Ensemble Studio Theatre, one of the preeminent developmental theatres in the country, hosts an annual showcase of plays that it develops with support from the Sloan Foundation featuring scientific or technological themes. Running from February 5 through June 3, this year's First Light Festival includes staged readings of plays in developments, workshop readings, and a production of Chiara Atik's new play BUMP.
This is a monthly listing of science-themed cultural offerings about town.