Geoffrey Rush as Einstein is Nominated for a Golden Globe
National Geographic's ten-part series GENIUS is about the life of Albert Einstein set in two temporalities–when he begins his studies, and when he marries his second wife and leaves Germany because of World War II. Geoffrey Rush plays the middle-aged to elderly Einstein. He is nominated for the Golden Globe for best actor in a television series.
"I'm seeing as much Harpo Marx in there as I am a great scientist," Rush said about the character at the series' premiere. GENIUS is the first scripted show that National Geographic has produced. Rush is now part of a lineage of actors who have portrayed Einstein on screen–from Michael Emil in Nicolas Roeg's INSIGNIFICANCE to Walter Matthau in Fred Schepisi's I.Q. Rush's portrayal is among the more serious and well researched.
THE HANDMAID'S TALE is the other science-themed series nominated for a 2018 Golden Globe. It is nominated for best dramatic series, and Elisabeth Moss is up for best actress in a series and Ann Dowd for best supporting actress in a series. The ten-part Hulu series is adapted from Margaret Atwood's 1985 book of the same name that takes place in a totalitarian society where fertile women are enslaved to upper-class families looking to have children. "While fictional to its core, THE HANDMAID'S TALE does provide enlightenment as to the age-old struggle that women face in controlling their reproductive lives," infertility specialist Paula Amato and reproductive medicine legal scholar Judith Daar wrote on Science & Film.
"Aspirationally, the World Health Organization (WHO) avers that reproductive rights rest on the recognition of the basic right of all couples and individuals to decide freely and responsibly the number, spacing, and timing of their children. WHO further advocates for the right to the highest standard of sexual and reproductive health, and the right of all to make decisions concerning reproduction free of discrimination, coercion, and violence. Reproductive rights are important to women's socioeconomic well-being and overall health. Though tragically unavailing for Offred [played by Elisabeth Moss], THE HANDMAID'S TALE serves as a reminder that reproductive rights should be fiercely protected for the sake of women's health and society in general."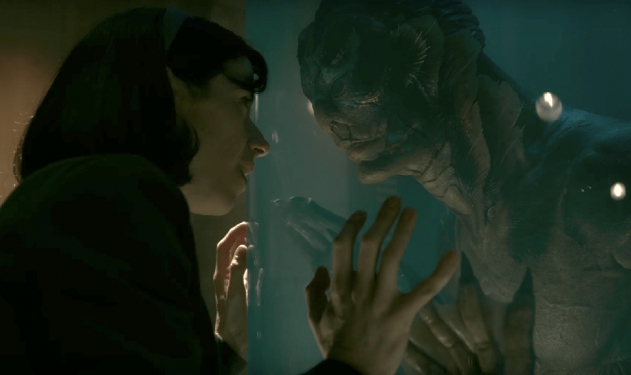 Nominated for the most Golden Globes of any film this year is Guillermo del Toro's fantastic THE SHAPE OF WATER–a love story between a sea creature and mute woman who meet in a scientific lab. The film is nominated for Best Drama, Best Screenplay, Best Score, del Toro for Best Director, Sally Hawkins for Best Actress, Octavia Spencer, for Best Support Actress, and Richard Jenkins for Best Support Actor.
The Golden Globe Awards ceremony will take place on January 7, 2018. Seth Meyers will host.