Project Updates from the Sloan Film Summit
Every three years the Sloan Foundation brings together its community of winning filmmakers and partner organizations. Hosted by Film Independent, the 2017 Sloan Film Summit featured over 100 filmmakers who have received awards for integrating scientific or technological themes into their work.
Each filmmaker received the support of one or more of the following organizations: New York University, Columbia University, American Film Institute, Carnegie Mellon University, University of Southern California, University of California, Los Angeles, Sundance Institute, Tribeca Film Institute, Film Independent, and the San Francisco Film Society.
Science & Film was in attendance, representing the Museum of the Moving Image. Here are some updates from the weekend about various film projects in development. Information on each of the films can be accessed by clicking on the title, and on the Sloan Science & Film projects page.
ADVENTURES OF A MATHEMATICIAN, directed by Thor Klein: producer Lena Vurma has been selected to attend the Film Independent Producer's Lab, and the film recently secured additional financing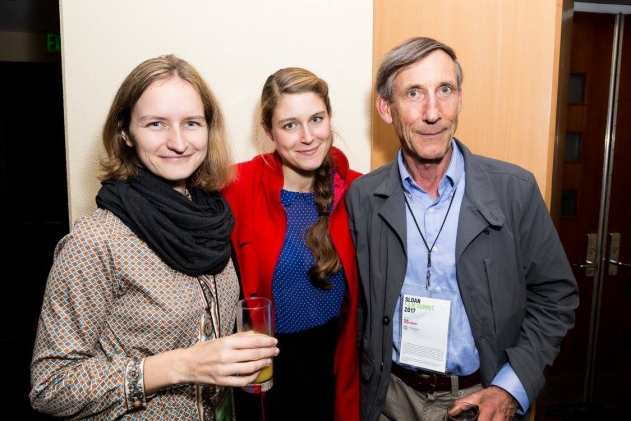 Pictured: Lena Vurma, Jessica Oreck, George Dyson
TV IN THE FISH TAIL: director Iesh Thapar is developing this short into a feature film
UNDER GLASS, directed by Noelia Diaz: planning to shoot in 2019
FAMILY BREW: Jennifer Miller has come on board as director
KNIGHTS IN NEWARK, directed by Nic Yulo: Christopher Abeel's Knights in Newark is in post-production and scheduled to premiere at the 2018 Columbia University Film Festival
DARK FOREST, directed by Elena Greenlee: the feature film is financed and currently casting
BELL: writers Darcy Brislin and Dyana Winkler are at the FilmHouse residency in San Francisco finishing the screenplay
REMEMBRANCE, directed by Catalina Puerto: the short has finished shooting and will premiere on Sloan Science & Film
LI SHAN, directed by Wenqi Yu: planning to film in China in December of 2017
RADIUM GIRLS: the feature film, co-directed by Ginny Mohler and Lydia Dean Pilcher, is complete and currently applying to festivals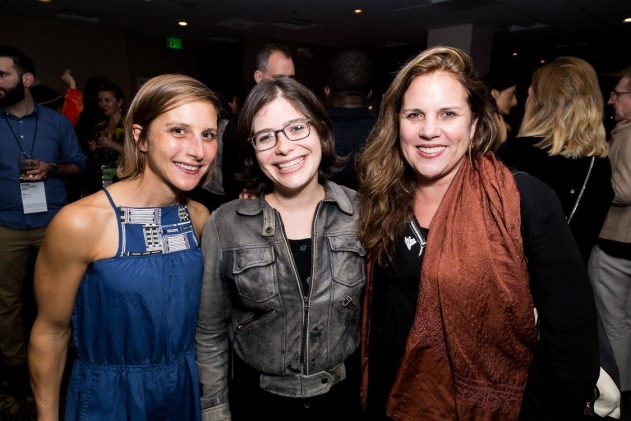 Pictured: Emily Lobsenz, Ginny Mohler, Lydia Pilcher
CRICK IN THE HOLLER, directed by Ursula Ellis: the short premiered at the Woodstock Film Festival and is continuing to play at festivals, including at the Lone Star Film Festival
UNTITLED SMALLPOX ERADICATION PROJECT: Oscar-nominated producer Howard Gertler (HOW TO SURVIVE A PLAGUE) is attached, and the company Likely Story is producing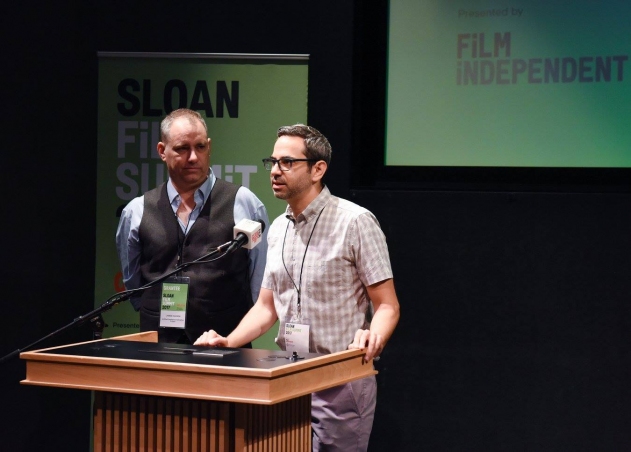 Pictured: Jamie Dawson, Howard Gertler
AFRONAUTS, directed by Frances Bodomo: the feature is currently casting in Zambia
PICKING COTTON: the film is in pre-production with a $6 million budget and is producer Jessica Sanders is currently casting the two leads, David Burke (ELLE) is attached as screenwriter
TO DUST, directed by Shawn Snyder: the feature stars Matthew Broderick and Géza Röhrig, and is a few weeks away from picture lock

Pictured: Vidhya Iyer, Shawn Snyder
THE RADIOACTIVE BOY SCOUT, directed by Eric Cohen: the feature is packaged and currently casting, it received support from the NYU Production Lab, and is planning to shoot in 2018
THE DUST: producer Sarah Dorman received a Film Independent Producer's Grant
VARIABLES, directed by Sabina Vajraca: this short is planning to shoot in 2018
THE HOUSE OF WISDOM: feature screenplay has attached Jehane Noujaim (THE SQUARE) to direct
LUCY IN THE SKY, directed by Bertha Bay-Sa Pan: the writer Jennifer Rudin is currently making a short film version of what will be a TV series
PERCY SPENCER AND THE RADARANGE: the writer, Jess Honovich, has connected with the grandson of Percy Spencer
THE BURNING SEASON: Claire McCarthy (OPHELIA) is directing and the film is planning to shoot in New York City in 2018
RADIANT, directed by Annika Glac: the feature is currently casting and planning to shoot in 2018
Stay tuned to Science & Film for more as these projects develop.