World Premiere of Bombshell: The Hedy Lamarr Story
Hedy Lamarr, in her own words, narrates much of the new documentary BOMBSHELL: THE HEDY LAMARR STORY, which made its world premiere at the 2017 Tribeca Film Festival. First-time director Alexandra Dean made BOMBSHELL with Susan Sarandon as executive producer. The Sloan Foundation provided support to the documentary through American Masters, which will premiere the film on PBS in 2018.
Lamarr, born Hedwig Kiesler, became a star at the age of 19 for her role in ECSTASY, by Gustav Machaty, which portrayed her nude and having an orgasm. Soon after, Lamarr escaped a bad marriage to a munitions dealer and fled to America where she changed her name. She continued in Hollywood but the studio system never quite got over her early salacious role, and Lamarr became known as a beauty icon more than a serious actress. She did try to break the mold by producing and starring in two of her own films, which have very telling titles–THE STRANGE WOMAN and LOVES OF THREE QUEENS.
The rise of Nazi Germany had a big effect on Hedy Lamarr, now living in America. In 1942, she received an official patent which would secure her lasting fame. BOMBSHELL makes it clear that Lamarr wanted to be known for her mind, more than for her legendary beauty.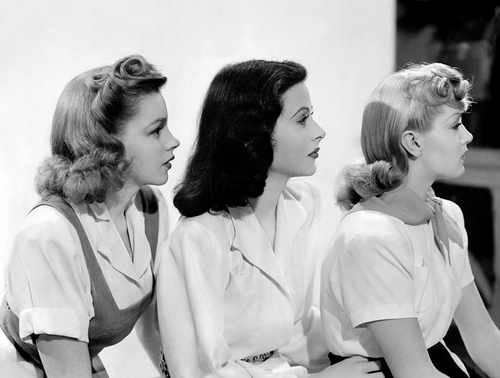 "It's a wonderful story and I hope surprising," said Susan Sarandon at the film's premiere. With the help of electronic musician George Antheil, Lamarr invented a means of secure radio communication called frequency hoping. She hoped that it would be used by ships or planes to control torpedoes, and would thus help the Allies win World War II. But the naval officers to whom she offered the patent dismissed her efforts. In fact, the Navy waited until her patent was in the public domain–twenty years later–to make use of her invention. Her 1942 patent for a "secret communication system" has since become the basis for a wide array of technologies such as GPS, WiFi, Bluetooth, and other wireless communications almost essential to daily living.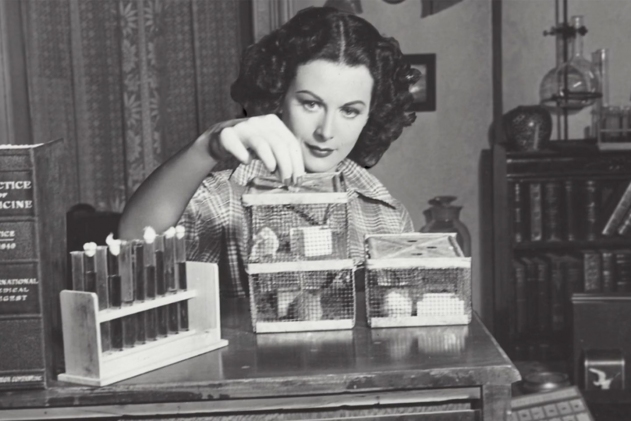 Director Alex Dean said at the premiere that producer Katherine Drew gave her the Sloan-funded book Hedy's Folly, by Richard Rhodes, and she felt that Hedy Lamarr "was an extraordinary human being who has been terribly, terribly misunderstood." Dean continued, "we were making the film based on Richard's book, contributions from Stephen Shearer, author of Beautiful, and her autobiography [Ecstasy and Me]. You saw what a bad source [Lamarr's autobiography] was." BOMBSHELL was in production when Dean made contact with journalist Fleming Meeks who had written a feature on Lamarr for Forbes in 1990. "He picked up the phone, and the first thing he said to me was, I've been waiting 25 years for you to call me because I have the tapes." Meeks had saved four tapes from his interview with Lamarr, from ten years before her death at the age of 85. Of the information in the tapes Dean said, "the most vital thing was her talking about inventing with Howard Hughes."
BOMBSHELL: THE HEDY LAMARR STORY, is directed Alexandra Dean, executive produced by Susan Sarandon, and narrated in part by actress Diane Kruger. Kruger optioned Richard Rhodes's book Hedy's Folly in 2011 with the idea of making it into a miniseries. The Sloan Foundation supported the series through the Tribeca Film Institute, and it is now in development. Kruger will star as Lamarr.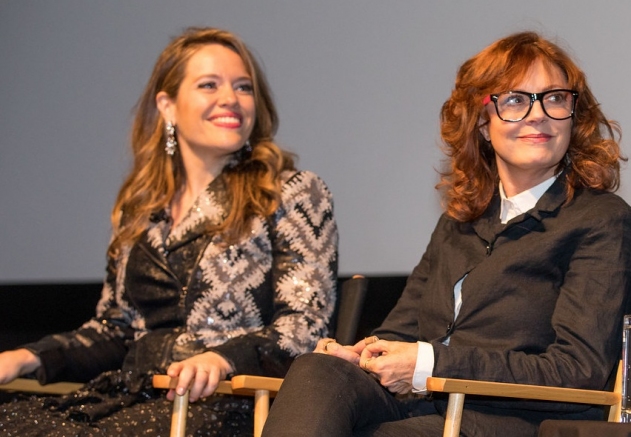 For more, read Science & Film's interview with author Richard Rhodes.
In the Museum of the Moving Image's its permanent exhibition Behind the Screen, the costume worn by Lamarr in Cecil B. DeMille's SAMSON AND DELILAH–she played Delilah–from 1949 is on view.