Three Films Win $150,000 From Tribeca Film Institute
Three projects in various stages of development, which integrate scientific themes and characters, have been awarded $150,000. For the first time, a scripted series is one of the winners. The awards were given out by the TFI-Sloan Filmmaker Fund, which provides year-round support and mentorship to qualifying projects. The 2017 winners were selected by a jury which included Dr. Aatish Bhatia from Princeton, producer Donna Gigliotti (HIDDEN FIGURES), Dr. Ellen Jorgensen who is Director of Genspace, actress and director Phylicia Rashad (EMPIRE), and actress Maggie Siff (BILLIONS). The 2017 Tribeca Film Festival presented a works-in-progress event featuring the winning projects.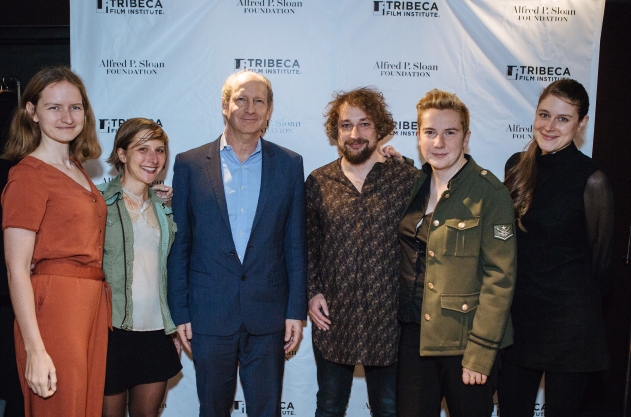 ADVENTURES OF A MATHEMATICIAN is a personal drama about the groundbreaking mathematician Stan Ulam who helped to create the hydrogen bomb and the first computer. The film is adapted from a book of the same title by Ulam himself. The film is written and directed by Thor Klein, a graduate of the DFFB in Berlin. His first film was the thriller LOST PLACE which was released by Warner Brothers Germany. Lena Vurma, Head of Acquisitions for NFP (TONI ERDMANN) will produce, along with Joanna Szymanska.
INVISIBLE ISLANDS is a comedy series set in Montana at a brewery, which a microbiologist helps to reinvent. It is written and directed by Emily Lobsenz (SONG OF THE BASQUES).
ONE MAN DIES A MILLION TIMES is a drama based on historical events but set in the near future. It centers on two botanists working at the world's first seed bank in Leningrad. It is written and directed by Jessica Oreck (THE VANQUISHING OF THE WITCH BABA YAGA), with cinematography by Sean Price Williams (LISTEN UP PHILIP). The film is in production.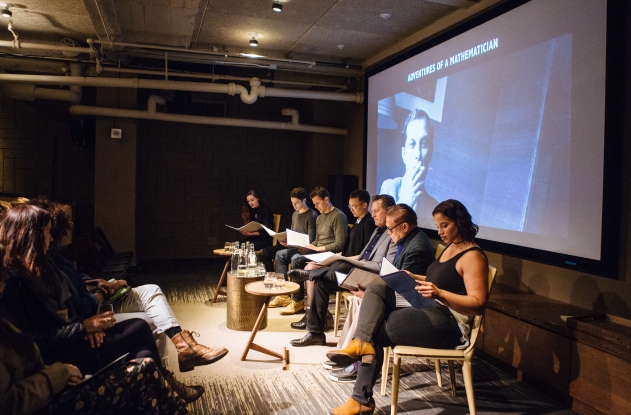 The works-in-progress event was directed by Paul Schneider (LARS AND THE REAL GIRL), who worked with a cast of seven actors on scenes from ADVENTURES OF A MATHEMATICIAN and INVISIBLE ISLANDS. The actors were: Marshall Factora (BLUE JASMINE), Tom Lipinski (THE KNICK), Britne Olford (THE PATH), Dascha Polanco (ORANGE IS THE NEW BLACK), Victor Slezak (THE OA), Eric Tabach (LOVE IS STRANGE), and Kate Billingsley (AMERICAN FALLS). ONE MAN DIES A MILLION TIMES has already been shot, and so two clips were screened.
Since 2003, the TFI-Sloan Filmmaker Fund has given more than $1.45 million dollars to filmmakers. Science & Film has a database of all previous winners. Stay tuned for more as the 2017 winning projects develop.