Sloan Science & Film Shorts at the National Math Festival
The National Math Festival, taking place on Earth Day in Washington, D.C., will screen a selection of films from Sloan Science & Film. The six selected short films address mathematical concepts. Graduate student filmmakers made all six with support from the Alfred P. Sloan Foundation's university program with top film schools. This is the Foundation's second year supporting the National Math Festival.
"Film is a powerful medium, rarely employed so effectively to educate in as important a way as what the Sloan Foundation is doing with its program of short films," David Eisenbud, head of the Mathematical Sciences Research Institute which is organizing the festival, wrote to Science & Film. The Sloan shorts playing at the festival are:
THE KING'S PAWN, by Columbia University graduate Jonah Bleicher, about a former chess champion who creates a computer chess program; SKYLAB, directed by American Film Institute (AFI) graduate Mark Landsman, which takes place in 1979 and centers on an 11-year-old who is tracking America's first space station; Ryan Kravetz's animated short THE COLLECTOR'S GIFT, made while he was at the University of Southern California, about a quest to collect all the elements of the periodic table; also by a USC alumnus, CHASING PATTERNS, directed by Monika Hennig, is about a young boy discovering patterns in nature; THE MONSTER AND THE PEANUT, made by Albert Crim while he was at AFI, about a man who believes the death of his daughter can be explained by the rules of traffic flow; HABER, made while director Daniel Ragussis was at Columbia, is based on the true story of the German-Jewish chemist Fritz Haber who developed both synthetic fertilizer which saved millions of lives and mustard gas which killed millions.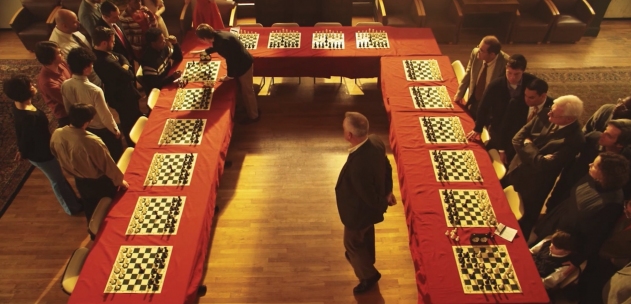 Festival organizer Eisenbud continued, "short films can deftly make a point, and are so much fun to watch–they seemed to be the perfect fit for a large public mathematics festival."
The Sloan-supported feature film HIDDEN FIGURES will also play at the festival. Sloan's Vice President of Programs, Doron Weber, will introduce the screening at noon on April 22. Mathematician Dr. Talitha Washington, the first African American to earn a PhD in mathematics from University of Connecticut, will speak at 10am and 1pm about the mathematics in the movie. Also on topic, NASA's Deputy Director of Astrophyics Dr. Andrea Razzaghi, will speak at 4 and 5:30pm.
The National Math Festival expects to have an audience of at least 20,000 people, and is geared toward children and families. The six shorts playing at the festival are available to stream anytime on Sloan Science & Film. They are among 54 short films hosted on the website. Science & Film has published an accompanying Teacher's Guide which makes these films available for the classroom.