Marjorie Prime: Sloan-Sundance Jury on 2017 Prize Winner
At the 2017 Sundance Film Festival, a jury comprised of female scientists and filmmakers awarded the $20,000 Sloan Feature Film Prize to Michael Almereyda's feature film MARJORIE PRIME. "It's about how technology can both mirror our flaws and enhance them. And about how memory is part of that exchange–how memory can get displaced and revised," Almereyda told Science & Film. The film stars Lois Smith, Jon Hamm, Geena Davis, and Tim Robbins and is based on a play by Jordan Harrison; it is set in a near-future when holograms of the dead become memory repositories for the living. The jury members who awarded the prize include neuroscientist Heather Berlin, mechanical engineer Tracy Drain, science reporter Nell Greenfieldboyce, screenwriter Nicole Perlman, and writer/director Jennifer Phang.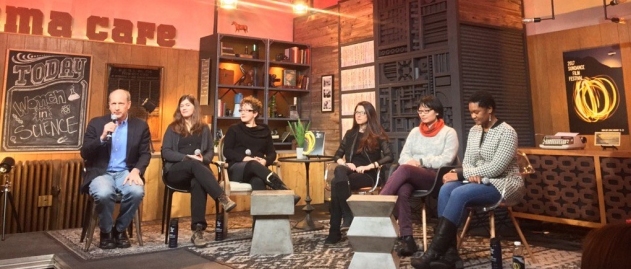 Sloan's Vice President of Programs Doron Weber said, "With cool intelligence, wit and poignancy­–allied to a deft directorial hand and a stellar cast–Almereyda explores the emotional landscape of artificial intelligence and dramatizes the emerging impact of intelligent machines on our most intimate human relationships."
Nicole Perlman wrote to Science & Film, "it's been a great honor to be part of the Sloan Prize jury at Sundance, as watching films that integrate scientific concepts into stories that move, inspire, and enlighten us is more important now than ever before. The philosophical conversations that occurred between filmmakers and scientists after each film faded to black emphasized the essential search for truth and meaning that is inherent in such stories, all aching to be told."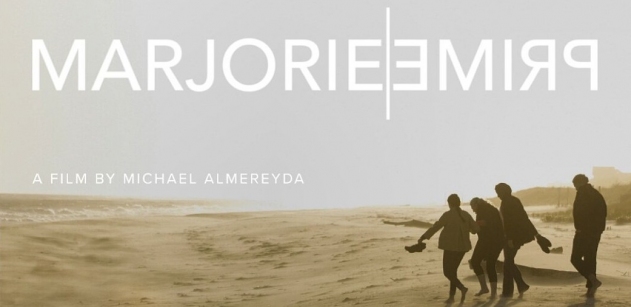 Tracy Drain, who works at NASA's Jet Propulsion Laboratory, wrote to Science & Film: "I loved the lively discussion we had on the Jury, especially talking through our impressions of MARJORIE PRIME. It was such a thought-provoking film; each of us caught nuances that the others hadn't noticed, and delving into them together enriched the whole experience of the film. Makes me want to pull together such a varied group of movie watching fans to go out to dinner with after every high quality film that I see from now on!
"This was a great example of why the Sloan Foundation strives so hard to encourage weaving in science and technology themes in films. It has the power to drive such great, exploratory conversations about the 'what if' scenarios that can be brought to life on screen."
The Alfred P. Sloan Foundation has partnered with the Sundance Film Institute for the past 14 years to award an annual Feature Film Prize to a film in the festival which dramatizes scientific or technological themes or characters. It also supports the Sundance Labs with two grants to develop science or technology-themed screenplays, and for the first time this year has awarded a grant to an episodic project.
The $25,000 Commissioning Grant winner is UNTITLED SMALLPOX ERADICATION PROJECT about the eradication of smallpox in 1965. Written by Jamie Dawson, the film will be produced by Howard Gertler (HOW TO SURVIVE A PLAGUE) and the company Likely Story (THE CIRCLE).
Screenwriters Darcy Brislin and Dyana Winkler won the $15,000 Lab Fellowship for their script BELL, about inventor Alexander Graham Bell and the women in his life. In 2016, the film was also supported by Sloan and Sundance when it received the Commissioning Grant.
The first Episodic Storytelling Grant of $12,500 was awarded to writer Adam Benic for his television drama LEVITTOWN. It is based on the true story of Lieutenant William Levitt who, after World War II, built the first mass-produced suburb.
Stay tuned to Science & Film for more on these winning projects.