The Wind Journeys at MOMI: Interview with Ciro Guerra
The Museum of the Moving Image will host a program in collaboration with Cinema Tropical of three films produced by Colombia's leading production company, Burning Blue. Cinema Tropical is a fifteen year-old non-profit devoted to the presentation of Latin American cinema in the United States. The three films being presented are Ciro Guerra's THE WIND JOURNEYS, the New York premiere of Jorge Forero's VIOLENCIA, and Oscar Navia's LOS HONGOS. THE WIND JOURNEYS is writer and director Ciro Guerra's second feature. His third and most recent feature, EMBRACE OF THE SERPENT, won the Sloan Feature Film Prize at the 2016 Sundance Film Festival and was nominated for an Academy Award for Best Foreign Language Film. Science & Film interviewed Guerra in February of 2016.
Made in 2009, THE WIND JOURNEYS is a gorgeous film about a travelling accordion player. In the film, accordion playing is not a past time but a way of life, and an intuitive skill. The musician becomes almost possessed by his horned accordion as he duals with others while on a journey to return the accordion to its master.
THE WIND JOURNEYS is a richly colored film, which is in contrast to Guerra's EMBRACE OF THE SERPENT, which he chose to shoot in black and white. "When I went [to the Colombian Amazon] I realized it was not going to be possible to portray the colors of the Amazon in a way that really conveys what that means to the indigenous people," Guerra told Science & Film over Skype. "They have over 50 different words for what we call green. I decided I was going to let the audience imagine that. When you see the world in this manner, there is not this idea that nature is green and man is something else. Every person, every animal, every drop of water, every fish, everything, seems to be made of the same material—that is completely in line with the way that indigenous people see the world."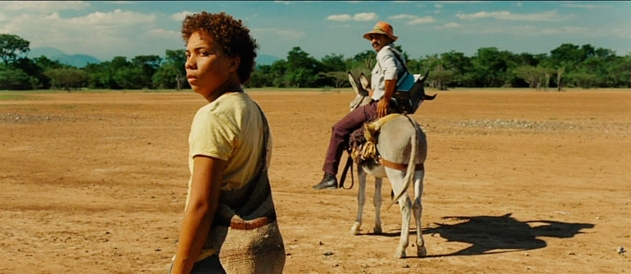 One of the settings for THE WIND JOURNEYS is the Guajira Desert in the northernmost part of Colombia, where the blue sky and white sand are equally expansive. Guerra hopes to shoot another film there. The $20,000 he received from Sloan and Sundance he plans to put towards that new film which "will have some of the same team as EMBRACE OF THE SERPENT. This new film is a genre film. It is a very different film from EMBRACE OF THE SERPENT. It is in a way closer to THE WIND JOURNEYS, because the Guajira Desert is the location of the final sequences of THE WIND JOURNEYS. I just wanted to do a whole film there."
THE WIND JOURNEYS will screen on September 11 at 2pm. The screening will be followed at 4:30pm and 7:00 by VIOLENCIA and then LOS HONGOS. Museum of the Moving Image is located in Astoria, New York.