Science Films at Hot Docs 2023
The 2023 Hot Docs Festival begins April 27 in Toronto, showcasing the work of international documentary filmmakers in cinemas and online through May 7. (Online streaming is geo-blocked to Canada.) We've rounded up the festival's science or technology-themed films below, with descriptions quoted from the festival. Among the selection of 44 features and shorts, projects exploring human beings' relationship to the landscapes around them are especially prominent. In particular, three films highlight the work of women around the world working to make those relationships symbiotic and sustainable: Jason Golsman's feature ROWDY GIRL, Koval Bhatia's short SHE RUN THE WORLD, and Ose Oyamendan's WASTE TO LIFE.
We also recommend two First Look Festival 2023 favorites making their Canadian premieres: Mary Helena Clark and Mike Gibisser's A COMMON SEQUENCE, and Terra Long's FEET IN WATER, HEAD ON FIRE.
FEATURES
AGAINST THE TIDE. Dir. Sarvnik Kaur. Canadian Premiere. "As climate change threatens their traditional way of life, two Indigenous fishermen in Mumbai risk their friendship as they're driven by desperation to very different ways of harvesting from the dying sea to support their families."
ANOTHER BODY. Dir. Sophie Compton, Reuben Hamlyn. International Premiere. "Feelings of shock and violation turn into dogged determination when an engineering student investigates the troubling intersection of deepfake technology and porn after a classmate shares an adult video featuring her face on another body."
A COMMON SEQUENCE. Dir. Mary Helena Clark, Mike Gibisser. Canadian Premiere. "A collaborative feature by two experimental film luminaries, Mary Helena Clark and Mike Gibisser's A COMMON SEQUENCE expands the immersive, sensorial and beguiling nature of their short films in an exploration of humanity's relationship with nature."
ECHO OF EVERYTHING. Dir. Cam Christiansen. World Premiere. "Leading thinkers in music, philosophy, astronomy and physics explore music's universal yet mysterious power to elicit ecstasy, following famed Spanish poet Federico García Lorca's imaginative theory of its spiritual (or demonic) origins."
EL EQUIPO. Dir. Bernardo Ruiz. Canadian Premiere. "Follow an epic and harrowing 40-year journey through the work of a resilient team of forensic scientists led by the legendary Dr. Clyde Snow as they uncover and identify the victims of authoritarian regimes across Latin America and the world."
FAUNA. Dir. Pau Faus. North American Premiere. "On Barcelona's outskirts, an aging shepherd's farm shares the woods with an animal testing laboratory where scientists seek a COVID vaccine. The contrasting worlds of past and future offer a reflection on the complicated relationship between humans, animals and science."
FEET IN WATER, HEAD ON FIRE. Dir. Terra Long. Canadian Premiere. "Indigenous palm trees and imported date palms grow along the San Andreas Fault. In this experimental portrait, the people who tend to them reflect on this landscape of frictions and affections shaped over generations."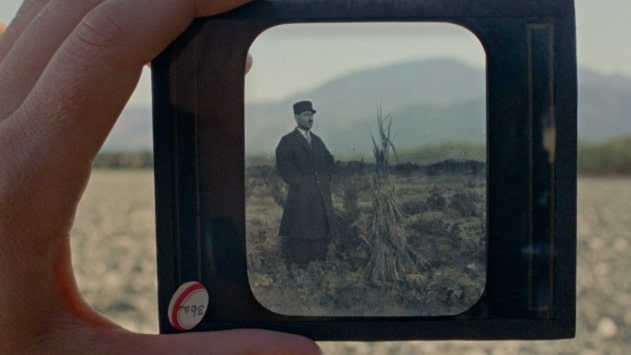 Still from FEET IN WATER, HEAD ON FIRE. Courtesy of the filmmaker.
FOOD AND COUNTRY. Dir. Laura Gabbert. International Premiere. "Concerned about the survival of small farmers, ranchers and chefs hobbled by America's policy of producing cheap food, Ruth Reichl, trailblazing chef, food writer and editor, reaches across political and social divides to uncover a broken food system and innovators risking everything to transform it."
FORMS OF FORGETTING. Dir. Burak Çevik. Canadian Premiere. "With this evocative and beautiful film, Turkish filmmaker Burak Çevik explores the nature of remembering through the eyes of a couple who can't recall how they broke up. Expanding beyond the human, the film considers modes of spatial, geological and institutional memory."
THE LONGEST GOODBYE. Dir. Ido Mizrahy. Canadian Premiere. "In anticipation of Mars-bound space expeditions in the next decade, an astute NASA psychologist is tasked with protecting the mental health of these long-haul space travellers preparing to be disconnected from home for three years."
LYNX MAN. Dir. Juha Suonpää. North American Premiere. "A Finnish pensioner devoted to saving the Eurasian lynx from extinction becomes so immersed in the animals he tracks, photographs and leaves cat toys for, that he finds himself becoming one of them."
THE MAN WHO STOLE EINSTEIN'S BRAIN. Dir. Michelle Shephard. World Premiere. "On April 18, 1955, the pathologist performing the autopsy on Albert Einstein covertly steals the genius's brain, hoping to uncover the secret of brilliance. His good intentions and scientific ambitions collide with harsh realities as his world crumbles."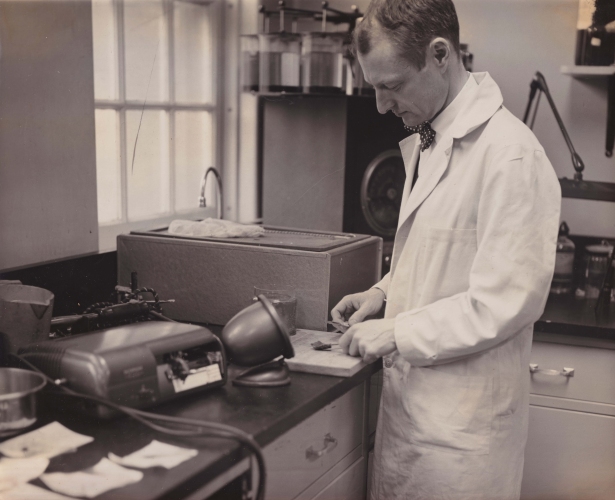 Still from THE MAN WHO STOLE EINSTEIN'S BRAIN. Courtesy of Frequent Flyer Films
THE ONLY DOCTOR. Dir. Matthew Hashiguchi. World Premiere. "After working years without pay, Dr. Karen Kinsell, the only doctor in Georgia's poorest county for 15 years, now faces the imminent closure of her clinic. Join her on this uplifting story of never giving up or giving in."
PURE UNKNOWN. Dir. Valentina Cicogna, Mattia Colombo. International Premiere. "With bodies mounting in autopsy rooms along the Mediterranean, one doctor makes it her life's work to identify and reunite deceased refugees with their families, in this story of manufactured tragedy and our collective responsibility to human life."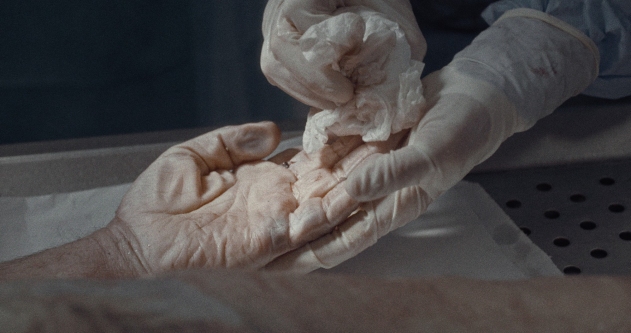 Still from PURE UNKNOWN. Courtesy of Jump Cut
ROWDY GIRL. Dir. Jason Goldman. World Premiere. "Determined to make the planet a better place, former Texas cattle rancher Renee King-Sonnen transforms her husband's beef operation into a farm animal sanctuary, encouraging other farmers to transition from animal agriculture to plant-based food production."
SILVICOLA. Dir. Jean-Phillipe Marquis. World Premiere. "The human impact on forests is explored through breathtaking vistas and poignant vignettes set in Canada's Pacific Northwest. Those who rely on this precious resource highlight the tensions and dilemmas between commodification and conservation."
SLEEPLESS BIRDS. Dir. Tom Claudon, Dana Melaver. World Premiere. "The rise of artificially lit, industrial greenhouses in the French region of Bretagne brings dire consequences for the region's biodiversity as well as disruptions of time and perception for living creatures in their vicinity."
SUBTERRANEAN. Dir. Francois-Xavier de Ruydts. World Premiere. "Digging far below the surface, two gritty teams of hobbyist cavers are poised to discover the longest and deepest caves in Canada. Risking life and limb, their curiosity is matched only by their courage to chart the unknown."
SUNDIAL. Dir. Liis Nimik. North American Premiere. "In rural Estonia, closely observed seasons of farming, homesteading and childrearing reveal life's daily rhythms as a harmonic chorus of nature and community where the world is in balance and every living thing has a unique purpose."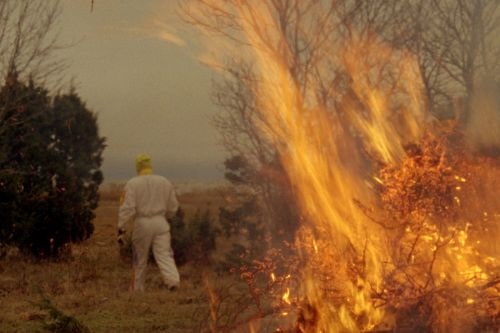 Still from SUNDIAL. Courtesy of Klara Films
TIME BOMB Y2K. Dir. Marley McDonald, Brian Becker. Canadian Premiere. "As the year 2000 approaches, the tech industry discovers a computer flaw that could ignite the largest technological disaster in human history. Crafted entirely through archival footage, the film examines the rising hysteria and concerning fragility of the technological world we have created."
TOTAL TRUST. Dir. Jialing Zhang. North American Premiere. "China is creating a comprehensive, digitally controlled state using Big Data, biometrics and voice recognition technology to track its citizens. Total Trust explores the transformation of social behaviours under an all-seeing eye and how people are fighting against its abuse."
VICKY. Dir. Sasha King. North American Premiere. "When Vicky Phelan was diagnosed with terminal cervical cancer despite a clear pap test, she started asking questions. Revealing the mistakes that were made and who tried to cover them up, she ignites one of the largest health-care scandals in Ireland's history."
THE VISITORS. Veronika Lišková. Canadian Premiere. "After moving to the world's northernmost town in Norway to study the impact of globalization on isolated communities, an anthropologist discovers unexpected tensions among the locals and must choose between acting or simply observing a fascinating human experiment play out."
WE ARE GUARDIANS. Dir. Edivan Guajajara, Chelsea Greene, Rob Grobman. World Premiere. "In this expansive character-driven exposé, Indigenous guardians of the Amazon rainforest in Brazil fight to protect their territories from the ravages of extractive industries, confronting deforestation by illegal loggers, corrupt politicians and profit hungry global corporations."
SHORTS
300 DAYS OF SUN. Dir. Judy Chehab. Canadian Premiere. "A political, social and economic crisis has thrown a country into darkness. When Lebanon's only alternative is solar energy, one community seizes the opportunity to transition to sustainable energy."
ABOUT MEMORY AND LOSS. Dir. Amélie Hardy. Ontario Premiere. "Capture, document, record, share, restart. In this exploration of the ever-growing digital archive, filmmaker Amélie Hardy invites us to consider the frequency with which we document every bit of our daily lives and the scale of information we've amassed."
ALGORITHMS OF BEAUTY. Dir. Miléna Trivier. North American Premiere. "Can a picture contain all the beauty of a flower? An answer lies somewhere between the natural and artificial worlds where human perception and computer code cross-pollinate."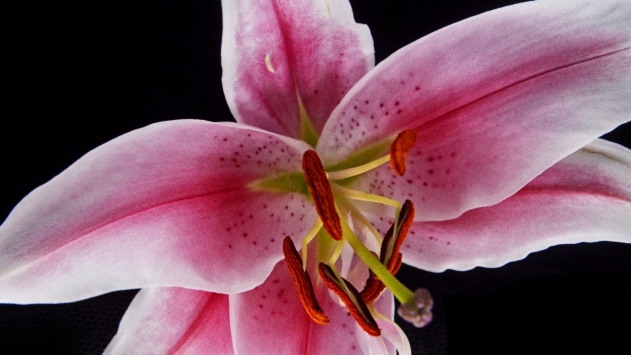 Still from ALGORITHMS OF BEAUTY. Courtesy of Hot Docs
BEAUTIFUL POISON. Dir. Dan Ashby. World Premiere. "After discovering the orange rivers in a former coal town poisoned by iron oxide, one artist has an unorthodox idea: to extract the chemical and transform it into pigment for paint."
BELIEVING IS SEEING. Dir. Sophie Black. Toronto Premiere. "Is social media making us sick? A sociologist and expert in mass psychogenic illness talks us through a mysterious outbreak of tic disorders on TikTok and how the mind manifests physical forms of illness. Are we on the verge of a global outbreak of psychogenic illness or something else?"
BETWEEN EARTH AND SKY. Dir. Andrew Nadkarni. International Premiere. "'The trees were there as my witness," states world-renowned ecologist Nalini Nadkarni as she reflects on her past, present and future, while she explores and revisits the emotional scars of her childhood, as well as the physical scars from a 2015 fall from a tree. Strength and fragility combine to create something new."
BILLETS AND BLOOMS. Dir. Dominic Gill. World Premiere. "Climate Neutral, a carbon certification non-profit, turns climate aspirations into action for companies with a clear roadmap, a simple set of tools and an incentive to eliminate their carbon."
ECO-HACK! Dir. Josh Izenberg, Brett Marty. "Conservation biologist Tim Shields sees urgency in the field and finds that traditional conservation practices are lacking when it comes to saving desert tortoise populations from ravens. He goes rogue, employing an arsenal of lasers, exploding model turtles, drones and desert rovers as a means of protecting the tortoise's dwindling numbers."
EMISSION IMPOSSIBLE: THE FUTURE OF FLIGHT. Dir. Richard Da Costa. World Premiere. "One tech start-up dares to race against the biggest aviation companies on the planet to launch the first hydrogen-fuelled, commercially viable plane."
ENTITIES WITH KNOWLEDGE. Dir. Maxwell Mueller. World Premiere. "Filmmaker Maxwell Mueller documents his attempts to treat his depression and connect to his inner child and nature with the help of psilocybin-assisted therapy. Jumping from personal experiences to those of the mushroom foragers, growers and dealers he meets along the way, this visual stream-of-consciousness goes within and without to show that feeling is healing."
FIELD NOTES. Dir. Aisha Jamal. World Premiere. "A woman discovers a passion for birdwatching during her pandemic isolation, which leads to an appreciation for the natural world that exists in the midst of the concrete jungle. As the birds—including a particular pair of plovers—fight for survival, she's committed to protecting their habitat and bringing awareness to their plight."
THE FLOATING WORLD. Dir. Hiroshi Yokota. North American Premiere. "After being transported into a 19th century Edo painting, a university student discovers everyday sustainable practices from history to bring home to modern Japan."
MOTHER EARTH'S INNER ORGANS. Dir. Ana Bravo Pérez. International Premiere. "Mma—Mother Earth—is burning. In the Wayuu territory of North Colombia, there is a very real fight for the survival of the land. The struggle between the soulless, profit-driven mining companies that are tearing up the landscape and the people who are fighting to protect their ancestral lands is urgent and vital."
OUR ROBO FAMILY. Dir. Anastasiia Tykha. World Premiere. "Anastasiia Tykha's OUR ROBO FAMILY celebrates the children's robotics and programming group Roboclub Vuhledar."
PEATLANDS: A STORY UNDERNEATH. Dir. Weronika Jurkiewicz, Max Sänger. North American Premiere. "As carbon offsets rise and become a million-dollar business, MoorFutures emerges as the world's first carbon certificate program dedicated to rewetting peatlands for carbon mitigation."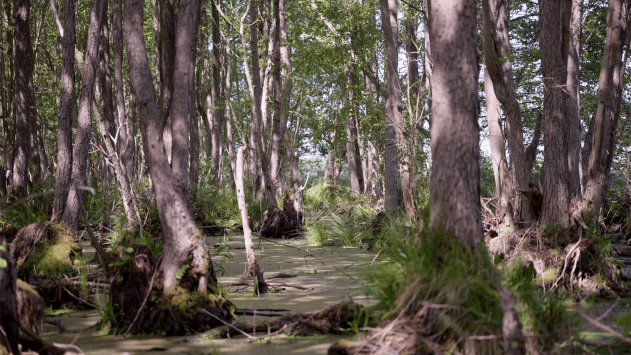 Still from PEATLANDS: A STORY UNDERNEATH. Courtesy of Hot Docs
POMOLOGICAL. Dir Sebastian Ko. World Premiere. "In 1886, the United States Department of Agriculture ambitiously commissioned watercolour illustrations of over 3,000 fruit cultivars. In 2019, this collection was digitized. Mesmerizingly detailed, these images now tell an incredible story about the little-known talent of botanical illustrators, and how their work planted the seeds for intellectual ownership over agricultural innovations."
RETRODREAMING. Dir. Alisa Berger. Canadian Premiere. "A hybrid horror that uses setting, architecture and the cultural tradition of kaidan to reflect the dreams and fears contained in an abandoned school in rural Japan, RETRODREAMING drips with discomfort. A scratchy tape-recorded account of secret sleep experiments conjures up a phantasmagoric entity that embodies the study subjects and the deserted space itself in footage that melts reality, history, and memory into a freaky distortion."
SHE RUN THE WORLD. Dir. Koval Bhatia. Canadian Premiere. "Faced with the cracks in the system, three young Indian women take it upon themselves to find modern solutions to waste management and emerge as the pioneers of urban sustainability, transforming lifestyles and landscapes."
TELEPORTING. Dir. Arum Nam, Chifumi Tanzawa, Nana Noka, Ohyean Kwon. International Premiere. "Kitty and Tommy live in South Korea, while Mia and Emma live in Japan. Unable to meet IRL, they connect via video calls, using AR avatars and translation chat apps. Not safe or free in their patriarchal societies, they imagine a different existence online, teleporting into each other's lives and together creating a cyber feminist network that proves imagined realities can womanifest into real representation and change."
WASTE TO LIFE. Dir. Ose Oyamendan. North American Premiere. "In Abuja, Rita Idehen is cleaning up the capital of Nigeria, Africa's most populous country, while giving widows displaced by war and famine a new shot at life with a waste recycling enterprise."
---
More from Sloan Science and Film: