Science on Screen at First Look 2023
Four films will be presented by Science on Screen at this year's First Look, MoMI's annual showcase for adventurous new cinema. The festival takes place March 15-19 at Museum of the Moving Image. All of the films will be accompanied by Q&As with the filmmakers. Each work speaks in some way to the precarious state of the world, showing plants seeking stable ground while humans are increasingly displaced. The films are:
March 16 at 8pm
Herbaria
Dir. Leandro Listorti. Argentina/Germany. 2022, 83 mins. In Spanish and German with English subtitles. Listorti's gorgeously collaged film, shot on both 16mm and 35mm, invites viewers into the delicate work of preserving plants and celluloid, both of which are under threat of extinction and require practices of collection, inspection, and archiving. In rhythmically interweaving the performances of this work in both fields, the film gives us an almost tactile experience of Argentina as a place—its subtropical climate as well as its colonized past. Archival nature films play against celluloid images that have become inhabited by a fungus. The layered and ultimately harmonious stories in Herbaria are testament to Listorti's background as filmmaker, projectionist, and archivist. Herbaria won the Special Jury Award in the Burning Lights Competition at Visions du Réel, where it made its world premiere. New York premiere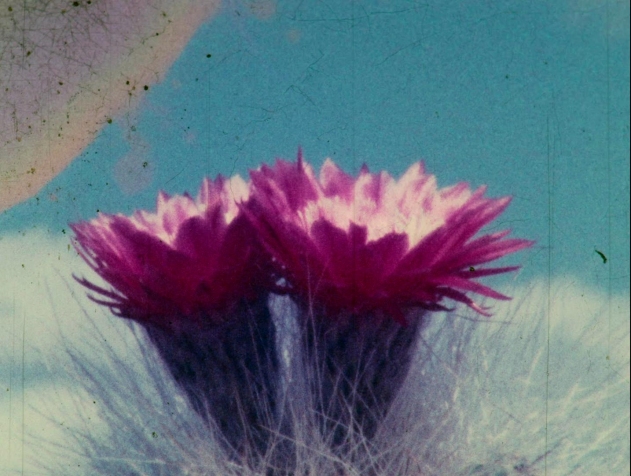 Still from Herbaria, courtesy of the filmmaker.
Preceded by
Agrilogistics
Dir. Gerard Ortín Castellví. Spain/U.K. 2022, 21 mins. No dialogue. Artist Castellví's new film, which premiered at the 2022 Berlinale, shows life resisting the controlled environment of an industrial greenhouse. Machines plant tulip bulbs, tomatoes are fed a fixed diet that stimulates growth, and the cinematographer's hand moves the camera with precision. The uneasy tension between systematized production and unpredictable vitality builds until nighttime, when the greenhouse becomes a fantastical landscape. North American premiere
March 18 at 1pm
Feet in Water, Head on Fire
Dir. Terra Long. Canada. 2023, 90 mins. In English, Cahuilla, and Spanish with English subtitles. An invisible line connects California to parts of the Middle East and North Africa, where similar climates provide ideal growing conditions for date palm trees. Using textural 16mm, filmmaker Long surveys the arid California landscape along the San Andreas Fault—from microscopic plant cells to macroscopic pans of the golden mountains—and zooms in on the lives of those whose livelihoods are dependent on the trees' sweet fruits and the exoticism they lend the region. Interlacing personal stories with historical images, Feet in Water, Head on Fire explores how a landscape and community have been shaped by shifting trends. As one of the film's subjects says, "the dates will likely survive us all." New York premiere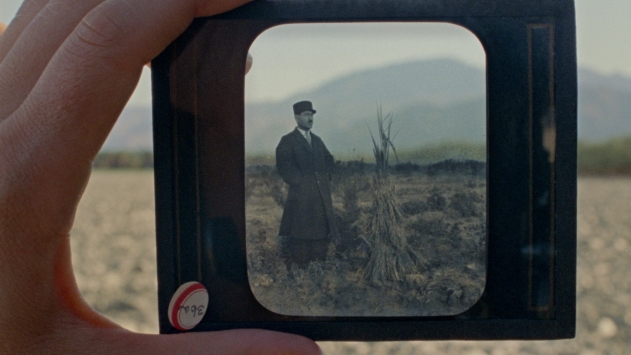 Still from Feet in Water, Head on Fire. Courtesy of the filmmaker.
March 18 at 3pm
A Common Sequence
Dirs. Mary Helena Clark, Mike Gibisser. Mexico/U.S. 2023, 78 mins. Transporting us from the banks of a dying lake in Pátzcuaro, Mexico, to the apple orchards of Prosser, Washington, to the lands of the Cheyenne River Sioux, this singular essay film juxtaposes three disparate, present-tense situations to lay bare the enmeshed problems beneath the surface of our visible reality: depletion and conservation, extraction and cultivation. By comparing the nuns and fisherman of Pátzcuaro, both economically tethered to an endangered salamander of legendary regenerative properties, to the growers in Prosser's apple industry, who look to devise new patents and automated harvesting machines, and finally to the work of an indigenous medical researcher who warns of the commodification of ethnic DNA, Clark and Gibisser extrapolate a foreboding vision of humanity's future on earth, where the commons (resources shared by all) seem to be receding as swiftly and imperceptibly as our coastal shorelines. Woven with coolly framed images and carefully layered sounds, and edited with Hitchcockian suspense, A Common Sequence is a richly generative, open-ended experience from two of the most exciting filmmakers at work today. New York premiere
In addition to the screenings, we will be presenting staged screenplay readings read by professional actors of the two projects that recevied the $20,000 Sloan Student Prizes: Samantha Sewell's Until Then We Keep Breathing and Gerard Shaka's Woodside. The readings are free with an RSVP, and will take place on March 18 at 12:30pm.
---
Learn More: