Science Films at SXSW 2023
The South by Southwest Film and TV Festival (SXSW) returns to Austin, Texas March 10-19, showcasing thirteen categories of films, television pilots, and immersive media projects. We have rounded up the science and technology-themed projects to look out for, with descriptions excerpted from the festival's programmers.
Among this selection, two modern anxieties loom large: the development of technology and the deterioration of the environment. Sophie Compton's ANOTHER BODY, Ondi Timoner's THE NEW AMERICANS: GAMING A REVOLUTION, and Franklin Ritch's THE ARTIFICE GIRL each contemplate unintended (and often undesirable) consequences of technological advancement. Jessica Bishopp's PUFFLING and Rosie Baldwin's WHERE THE SUN ALWAYS SHINES find their protagonists facing increasing environmental pressures brought on by climate change.
We especially recommend Sophie Jarvis's feature UNTIL BRANCHES BEND. Check out Sonia Epstein's interview with the director here.
Lastly, attendees seeking lighter fare might consider Jamie Davies' immersive experience UNEARTHED. Within the multi-story adventure, players act as the research assistant to a leading biodiversity professor, tasked with gathering data from across the Amazon and the Tongass National Forest.
Narrative Feature Competition
PURE O. Dir. Dillon Tucker. World Premiere. "A young screenwriter/musician grapples with Pure O, a lesser-known form of OCD, while juggling his recent engagement and his day job at a high-end Malibu drug rehab. Inspired by the filmmaker's own personal true story."
Documentary Feature Competition
ANGEL APPLICANT. Dir. Ken August Meyer. World Premiere. "A sick man discovers empathetic wisdom on how to cope with his deadly autoimmune disease within the colorful expressive works of the late Swiss-German modern artist, Paul Klee."
ANOTHER BODY. Dir. Sophie Compton, Reuben Hamlyn. World Premiere. "ANOTHER BODY follows a college student's search for justice after she discovers deepfake pornography of herself circulating online."
Narrative Spotlight
BLACKBERRY. Dir. Matt Johnson. North American Premiere. "The story of the meteoric rise and catastrophic demise of the world's first smartphone."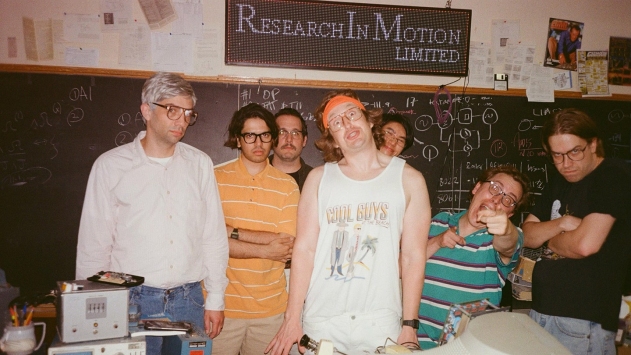 Still from BLACKBERRY
BLOODY HELL. Dir. Molly McGlynn. World Premiere. "A teenage girl gets diagnosed with a reproductive condition that upends her plans to have sex and propels her into exploring unusual methods to have a sex life, challenging her relationships with everyone in her life, but most importantly, herself."
IF YOU WERE THE LAST. Dir. Kristian Mercado. World Premiere. "Adrift in their broken-down space shuttle with little hope of rescue, a male and female astronaut argue over whether they're better off spending their remaining days as friends or something more."
Documentary Spotlight
THE ARC OF OBLIVION. Dir. Ian Cheney. World Premiere. "THE ARC OF OBLIVION illuminates the strange world of archives, record-keeping, and memory through a filmmaker's quixotic quest to build an ark in Maine."
CONFESSIONS OF A GOOD SAMARITAN. Dir. Penny Lane. World Premiere. "Director Penny Lane's decision to become a 'Good Samaritan' by giving one of her kidneys to a stranger turns into a funny and moving personal quest to understand the nature of altruism."
THE NEW AMERICANS: GAMING A REVOLUTION. Dir. Ondi Timoner. World Premiere. "THE NEW AMERICANS is a visceral, meme-driven journey at the intersection of finance, media, and extremism, which uncovers the connection between the Gamestop squeeze and the Jan 6th Insurrection and reveals explosive possibilities of our digital future."
PERIODICAL. Dir. Lina Lyte Plioplyte. World Premiere. "PERIODICAL is an eye-opening documentary that examines science, politics, and mystery of the menstrual cycle, through the experiences of doctors, athletes, movie stars, journalists, activists, and everyday people."
SATAN WANTS YOU. Dir. Sean Horlor, Steve J. Adams. World Premiere. "The shocking story of how a young woman and her psychiatrist ignited the global Satanic Panic with their bestselling memoir Michelle Remembers."
WILD LIFE. Dir. Elizabeth Chai Vasarhelyi, Jimmy Chin. Texas Premiere. "A sweeping portrait of conservationists Kris and Doug Tompkins chronicling their fight to preserve one of the last truly wild places on earth."
Visions
THE ARTIFICE GIRL. Dir. Franklin Ritch. U.S. Premiere. "Three special agents develop a bold new computer program to catch online predators, but its rapid advancement poses unexpected challenges."
CATERPILLAR. Dir. Liza Mandelup. World Premiere. "Endlessly struggling to feel seen, David becomes infatuated with a mysterious company's promise to transform people's lives by permanently changing the color of their eyes. After traveling to India to get the controversial procedure, he begins to question if this artificial beauty will give him the fulfillment he truly seeks."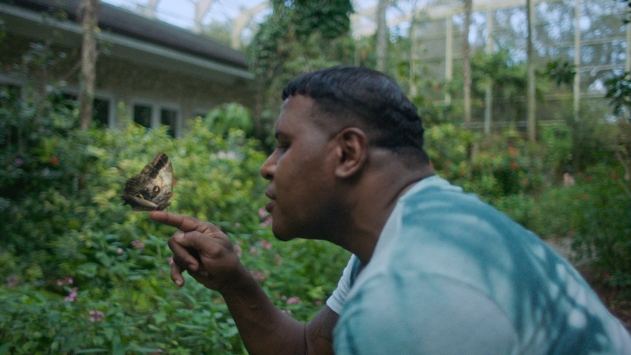 Still from CATERPILLAR
UNTIL BRANCHES BEND. Dir. Sophie Jarvis. U.S. Premiere. "Set in the seemingly peaceful Okanagan, a distraught cannery worker discovers an invasive insect that could threaten the livelihood of her entire town."
Festival Favorites
FOOD AND COUNTRY. Dir. Laura Gabbert. Texas Premiere. "Worried about the survival of small farmers, ranchers, and chefs hobbled by America's policy of producing cheap food, trailblazing food writer Ruth Reichl reaches across political and social divides to report on the country's broken food system and the innovators risking everything to transform it."
NO ORDINARY CAMPAIGN. Dir. Christopher Burke. Texas Premiere. "One couple's fight to reclaim their future from a brutal disease has snowballed into a movement with resounding ramifications not only for the ALS community, but for millions of patients seeking to find their voice in our broken healthcare system."
TV Premieres
MRS. DAVIS. Dir. Owen Harris, Alethea Jones. World Premiere. "Mrs. Davis is the world's most powerful Artificial Intelligence. Simone is the nun devoted to destroying Her. Who ya got?"
TV Spotlight
SHATTER BELT. Dir. James Ward Byrkit. World Premiere. "From director James Byrkit (COHERENCE) comes a collection of stories from the other side of consciousness. A modern mindbender for a new generation, it dives headfirst into the deep end of emotional questions about our relationship to reality."
Narrative Shorts Competition
DELIVER ME. Dir. Joecar Hanna-Zhang. World Premiere. "A long-awaited delivery threatens to upend an already tense relationship between a clone with an identity crisis and his billionaire husband."
Documentary Shorts Competition
BIRDSONG. Dir. Omi Zola Gupta, Sparsh Ahuja. International Premiere. "BIRDSONG is an intimate portrait of the dying whistled language of the Hmong people in northern Laos."
PUFFLING. Dir. Jessica Bishopp. World Premiere. "On a remote Icelandic island, teenagers Birta and Selma take it upon themselves to counteract society's harmful impact on nature, exchanging night-time parties for nocturnal puffin rescues in a coming-of-age story for young adults and puffins alike."
WHERE THE SUN ALWAYS SHINES. Dir. Rosie Baldwin. World Premiere. "The residents of a quintessential but neglected British seaside town grapple with research suggesting that their home could disappear within their lifetimes due to the climate crisis."
Animated Shorts Competition
SPROUT. Dir. Zora Kovac. World Premiere. "After an agoraphobic scientist accidentally creates a baby-like plant creature, their connection threatens to upend his reclusive way of life."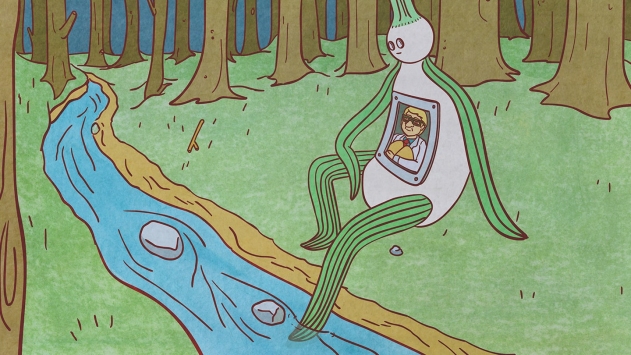 Still from SPROUT
Texas Shorts Competition
EXIT 238. Dir. Henry Davis. Texas Premiere. "In the fall in Austin, TX, the extraordinary roosting display of the Purple Martin attracts people of many walks of life to the Capital Plaza shopping center."
XR Experience Competition
CONSENSUS GENTIUM. Dir. Karen Palmer. World Premiere. "CONSENSUS GENTIUM is an emotionally responsive film app designed to be experienced on a mobile phone. Set in a near future of surveillance and bias AI that watches you back."
FORAGER: IMMERSIVE MULT-SENSORY EXPERIENCE. Dir. Winslow Porter, Elie Zananiri. World Premiere. "In this immersive, multi-sensory experience guests will experience the complete life-cycle of mushrooms. Starting as a spore floating to the forest floor, you become an integral part of this essential, live-giving process."
ONCE A GLACIER. Dir. Jiabao Li. World Premiere. "ONCE A GLACIER Is a VR film about a girl and her relationship with a glacier. As the girl grows older, the piece of ice is threatened. The viewer is taken on a journey through her seemingly futile efforts to protect what was once an entire glacier."
XR Experience Spotlight
UNEARTHED. Dir. Jamie Davies. North American Premiere. "UNEARTHED is a spectacular interactive adventure into the natural world, inspiring people to respect, protect, and restore our planet's biodiversity, through impactful learning and entertainment."
---
More from Sloan Science and Film: