Director Interview: Mounia Akl on COSTA BRAVA, LEBANON
Mounia Akl's directorial debut COSTA BRAVA, LEBANON portrays a multi-generational family—the Badris—who live in the mountains outside of Beirut to escape the city's pollution and social unrest. Inspired by the garbage crisis in Lebanon that began in 2015, Akl's film delves into the complexity a new landfill brings to the Badris when construction starts outside their peaceful home. COSTA BRAVA, LEBANON, which made its world premiere at the 2021 Venice International Film Festival, stars Nadine Labaki and Saleh Bakri, and is being distributed in theaters by Kino Lorber. We spoke with Mounia Akl about the environmental crisis that inspired her film, creating the first "green shoot protocol" in the Middle East, and the film's themes.
Please note: This interview contains some spoilers.
Science & Film: What did you draw inspiration from in developing COSTA BRAVA, LEBANON?
Mounia Akl: My inspiration for the story came from two places. I think the screenwriter in me was born from observing the people I love the most react to constant crisis. Lebanon is a place that has constant crises. Wanting to talk about family comes naturally to first-time filmmakers, but my family became a microcosm of the society I lived in and observing them was a way to observe the cracks in society. That brings me to the second reason I wanted to make this film, which was to talk about my relationship to home—to Lebanon. The garbage crisis was a perfect allegory for everything that was wrong with the country. It felt very universal because it was a perfect description of why the system is holding people hostage and its corruption is destroying and destroying. I was interested in talking about how those outer crises suffocate inside as well.
S&F: What is really happening with the garbage crisis in Lebanon?
MA: In 2015 there was a garbage crisis that started with the government not renewing a landfill when it had to be renewed. It was not a green landfill. The people from that village started protesting that [the government] was not renewing it even though they went far beyond the legal amount [of garbage] they could pile up. People were getting sick. Trash started piling up in the streets for months because the garbage company went on strike. All of this was because the government was making a lot of money, so it was all about a person wanting to keep more money in their pockets and in the meantime the country and its landscapes were destroyed. People started throwing garbage into the most beautiful valleys, into the sea, and it started a movement of protest called "You Stink!" Everyone jokes about how this crisis was a perfect metaphor for a government that needs to be recycled. Now, it's not visible and lot of people have tried to tackle the problem in their own way, but we still have an environmental disaster that derived from that.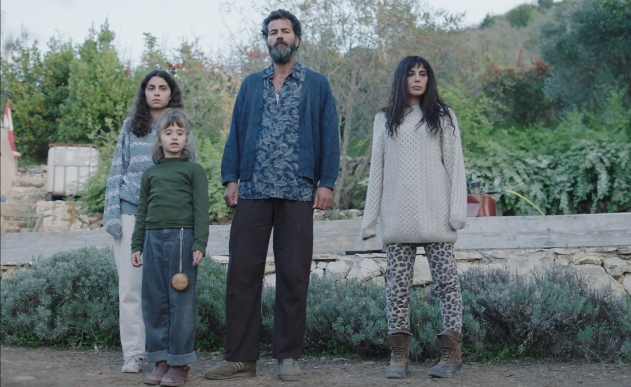 The Badri family in COSTA BRAVA, LEBANON
S&F: The characters in your film struggle with obligations to family and collective well-being, can you talk about how you developed those characters with that conflict in mind?
MA: I used those different characters to confront my own demons and my own questions about that big question: what do you do when the world feels so toxic and unsafe? That question changed throughout the years. In October 2019, I was in this euphoric state protesting in the streets for months but then on August 4 [2020] when the [chemical] explosion happened [in Beirut] and I protested five days later and got gas bombed, I thought, we just had an explosion that destroyed half the city, and this is supposed to be a protest where we don't get attacked. There were moments where I felt like my moral responsibility took me to the street, and other moments where I thought, you know what, fuck this. I gave so much to this place and it keeps taking, I've lost hope. I go in between those two without ever losing hope completely because once I acquire moments of wisdom, I realize [change] will take patience and time. So I try to ask those questions through the film's different characters.
The mother wants to be part of change and wants to be integrated in society. The father has given so much so he's like, I want to save my own skin. However, he's living in fear, so he is trapped. The little girl wants to discover the world but has been protected from it. At the end of the film she makes a decision to go look at this place she's been told about and try to define the world in her own way.
S&F: Where did you film?
MA: We wanted to practice what we preach so we collaborated with environmental activists and organizations in Lebanon to create a "green shoot protocol." It was the first green shoot in the Middle East and that was great because it allowed us to have a shoot that was ecological with much less waste. We didn't harm the location we shot in. We found a location that is owned by someone who lives in that way; everything was real there except for the garbage. We filmed the garbage at a real garbage landfill in Beirut then with the VFX team we stitched it in a digital way later.
---
READ MORE:
Old and New in BACURAU
---
S&F: How have circumstances in Lebanon changed between the production and release of COSTA BRAVA, LEBANON?
MA: It's been a real rollercoaster. I didn't shoot my film under normal circumstances. It was during the pandemic, before the vaccine. On a film shoot everyone is supposed to be a community but the other person was a threat because they could carry the virus. That was one challenge. The other challenge was that we shot after the revolution, during the economic collapse of the country, and right after the explosion. That meant: money was stuck in the bank and the producers had to finance more than they had thought thanks to the help of international co-producers; and it meant a higher budget because of the pandemic and COVID testing. On August 3 [2020] we greenlit preproduction, and on August 4 we suddenly went from a meeting to everyone full of blood looking for each other amidst the rubble and discovering a city completely destroyed. We stopped everything for two months and then when we gathered again, we were all broken, had PTSD, and collectively we decided to push through because it would mean they didn't take everything from us. It became an act of resistance. You could also say it was a form of denial because I was refusing to see I had lost so much and grieve my city. But I think we did that while making the film, and it gave us an objective. It allowed us to spend less time with the thoughts of grief, which is a good or bad thing because for me, two years later, the realization of what happened came in a very violent way. But what was great is that the film premiered in Venice and traveled to many festivals right before Omicron hit, therefore we were able to travel and meet our audiences before the world closed down again.
S&F: Have you shown the film in Lebanon?
MA: We will in August. In a way, I feel I have already showed it to Lebanese people because they are all over the world and every time I was at a festival a big part of the Lebanese community would be in the room. It was so beautiful to see how supportive we are with each other, sometimes. ♦
---
More from Sloan Science and Film: