Roland Emmerich on Moonfall and Disaster Movies
Roland Emmerich is the king of disaster movies. From INDEPENDENCE DAY (1996) to GODZILLA (1998) to THE DAY AFTER TOMORROW (2004), the world has been threatened in numerous ways. In his new epic MOONFALL, the Moon has left its planetary orbit and is heading for Earth. Two astronauts (Halle Berry and Patrick Wilson) find that a conspiracy theorist and hobbyist (played by John Bradley) is the only person who knows enough to help them save the planet. Emmerich directed, co-wrote, and co-produced MOONFALL, which opens in theaters on February 4. We spoke with him about building the Moon, working with science advisors, and inspiration for MOONFALL.
Please note: This interview contains spoilers.
Science & Film: MOONFALL is not exactly depicting a plausible future, nonetheless you had a number of science advisors. How did that come about and why was that important to you?
Roland Emmerich: The story itself is super fantastical, but the underlying science had to be very real. First of all, there was the Moon. What would the Moon do [if it were out of orbit]? What are its rules? We learned very fast that it has an elliptical orbit. But because [in the film] it is a built object that will not break apart, all the rules were suddenly gone. Then, as you get sucked into the story, we had to make it somewhat believable. [The characters] have to get a space shuttle out of a museum, put it together in record time, find out one of the engines is not working, but the Moon's gravity helps them in that case. I had my actors talking with specialists so they were not feeling totally clueless about what they were doing.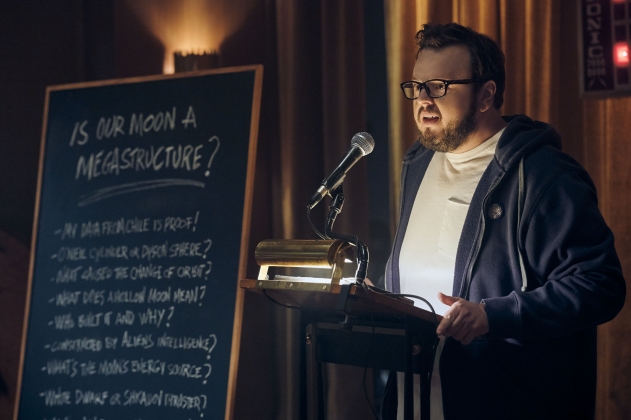 John Bradley as K.C. Houseman in MOONFALL. Photo credit: Reiner Bajo.
S&F: What first interested you about the Moon?
RE: I read a book by two English authors called Who Built the Moon? Very provocative title. It stuck out to me, so I picked it up and read it and said, oh my god. That's when the idea was born, eight or nine years ago. Then I read more books, and it only made it more interesting that it's a provocative idea and totally out there.
S&F: How did you approach writing and directing the dynamic between the trained scientists and the conspiracy theorist?
RE: K.C. Houseman [the conspiracy theorist played by John Bradley] is right [laughs]. The only thing he was wrong about was that it was not aliens. I always like people who… Let's start with Brian Harper [played by Patrick Wilson]. He has seen something he cannot explain. It's interesting that a guy like that also doesn't believe a conspiracy theorist. It's too far for him to go, but slowly and surely they realize the Moon is hollow and there is a gigantic ring system, etc. Over the years, I have been using these conspiracy theories a lot, but I have never seen one of these guys going to travel [in a film]. There is this moment in the middle of MOONFALL where [the astronauts] ask K.C. to come with them. He has IBS and all these things, he is not at all happy about it [laughs]. But he convinced them they need a megastructuralist and they need somebody who can do engineering to determine how long they have to blast the engines. It's a relatively simple story but it has a lot of conflict and obstacles which make it harder.
I'm always trying to stay away from conspiracy theories where the democrats have to eat blood from babies, because it's so illogical [laughs], but I like conspiracy theories because they always give me something to laugh about. When you look at my movies, INDEPENDENCE DAY was taking place in Area 51—nobody thought it would be possible and it was. I tend to like them, but in my own world I stay away from conspiracy theories because I think they're all stupid.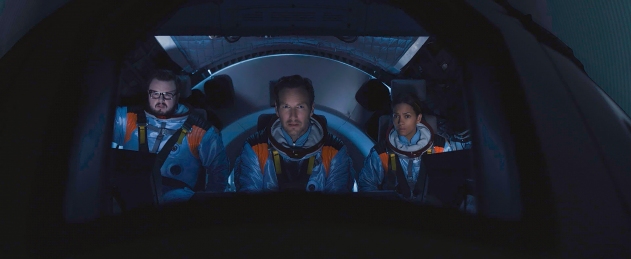 John Bradley, Patrick Wilson, and Halle Berry in MOONFALL. Photo credit: Reiner Bajo
S&F: How did you envision what the inside of the Moon would look like?
RE: That was a long, long journey. In a way it is an ark built in case things go wrong on Earth, and [the characters] slowly understand that. This is a space movie, with short scenes in between of what happens on Earth. We kept the scenes of the family on Earth relatively short because the inside of the Moon was so much more interesting. It was all done on the computer. Even the mountains of Earth, all computer. There is more CGI… we had nearly as big a budget as on 2012.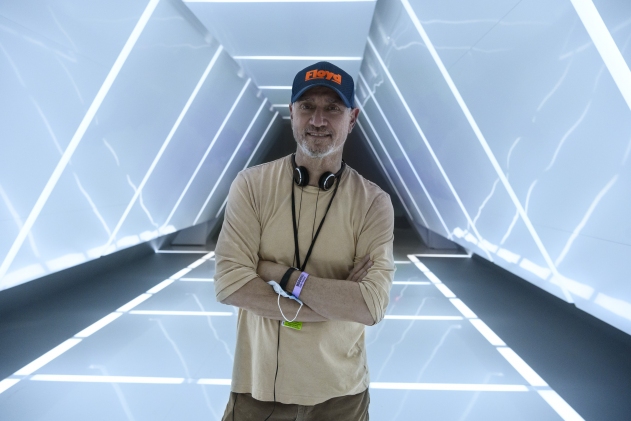 Director Roland Emmerich on the set of MOONFALL. Photo credit: Reiner Bajo
S&F: Why was it important for you to make MOONFALL as an independent film?
RE: It was because no studio is doing this anymore. How many IPs do you want to see? When a film doesn't have DC Comics or Marvel Universe it's a strike against it. So, it is very rare you can make movies of this size and you have to make them cheaper. That's why we also went for a lot of CGI because with that you can build everything if you have the money. That was probably the biggest expenditure, the special effects.
♦
MOONFALL is directed by Roland Emmerich and written by Roland Emmerich, Harald Kloser, and Spenser Cohen. It is produced by Emmerich and Kloser. The film stars Halle Berry, Patrick Wilson, John Bradley, Michael Peña, Charlie Plummer, Kelly Yu, Eme Ikwuakor, Carolina Bartczak, and Donald Sutherland.
---
More from Sloan Science and Film: