Director Interview: The Velvet Queen
THE VELVET QUEEN, a documentary premiering in the U.S. at Film Forum on December 22, follows novelist Sylvain Tesson (In the Forests of Siberia) and wildlife photographer Vincent Munier in the high-altitude mountains of Tibet where they search for the elusive, native snow leopard. The film premiered at the 2021 Cannes Film Festival, and a book by Tesson which recounts the film's events was published by Random House in summer 2021. We spoke with filmmakers Marie Amiguet and Vincent Munier, with the help of French-English translator Ellen Sowcheck, about making the film, the harshness and beauty of nature, and what elements of the story are most important to them.
Science & Film: How did you work together on this film?
Marie Amiguet: Everything is his fault [laughs]. Vincent started to go to Tibet in 2011. He wanted to see the wild yaks. Little by little, trip after trip, he heard about the snow leopard from the Tibetan nomads. He started to search [for it], and after five trips, which lasted maybe one month each, he decided to make a movie with all his footage. He called me to ask if we could work together, because he knew my work on other movies about wolves. I met him and we decided to continue together. He invited Sylvain Tesson.
Vincent Munier: My goal was to make a book and movie. I was looking for someone to film Sylvain and I. Marie wanted to film us without directing [the action].
MA: Everything was spontaneous, we lived it. All the dialogue is unscripted. That's why it was so hard to edit the movie, because there were so many choices.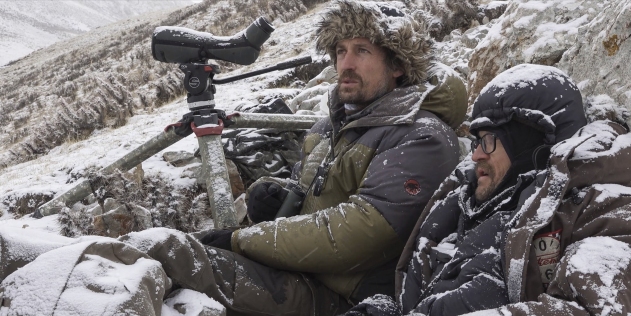 Vincent Munier and Sylvain Tesson. Photo credit: Paprika Films and Kobalann Productions.
S&F: How much did you shoot?
MA: We had something like 150 hours.
VM: We had a very small team. I was sometimes alone, sometimes with an assistant, sometimes with Sylvain and Marie. In total only four people for images, sound, and logistics. But it was nice because we were very flexible, and not intrusive. We didn't disturb the wildlife there, that was my priority.
S&F: The scene when the Tibetan children come visit is very funny for that reason—they're shouting, and you guys are very quiet.
MA: I love the discord. When I was filming, I knew that scene would be in the movie, it was very important.
VM: That shows that the mountains are for the wildlife and also the Tibetan nomads. Both are very good at adapting. Not us, not really.
MA: It was also important that we didn't take ourselves too seriously.
VM: The priority was not to show how it was difficult for us [to be in the mountains]. It's not an adventure movie. The goal was to show the beauty of nature and to have some nice dialogue thanks to Sylvain of course—I'm just a photographer. Sylvain is so talented at finding the right words.
This movie is a tribute to wildlife. A big problem with human society is that most of the time, until now, we forget that we are interdependent with all animals. It's very important for everyone to slow down and celebrate the beauty of wildlife, and to protect them.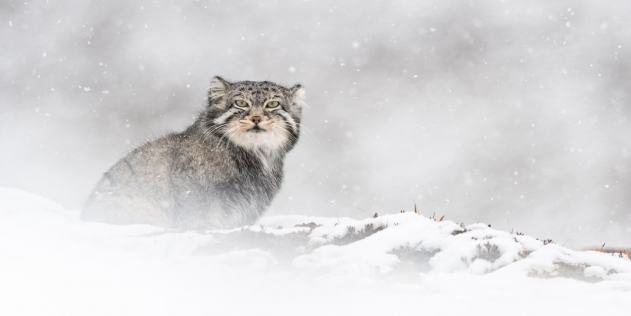 Still from THE VELVET QUEEN. Photo credit: Vincent Munier.
S&F: There are so many amazing animals in the film, why did you choose the snow leopard to focus on?
VM: I was attracted to the very wide area [of the Tibetan mountain], and wanted to celebrate the brave animals who have adapted to live there. I've spent time in the high arctic in Canada and Antarctica. We call Tibet the Third Pole because it's approximately the same climate. The snow leopard is on the top of the food chain. He is very famous in the naturalist world [where he is called the] ghost of the mountain—he is very rare and difficult to see. I like to have a goal. On the way, we had other encounters with animals that were amazing too.
S&F: How did you balance wanting to have a tribute to nature and also a message in the film?
VM: It's a result of my upbringing; my parents had a very special view of nature and how important it is to show the beauty of the wild world but also that it is a wild world and it is difficult for the creatures to live and survive there. It's this duel between the beauty and suffering in nature that is very important. We show how species are vanishing through photos and in the film and written and spoken word, we try to convey what we have in our hearts about how important but also how beautiful it is.
MA: With each film I make, and any director makes, you put a bit of yourself into it, and that's sometimes why it is so difficult to make a film. In this case, I really wondered, how would this encounter between a photographer and writer turn out? You have two very different ways of looking at the world—the spoken or written world and photography—and they're two worlds that are in collision with each other. But once they collide, they combine and form something different. You're able to see the world in a broader way than you would with either [form] individually. I felt this while we were shooting, and during the editing of the film. I knew all of the dialogue virtually by heart, and there were so many wonderful lines I wanted to include because they said so many important things.
It was important to strike a balance: I didn't want it to be too funny, or too dark. Ultimately, what I really wanted to do was to communicate our values: this respect for the animals as well as for the nomads, the human beings. Our message, perhaps, is that in an ideal world these different groups are able to live together. We try to show how that could be possible.
♦
THE VELVET QUEEN is directed, filmed, and edited by Marie Amiguet and Vincent Munier. It is produced by Vincent Gadelle and Bertrand Faivre. The music was composed by Warren Ellis and Nick Cave.
---
More from Sloan Science and Film: