Michael Bilandic's COVID Comedy: Project Space 13
PROJECT SPACE 13, a new satire by Michael Bilandic premiering on MUBI on December 10, takes place over the course of one night in an art gallery in lower Manhattan during the start of the COVID-19 pandemic. An emerging performance artist (Keith Poulson) has finally gotten his big break—a solo show—but the pandemic raises the stakes for the show's centerpiece, in which the artist lives locked in a cage for the installation's duration. As the gallery owner (Jason Grisell) flees to his country home, two security guards (Theodore Bouloukos, Hunter Zimny) come to ensure this precious installation survives the night. We spoke with Bilandic from his home in New York.
Science & Film: How did this film come together, and when did you shoot?
Michael Bilandic: We shot it in four days, from Halloween 2020 to Election Day. It was pretty unusual circumstances. The way it came to be was that I had this idea for a giant Hollywood blockbuster a few years ago. It was going to be about an arts foundation that opens in the middle of the desert in the Middle East, and the opening night is a retrospective of a sculptor. It's a CIA-backed museum, and the night of the opening ISIS takes over the space and commandos have to protect this obnoxious artist and his work—they don't even know how to protect the pieces. So, for whatever reason, that didn't become a Hollywood blockbuster, and I forgot about it. Then, I was working on a different movie about an intellectual hype house. We were very close to shooting but when COVID happened the idea felt dated and it was logistically not doable. So, I decided I wanted to make a movie that took place in one space, with three people, one of them in a cage, that would take place in one night. I took that seed idea from a few years earlier and transplanted it to [this film]. It's a performance artist in a gallery and COVID happens when he starts his piece. These two security guards have to come in to protect him, and they're making sense of him and the work.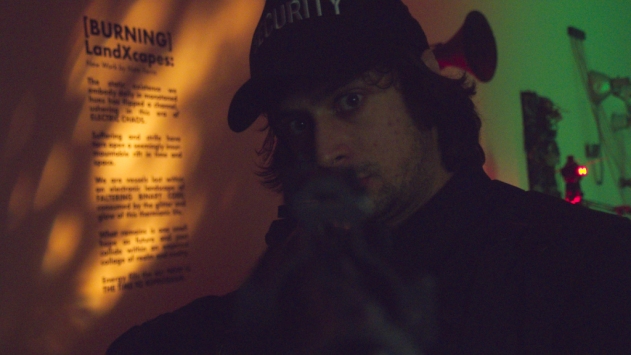 Hunter Zimny in PROJECT SPACE 13
S&F: Were there certain things about the pandemic that you felt like you wanted to integrate in the movie, apart from its existence providing the framework for the film?
MB: Absolutely not. I had no interest in making any argument or thesis. What happened was that everything I was working on felt incredibly dated all of a sudden—even now, it's hard to imagine where things are going in the future. It was hard to speculate and write something that takes place a year from now; who knows what a year from now is going to look like. I decided I was going to set it in the present moment. It is a character-driven comedy which is what I cared about the most. I do like shooting near my house, in places I know, in a world I am familiar with.
One of the upsides of the last year was we were able to shoot in places we'd never have been able to. I would have easily been priced out of shooting [in Soho] but half of the retail spaces were either out of business or completely smashed in so we were able to shoot in really nice space. We were only able to get it for a week but it was cool to shoot where the movie takes place. It's a very specific architecture and location.
S&F: Having the film come out about a year later, does it feel dated?
MB: I'm happy with the movie. I feel like it doesn't really exist until you see it with people, which hasn't happened yet, so I can't say one hundred percent. Comedy is my favorite genre and I think there's something healthy and enjoyable about laughing in a room with other people, which hasn't happened much in the last few years. I'm really happy to go back to seeing comedies in a theater.
♦
PROJECT SPACE 13 is directed by Michael Bilandic, produced by Craig Butta and Daniel Weissbluth, filmed by Sean Price Williams, with music by Neil Benezra. It is available on the streaming platform MUBI starting December 10.
---
More from Sloan Science and Film: