Hayley Garrigus on You Can't Kill Meme

Making its world premiere at Montreal's Fantasia Film Festival (August 5-25), Hayley Garrigus's documentary YOU CAN'T KILL MEME embeds with people devoted to political meme instrumentation and examines the obsession with figures like the alt-right mascot Pepe the Frog. Garrigus's entry point is R. Kirk Packwood, whose 2004 book Memetic Magic: Manipulation of the Root Social Matrix and the Fabric of Reality is about how memes and intentional thought can be used to influence real-world events. Hayley Garrigus was named one of Film Independent's 25 New Faces of Independent Film in 2020 and YOU CAN'T KILL MEME is her first feature. The film has already been picked up for distribution by Utopia. We spoke with Garrigus from her home in Brooklyn about her approach to the subject and how this film fits in with what she's working on next.
Science & Film: How did you think about framing your subjects?
Hayley Garrigus: I went into this already knowing that most people who talk about politically slanted or heated subjects are coming into it with an opinion that they like to share. I've found that shuts more ears and eyes off than just letting people speak for themselves. But because there are certain people and things that I personally don't agree with and could be harmful if I just let [the camera] role, in some of my editing choices and the music I am saying my opinion without having to write it into the narration—it's a more subtle cue.
For example, I didn't interview someone like Baked Alaska or Richard Spencer—one of the more extreme alt-right white supremacist figureheads. In one way, that harmed the film when it comes to people accepting its relevance. That was purposeful because I wanted some of the fringe characters. My main protagonist, Kirk, is vehemently not alt-right. His book has been used in some of those forums, and in the film he talks about how it was used in a way he wasn't expecting and didn't like. These people are interesting in their own right and I didn't need to let my viewpoint overshadow that. I made this film assuming the audience knew a baseline of what I was talking about, and then were able to form their own opinions. For example, there are some scenes that I've watched with others, and some laugh and some don't. That shows you that people come in watching films with their own perspective anyway, so adding another layer which is mine might do the film a disservice. It worked out well in my opinion.
I don't know if you ever saw this doc THE RED PILL, but I was fascinated with it because this woman went around interviewing men's rights activists. It's her personal journey. She went in and out of these communities, and the last line of the film was: "I'm not a feminist anymore." My film is not that.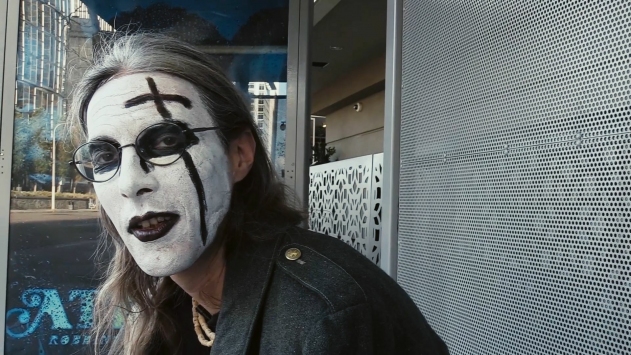 S&F: The connection between memes and magic is not something I was particularly aware of and is really intriguing. Was that something you knew about before entering this world, or was that part of the appeal?
HG: My entry point to this whole world was Kirk and his book. I had this reference point of what magic is, which is essentially intentional thought and the ceremony and rituals surrounding it add to the belief that it can work. Very intentional thoughts are more intensified when you have more and more people with the same intentional thought. So that's why memes ended up becoming the best vehicle online to create magic, or to create an outcome they wanted using magic. I'm sure [Kirk's] book was so intriguing to me because I had that reference point.
---
READ MORE:
Hao Wu's THE PEOPLE'S REPUBLIC OF DESIRE
---
S&F: Have the film's subjects seen the final film yet?
HG: Yes. Kirk has seen it a few times, in different iterations, and he loves it which is really important to me. I still keep in contact with him pretty regularly. That is something I'm still trying to navigate. I've gotten closest to Kirk. Carole [Michaella] is excited for the film to come out. I've had one subject who forgot that we filmed together—and I filmed with him twice, and I obviously have a release and email threads—but I got an email the other day from a friend of his saying he didn't remember being part of a documentary that has a fascist agenda. I was like, oh wow, it's starting. It's tricky because people will inevitably grow and evolve and may not have the same opinions they had [when we filmed]. That's just the nature of docs. Very early on my producers and I sat down and said, what's going to be the response? This is a film that is potentially polarizing, and people are not going to like it.We're coming up against it as we do.
S&F: I know that this is your first feature, have you thought about what you want to do next?
HG: I've been working on something for the past year and a half. It's been a little harder to get off the ground and right now I'm in a moment of rethinking. My day job is in development and acquisitions at Submarine Entertainment so that's been an interesting experience because I'm surrounded by docs all the time, and I know the "industry." My film is not an industry-friendly film. I made YOU CAN'T KILL MEME on a shoestring without a lot of help until I found my post producers who really helped and found me an editor. You should have seen the three-hour cut I showed them where I was like, it's done! [laughs] Because of that, I thought about doing my next film in a more professionalized way: going to markets and writing a treatment, doing a deck and a sizzle. I've been doing that; I went to Hot Docs with this new project in 2021. I honestly don't think I can do it that way. I realized that, knowing the market, I'm just better off making things with what I have and for as little as possible and seeing what I can do with that. So, I've been thinking about a trilogy series starting with MEME. This next film is about astrology on Wall Street. The last installment is going to be about reality TV, which is a passion of mine.
♦
YOU CAN'T KILL MEME is directed by Hayley Garrigus, produced by Samuel Gursky, Kerry Mack, and Michael Beuttler, and edited by Beuttler and Garrigus. Original music is composed by Tom Moore and Michael Beuttler. The film makes its world premiere at Fantasia Film Festival on August 15, and will be released by Utopia later in the year.
---
More from Sloan Science and Film: